1. Muslim woman doused in alcohol in UK
A Muslim woman was showered in alcohol in a violent attack on a train in the UK as other passengers silently watched on, researchers have revealed.
"A group of men waved alcoholic drinks in my face, asking me if I wanted some. They continued to chant 'we are racist, we are racist and we love it' and asked me if I ate bacon and had a bomb under my scarf," Hira, the woman involved in the train attack, said.

"They started chanting. I asked the person abusing me to stop but he wouldn't. Then they dropped alcohol on my coat … People were watching but they ignored it. No one wanted to help," she added.

The incident was one of many hate crimes on Muslims uncovered in a study conducted by by criminologists Imran Awan of Birmingham City University and Dr Irene Zempi of Nottingham Trent University. The report was commissioned by Tell MAMA (Measuring Anti-Muslim Attacks).
(Tell Mama is an organization that relies on government money for monitoring attacks against islam or its adherents. They were defunded when it was discovered that they synthesize some or most of the attacks they reported)
2. Pakistan: Seven killed, 13 injured in blast inside MNA's office in DG Khan
"The blast occurred at my political office in Taunsa while I am currently in Islamabad to attend a meeting," Sardar Khosa said, adding the attack could be a reaction to the on-going military operation, Zarb-e-Azb, against terrorists.

Condemning the attack as an act of cowardice, the MNA pointed out that he did not receive any threat or alert prior to the blast.

Meanwhile, a Taliban splinter group claimed the responsibility for the attack, saying it was behind the blast at the political office of the ruling party's MNA in DG Khan.
3. French police hold rare nationwide protests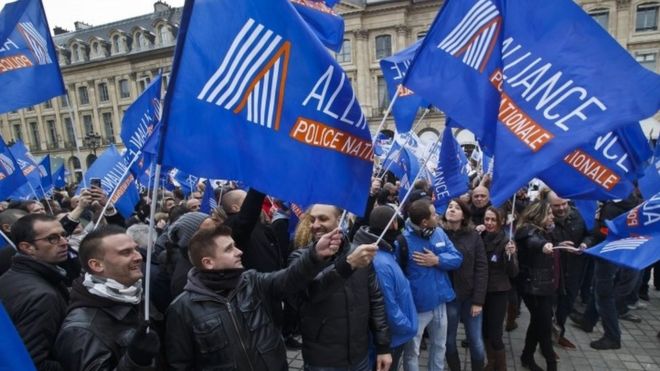 Thousands of French police officers have held a rare protest in Paris and across the country over what they say are a lack of resources and a judiciary that is too lenient towards criminals.

The protesters also say they have not been given enough credit for fighting jihadists and violent criminals.

It is the first significant police protest in France in three decades. […]

Their anger reached a peak this week after a prisoner who had been granted a temporary out-of-jail permit seriously wounded a policeman in an exchange of fire on the northern edge of Paris.

There have been several instances of prisoners escaping while on prison leave in recent weeks, including a convict who was allowed to go on a mountain-biking trip with other prisoners.

Another man, in prison for rape, escaped while on a leave of absence and went on to rape and stab a hiker in the eastern Alsace region.
4. An American fellow disappeared all of a sudden for a few months, then comes back to the US to attack a perfect stranger, hacking them to death with a machete. How curious. What could have motivated that? Where did he go when he 'disappeared'?
More here
Updated: Police say former Texas A&M receiver randomly hacked jogger to death in Dallas
(Mr. Johnson appears to have grown a beard and a mustache right before the murder. Kinda like that old kids tune, 'Beard and sot mustache, Ji-had' or something like that)
5. Schoolboy, 15, screaming 'Allahu Akbar' as he shoots his teacher with BB gun in class is arrested by French police and admits he intended to 'die a martyr' after being radicalised
A 15-year-old has been arrested for screaming 'Allahu Akbar' and shooting his teacher with a BB gun after devising a plan to kill his literature tutor and die a martyr, it has been claimed.

A week after hatching his plan, the teenager brought a knife and airsoft gun and grenade to Oehmichen Technical School in the city of Chalons-en-Champagne, France.

He left his physics class to go and kill his literature teacher before changing his mind, returning and shooting his physics teacher with the BB gun.
(Good thing the kid didn't pay any attention in physics class or else he would have used something that actually worked)
The boss of a filthy kebab shop where mice droppings were found near the oven, doner meat was stored on the floor and food was two months out of date has been fined £10,000.

Minoo Sefidan, 60, who ran Megabite kebab shop, in Portsmouth, pleaded guilty to 18 food safety and hygiene offences and three health and safety regulation charges at the city's magistrates' court.

A court heard that raw burgers were also stored next to cooked ones and because the drainage system wasn't working rainwater went on the floor.
Kebab meat was stored on the floor at Megabite kebab shop in Portsmouth. Owner Minoo Sefidan pleaded guilty to 18 food safety and hygiene offences
Handout
Mohammad Shafia, left, Tooba Mohammad Yahya, right, and their son Hamed were found guilty of murdering sisters Zainab, 19, Sahar, 17, Geeti, 13, and Rona Amir Mohammad, 52, who was Shafia's first wife.
A Montreal father, mother and son convicted nearly four years ago of murdering four other family members in an honour killing argue, in an appeal to Ontario's top court, that they were victims of "cultural stereotyping" and "overwhelmingly prejudicial evidence" that should not have been admitted at their murder trial.
In a 110-page document filed with the Court of Appeal for Ontario, Mohammad Shafia, 62, his wife Tooba, 45, and their son Hamed, 24, claim they're entitled to a new trial. The document is a concise outline of the evidence and legal argument that lawyers for the three will present at a hearing scheduled for Dec. 14.
Thank you Wrath of Khan, M., Gates of Vienna, Richard, Buck and all.
As I often remind readers, please have a look at the daily links post published at 1 min after midnight each day. There are many many news stories there which may not be in these posts due to editorial decision making, or editorial overworked single person staff inability. In other words I missed it. But there is a lot of material on geopolitics, economics and so on, all of which relate to the larger issue. There will be more posted this evening however.