I wasn't planning to do another post tonight but then one has to roll with reality. Stuff came in. Gotta deal.
1. Montreal: A demo against Bill 59 and more. Pro and anti- UMIs clash
(The 'antifascists' are unabashedly communist in this group. One of them looks sorta like a TV satanist but he is probably just a guy who let communism infect his fashion sense. On the other hand, he could also have read the dedication to Saul Alinsky's book, Rules for Radicals. CBC has this to say)
2. Obama's 'Cool Clock' Muslim Boy Claims Racism to Foreign Audience at UN
(Just think of all the wonderful countries where everyone looks like him he could live in, free of racism. At least against him. Like Pakistan. Anyone want to take up a collection to send him there?)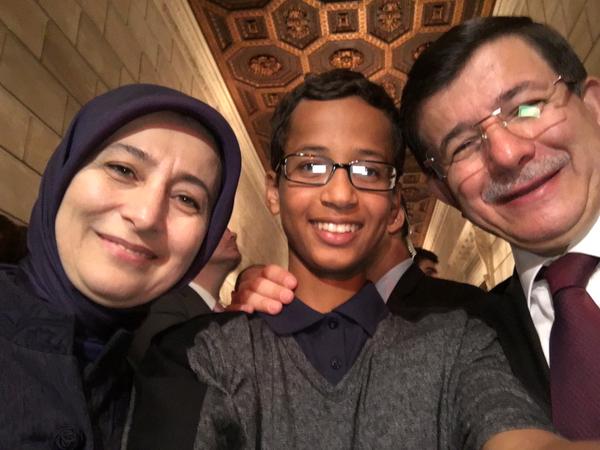 Ahmed Mohamed, Twitter
The Muslim American boy championed by President Barack Obama is using his new worldwide fame to accuse Texans of racism and anti-Muslim discrimination.

"My dream is to raise consciousness against racism and discrimination," he said at a New York press event with Turkey's Islamist Prime Minister Ahmet Davuto?lu, according to an article in the Turkish newspaper, HurriyetDailyNews.com.

"Davuto?lu, who is New York for the 70th United Nations General Assembly, has met with 14-year-old student Ahmed Mohamed, who was detained at school by the police in Texas when a teacher thought a clock he had made was a bomb," the newsite said.
3. A rare article on the genocide of the Christians by muslims in the name of islam from an MSM source.
In areas controlled by IS, Christians have been crucified, beheaded, raped and subjected to forced conversion.

Christian children are also being sold as slaves.

Mr Sookhdeo added: "It is like going back 1,000 years seeing the barbarity that Christians are having to live under. I think we are dealing with a group which makes Nazism pale in comparison and I think they have lost all respect for human life.

"Crucifying these people is sending a message and they are using forms of killing which they believe have been sanctioned by Sharia law.

"For them what they are doing is perfectly normal and they don't see a problem with it. It is that religious justification which is so appalling."
(The article still fails to say what I said in my own invented title for this article however. In fact it barely mentions islam or muslims. Like the rest of the narrative soaked media, they will not name the enemy or the enemy ideology. This means of course, they are determined to lose to them)
4. France Tells Hungary: Back Migrant Quotas Or Quit EU
(Hungary has the chance to make a long term right over a quick fix, well funded wrong. Lets hope they do the right thing)
Hungary should back mandatory migrant quotas or consider leaving the EU, the French President has said.
As Hungarians continue to resist EU-imposed quotas on how many migrants they should accept, French President François Hollande told Hungarian Prime Minister Viktor Orban: "States that don't respect European values should ask if they belong within the EU," according to The Times.

His attack comes as Orban accused German Chancellor Angela Merkel of "moral imperialism" for helping impose the quotas on Europe.

"We are Hungarians — we cannot think with German minds," Mr Orban said, adding: "Hungary should have the right to control the impact of a mass migration. The Hungarian people don't want this."

Meanwhile, Slovakian Prime Minister Robert Fico has vowed to break the new EU law, saying that his country will turn away 800 migrants due to be sent from Italy and Greece. "Slovakia is not going to respect mandatory quotas," he said.
5. Iranian man who threatened to behead passers-by not deported because officials couldn't get him passport
Officials lost track of Noureden Mallaky-Soodmand, 41, who should have been sent back to Iran following arrests for carrying knives on the streets of London.
But because Iranian embassy officials could not issue travel documents, he was never deported and was simply re-housed 250 miles away in Stockton-on-Tees, a court has heard.
6. Hey Muslims! Canada is also cold and boring and no one is at the bars! You can't even smoke here and nothing is going on!
(Finland finds the ultimate lemons to lemon-aid solution to the migration crisis)
Thank you M., Wrath of Khan, ML., and many more.