1. Not quite sure what this is yet but the google translate of the title indicates that some sort of supporting structure, possibly the new circular road that thousands of muslims can walk around the black box and chant things, has collapsed under the weight.
2. Islamists Start Radicalising Refugees As Soon As They Arrive In Europe, Say Security Services
Muslim fundamentalists waste no time radicalising their latest Islamist recruits, approaching new arrivals as soon as they arrive in Europe, according to German security services.

A spokesman for the Bavarian security service said Islamists were taking advantage of immigrants who were disorientated or without friends in their new country, reportsTheLocal.de. He said of the situation: "Salafists are trying to talk with unaccompanied youths who have come to Germany without their families and who are in particular need of support and connections.
3. Sweden: Police welcome refugees with viral Facebook video
(The title should of course read, 'illegals' as they are breaking Swedish law and EU and international rules on who is a refugee. When police welcome illegal muslims the selective enforcement of law process of tilting towards islam is pretty near complete. When no arrests are made or charges made against muslims raping and attacking native Swedes and when Swedes are jailed for defending themselves it will be complete)
The video features nine police officers speaking to the camera in Swedish in separate clips, some of them near famous landmarks in Stockholm, all offering kind words of support.

"Welcome to our beautiful country. We hope that Sweden can help you with whatever help you need. We hope everything turns out alright for you with school, work, housing, or maybe reuniting with your family," says one male police officer kneeling on the grass as he pets his black service dog.
(Pretty sure they will have to redo the video without the dog)
4. CAIR video on the mosque rejection
(People, especially TV people, really need to learn the difference between prejudice, bigotry, and informed opinion. If a person objects to a Nazi community center being built in a Jewish neighborhood next to a Synagogue, then it is not bigotry against Nazis it is an informed opinion about the risk it presents. The exact same thing, even more so, is true of mosques in any area not already fully Islamic)
5. Dick Cheney weighs in on the Iran deal with blunt force
Iran Deal: The U.S. is about "to guarantee that the means of its own destruction will be in the hands of another nation," warns Dick Cheney. As it trusts Iran, this administration can't be trusted.

Former Vice President Cheney earned a special social media onslaught from the White House as he spoke to the American Enterprise Institute blasting the Iran deal on Tuesday.

Cheney suggested it might the first national suicide attempt in world history, but at least as compelling was his assertion that while the U.S. trusts terrorist Tehran, Americans cannot trust their current president.

"We are asked to rely on the word of a country that has cheated on every nuclear agreement to which they have been a party, that once they have the means in place to become a nuclear power, they won't do it," Cheney noted.

The trust issue is turned on its head, the former veep, Pentagon chief, Wyoming congressman and White House chief of staff said.
6. Google translation of the description from Arabic:
The stomach of the largest in the Middle East .. and fell part of the dish circumambulation
Statistical Oolah..62 deaths in the incident fall crane campus
(I think this means too many people chanting allah hu ackbar and marching around the kabaa plotting death to infidels caused the collapse of the newly built circular roadway around the Kabaa. It always puzzled me that they don't have a party to celebrate the entrance of these believers to Mohamed's Bar and Brothel in the sky at events like this. Either they believe their own stuff or they do not but for some reason we let them get away with sympathy when they are killed and yet claim we respect their beliefs. Which way is it? Either they love death or they have the same values as us. They are mutually exclusive.)
7. Ok HERE IS THE STORY: SAUDI ARABIA – At least 62 dead in Grand Mosque in Mecca from falling crane
At least 65 people were killed when a crane crashed in Mecca's Grand Mosque on Friday, Saudi Arabia's Civil Defense authority said, in an accident that came just weeks before Islam's annual hajj pilgrimage.

The civil defense said on its Twitter account 154 people were also injured in the accident. Al Arabiya television earlier said the crane had fallen because of strong storms – western Saudi Arabia has been hit by strong sand storms in the last few days.

Pictures circulating on social media showed pilgrims in bloodied robes and masses of debris from a part of the crane that seemed to have crashed through a ceiling.

Saudi authorities go to great lengths to prepare for the millions of Muslim who converge on Mecca to perform the sacred pilgrimage. Last year, it reduced the numbers permitted to perform hajj for safety reasons because of construction work to enlarge the Grand Mosque. The pilgrimage, one of the largest religious gatherings in the world, has been prone to disasters in the past, mainly from stampedes as pilgrims rushed to complete rituals and return home. Hundreds of pilgrims died in such a stampede in 2006.
(Racist crane!)
8. Finland To Raise Tax On High Earners To Cover Refugee Costs
HELSINKI (Reuters) – Finland's government on Thursday proposed increasing capital gains tax and income tax on high earners to help pay for a 10-fold increase in refugees expected to arrive this year, its finance minister said.
9. WATCH: Migrant Turks And Kurds Battle On Frankfurt Streets, German Army Called In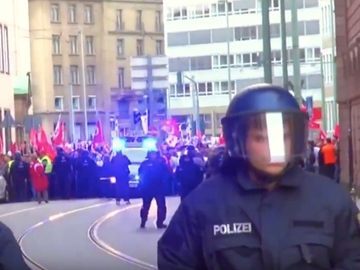 At least five arrests were made in Frankfurt on Thursday night after a march by supporters of Turkish nationalism descended into bloody violence when they clashed with rival Kurd separatists.

Video of the riot has emerged on the same day Germany announced it will place 4,000 soldiers on standby over the weekend to help with a new wave of up to 40,000 refugees arriving in the country.
(Allah hu acbar. its the new Sieg Heil!)
Thank you M., Buck, Gates of Vienna, Fjordman, CB Sashenka, Liberty DK., Yucki, Richard and many more. More to come almost immediately.