1: Horrified Wetherspoon customer finds racist 'Lord Kitchener'-style poster on the pub's noticeboard telling Muslims to 'get the f*** out of our countries'
(Is there any reason at all this poster can be called racist? If it said Nazis and Nazi law instead of Muslim and sharia, would it still be racist?)
Horrified Wetherspoon customer finds racist 'Lord Kitchener'-style poster on the pub's noticeboard telling Muslims to 'get the f*** out of our countries'

Racist poster was on display at a J. D. Wetherspoon's pub noticeboard
Lord Kitchener-style poster told Muslims to 'get the f*** out' of the country
Spokesman for pub chain apologised and said staff immediately removed it
They were unaware the sign had been placed on the public board

By Keiligh Baker for MailOnline

Published: 11:37 GMT, 21 August 2015 | Updated: 13:20 GMT, 21 August 2015

A Wetherspoon's customer was shocked to find a racist Lord Kitchener-style poster on display on his local's noticeboard which told Muslims to 'get the f*** out of our countries.'

The hate-filled sign had been put on display earlier this week on the family pub's noticeboard in Feltham, Middlesex, without the knowledge of staff.

A regular to The Moon on the Square, who asked to remain anonymous, went in for lunch with a Muslim colleague and said he was 'disgusted' by the offensive material.
(Everyone in the UK will need to be seen harrumphing about this poster. But frankly they will have to lie about its contents like this DM article does. At no point does it tell muslims to get out. It says the ones who hate England and want sharia should live where they have it in an unflattering way. You could write that about any group who is attacking England and demanding a total cultural shift to supremacy for themselves and it would be in every damn shop window. Why is the UK so bent on suicide to islam?)
2. IDF: Islamic Jihadists responsible for rocket attack killed in second airstrike in Syria
(Islamic Jihad, which launched 2 rocket salvos into Israel, along with Hizb'allah, are both Iran-backed)
Israel said it killed at least five Palestinian militants in an air strike on the Syrian Golan Heights on Friday, after cross-border rocket fire from Syria prompted the heaviest Israeli bombardment since the start of Syria's four-year-old civil war.

An Israeli defense official said the people killed in Friday's air strike were Palestinian militants from the Iran-backed Islamic Jihad. "We now know of five or six Palestinian Islamic Jihad terrorists killed," the official said.

A Syrian army source said the strike, at 10.30 am, hit a car in a village in the Syrian Golan Heights, killing five civilians. State television quoted the source as saying it took place near Quneitra, close to the Israeli-occupied section of the Golan region.
3. Bulldozer to civilisation: Shocking new images of ISIS brutes desecrating priceless 1,500-year-old Christian monastery
(And yet its racist to tell them not to do that in England. Amazing)
Shocking new pictures have emerged of ISIS using a bulldozer to demolish a 1,500-year-old Christian monastery in Syria.

The barbaric terror group used the heavy building machinery to take down the Mar Elian Monastery, a national Syrian treasure, which has stood in Al-Qaryatayn since 432 AD.

ISIS supporters shared the pictures online and praised them for destroying the building because God 'was not worshipped there'.

The also extremists captured more than 200 people when it seized Al-Qaryatayn on August 6 and took 100 of them to the group's de-facto capital of Raqqa.
Before:
After:
4. Decorated Green Beret is kicked out of U.S. Special Forces after 'shoving' Afghan police commander who 'raped boy, 12, and beat up his mother when she reported the crime'
(Clearly one of Afghanistan's finest)
A decorated soldier who has worked for the U.S. Army Special Forces for 11 years is being kicked out after he stood up for a young rape victim and his beaten mother in Afghanistan, it is claimed.
Sergeant 1st Class Charles Martland, 33, was serving in the country's war-torn Kunduz Province in 2011 when he apparently learned an Afghan police commander he had trained had raped a boy.
He and his team leader, Daniel Quinn, confronted Officer Abdul Rahman – who had also allegedly beaten the 12-year-old's mother for reporting the sexual assault – and 'shoved him to the ground'.
Despite Rahman walking away only bruised, Martland and Quinn were disciplined. The Army reportedly halted their mission, put them in temporary jobs, and then, finally, sent them home.
Upon their return, Quinn quit the Army and secured a job on Wall Street, Fox News exclusively reports. However, Martland, from Massachusetts, launched a fight to remain a Green Beret.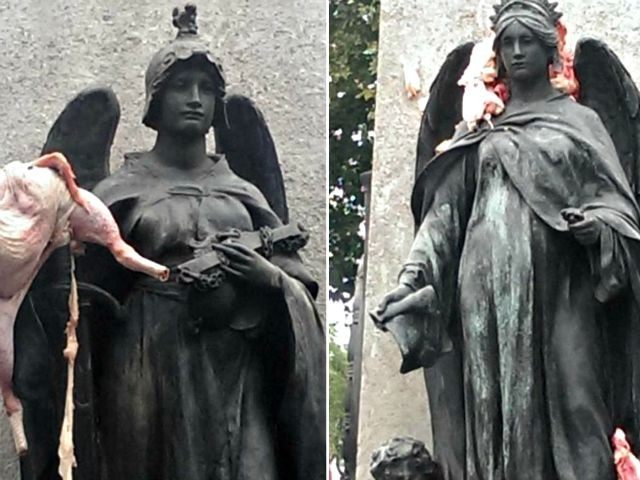 A memorial to King Edward VII in Tower Hamlets, paid for by Jewish residents, has been desecrated with raw meat in what appears to be an anti-Semitic attack.

The drinking fountain and statue in Whitechapel, East London was attacked with raw chicken and slabs of red meat on Thursday evening. Jewish residents donated the memorial in honour of King Edward VII after the Boer war.

The inscription on the sculpture, designed by sculptor William Silver Frith, reads: "In grateful and loyal memory of Edward VII, Rex et Imperator, Erected by subscriptions raised by Jewish inhabitants of East London, 1911."
[…]
At the end of the 19th century the borough had one of the largest Jewish populations in the UK. Tower Hamlets today is the only local authority in the UK where the Muslim population is the largest single religious group, and 43 per cent of residents were born outside the UK.

Between 2010 and 2015, the borough was controlled by the country's first Muslim mayor, Lutfur Rahman. However the election result was found null and void on the 23rd of April after he was found personally guilty of corrupt, illegal practices, undue religious influence and electoral fraud.
Thank you Buck, CB Sashenka, M., and all.
The initial presentation of Marc Lebuis to the Quebec legislature in opposition to the anti-Enlightenment bill 59, criminalizing criticism of Islam in Quebec should be available in English very soon.
Also three videos from German media on the riot at the 'migrant' center in Germany should be ready soon as well. Please check back later today. The importance of the Lebuis speech cannot be overestimated. He was razor sharp at the hearing and in a society based on reason, it would have been a slam dunk against the bill. However as our societies now seem governed by principles other than democratic ones, namely political correctness and Islam backed by people like George Soros and Saudi Arabia etc. the results of this week's debate may betomorrow's newspaper for the rest of the world.