As a foreword to this post, I would like to let new readers to this site know, that some of the most interesting materials has been posted by readers in the comments, either below the various items or mostly under the daily links post, which should be the first thing posted each day.
There are currently a lot of video of interest to people concerned about geopolitics, US politics as increasingly it becomes focused on the issue of islam and far left wing, Frankfurt School brand, leftist extremism and Israel and matters relating to Israel. Many are to videos that are long, but usually excellent and interesting, and while not exactly what usually gets posted to the site directly, is certainly related and worthwhile for those who have the time to watch them.
1. Tommy Robinson tweeted the following:
Put me on a wing full of Muslims & arrest me for protecting myself.I'm in no doubt they meant to put my life at risk
2. 'Death to you coward child killer – Mohammad will show no mercy on you: Chilling note found on serviceman's car in Georgia promises revenge on U.S. military
A chilling note was left on a serviceman's car blasting him for being a 'coward women child killer who Mohammad will show no mercy to'.

The warning was placed under the front windshield wiper of the vehicle after it had been parked near Dobbins Air Reserve Base in Marietta, Georgia on Wednesday.

The note, which was unsigned and had the heading 'untitled', promised revenge for U.S. military involvement in the Middle East – saying 'attacks will come full force' and 'death is to come to you'.
(While stories like these and countless others make me wonder why there is a single mosque standing in the US of A, I can't help but think of this scene from Life of Brian when I read a note like that)
3. Canadian court undoes Canadian laws which make refugee selection rational
(Worth reading all. The bit about comparative welfare rates should tip off people as to the true degree of refugee eligibility)
4. Kerry makes clear threat to Israel about stopping Iran's nuclear program. But he doesn't come out and say from who.
Related: Oren: Kerry 'threats' won't deter Israel from opposing nuke deal
Israel's former ambassador to the United States Michael Oren hit back sharply at US Secretary of State John Kerry on Friday evening, warning that his earlier comments suggesting Israel could be blamed if Congress rejects the agreement with Iran on its nuclear activity would not deter Israel.

Get The Times of Israel's Daily Edition by email
and never miss our top storiesFree Sign up!

"If American legislators reject the nuclear deal, they will do so exclusively on the basis of US interests. The threat of the secretary of state who, in the past, warned that Israel was in danger of becoming an apartheid state, cannot deter us from fulfilling our national duty to oppose this dangerous deal," Oren, now a member of the centrist Kulanu party, said in a statement Friday.

Last year, amid a collapse of the US-brokered peace talks between Israel and the Palestinians, Kerry reportedly warned that Israel was in danger of becoming an apartheid state — a comment he later walked back.
5. It is fascinating to see this BBC useful idiot castigate an advocate of genuine liberalism for the Temple Mount area in Jerusalem. It could be safely guessed that he would never ask the Saudis why they will not allow any non muslims into Mecca or Medina, even though Medina was a Jewish city called Yathrib conquered by force of genocide. It is natural to this CBC reporter that Muslims can exclude the rest of the world for anything or anywhere they want. But this one quarter acre which is the place where Jews believe that the tablets upon which the 10 commandments was inscribed by God should be accessible to everyone, and not just muslims, must have an ulterior and sinister motive.
6. Iran executions see 'unprecedented spike' – Amnesty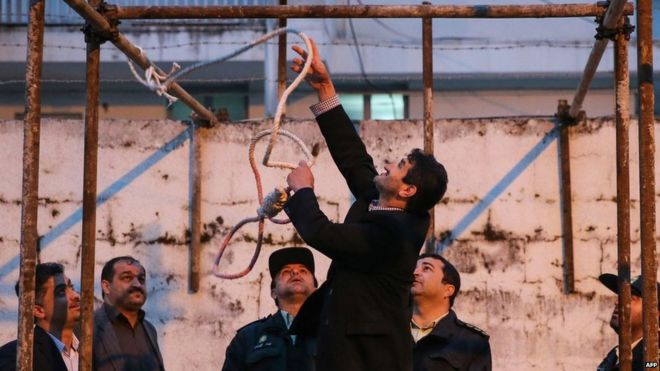 The rights group said it believed 694 people were killed between 1 January and 15 July, almost three times the figure acknowledged by the authorities.

It said credible reports suggested Iran executed at least 743 people in 2014.

Amnesty said the surge was disturbing as the death sentences were invariably imposed by courts "completely lacking in independence and impartiality".

"They are imposed either for vaguely worded or overly broad offences, or acts that should not be criminalised at all, let alone attract the death penalty," it added.
7. Yellow cabbie sentenced to 5 years for kidnapping and rape of a fare
Thank you M., Wrath of Khan, and many many more who sent in material or made it available. There is more. Someday maybe, if we can turn this thing around, there won't be.