1. Video of police arresting muslim terrorist plotter in Pisa Italy.
Pisa's anti-terrorism police squad head Gonario Antonio Rainone said 24-year-old Jalal El Hanaoui, who was jailed Monday, had posted photos of the Leaning Tower of Pisa, the Statue of Liberty and other architectural sites on Facebook and with slogans attempted to "instigate the faithful to spread Islam even using terrorism" and other violence. Rainone said there was no indication of planning for any attack.
2. Christian woman to be executed in Pakistan for drinking water out of a tard cup
3. Hungarian Parliament approves rational border controls. Media misrepresents it as 'anti immigrant'
4. Campaign uses London 7/7 bombing image as it urges tourists to support Tunisia
(Possibly the worst advertising campaign since Chevrolet made a care called the 'Nova' and tried to sell it in Latin America)
A provocative advertising campaign featuring images of terror attacks in Western capitals urges tourists not to abandon Tunisia in the wake of its own terror attack.
The campaign, launched by a Tunisian communications firm, asks "would you stop visiting" alongside images of London during the 7/7 bombings, New York during the 9/11 attack on the World Trade Centre and a placard signifying the Charlie Hebdo massacre in Paris.
5. Top American Indian Scholar Outed As Fake Indian
(Someone better dig up Ghandi and Martin Luther King and do some genetic testing)
Just a few weeks after Rachel Dolezal transfixed the nation with her bogus claims to black heritage, yet another professor stands accused of falsely claiming a different racial identity to advance her career.

Andrea Smith, a professor of media and cultural studies at the University of California at Riverside, has started to draw attention in the wake of the Dolezal incident from those who say she has for years falsely claimed to have Cherokee blood. The case is arguably much more significant, though, because while Dolezal was a relatively undistinguished academic at Eastern Washington University, Smith is recognized as a significant scholar in her field. She routinely appears as a featured scholar at major events and has written books that were well-received by her colleagues (though others may question the broader worth of works like Conquest: Sexual Violence And American Indian Genocide).
(Just another average white person who figured there was heapum big cash and prestige in attacking white people and history as a fake minority)
6. Is it time to give robots a union?
A worker at a Volkswagen factory in Germany has died, after a robot grabbed him and crushed him against a metal plate.

The 22-year-old man died in hospital following the tragic incident at a plant in Baunatal on Monday, around 100km north of Frankfurt.

Such fatalities are rare as robots are generally kept behind cages to prevent contact with humans, however the worker was reportedly inside the safety cage when he was injured, according to the Financial Times.
7. Nigeria's Boko Haram crisis: Jos blasts kill scores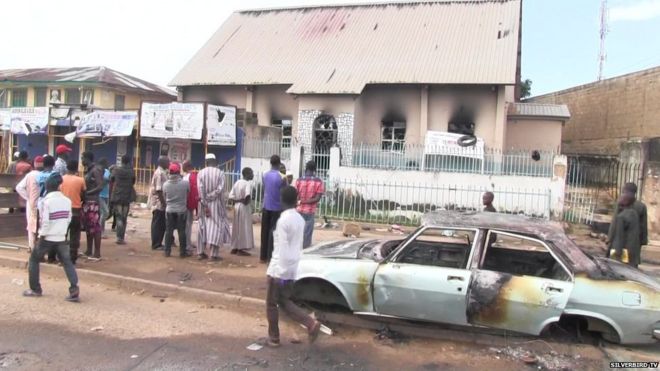 Two bomb attacks on the central Nigerian city of Jos have left at least 44 people dead, the authorities say.

A restaurant and a mosque were targeted on Sunday night.

No group has said it carried out the attack, but militant group Boko Haram has attacked Jos before, even though it is not in north-east Nigeria where the Islamists normally operate.

The blasts are the latest in a series of deadly attacks in recent days which have seen more than 200 people killed.

The attacks came shortly after the Ramadan fast was broken, with both sites full of people.
8.
Thank you Buck, M., Richard, ML., Wrath of Khan, and all, and more to come I'm afraid.