1. France basilica fire: Saint-Donatien in Nantes in ruins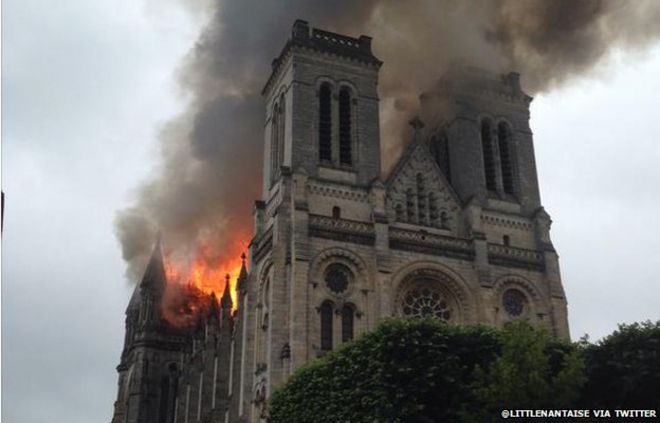 (Video at site but Im sure many much better ones will appear throughout the day. Perhaps there is another theory about this fire, but lets let time tell the tale)
2. A Nobel Prize winning scientist learns that there is a narrative, and it will be obeyed, or you will be destroyed. Even if what you said was in jest or even true.
3. Moderate Indonesian police destroy alcohol ahead of ramadan.
4. Twenty-seven killed in Chad bombings: Boko Haram blamed
5. Question: How many people did Sky have to go through to find one this dishonest and one this stupid?
6. Islamic State indulges in a little wanton destruction of cases of wine
7. ''We can not imagine what will happen"
World War III is already here. It takes place between the West and other states on one hand and terrorist groups and IS on the other hand – and it will only escalate, says peace and conflict researcher and professor of intelligence analysis, Wilhelm Agrell, to the Swedish newspaper Aftonbladet.

– We are in something that can best be understood as a world war.

"When will World War III start"? "Was the question in the P1 radio program "Philosophical room" a few weeks ago.

Both Wilhelm Agrell, Professor of intelligence analysis and Kristian Gerner, a history professor, in the program agreed that the conflicts we now see in the Middle East, North Africa and terrorism in Europe should be designated as a world war.
(This sounds vaguely familiar)
8. French Prime Minister does double gainer off the diving board of irrelevancy 
PARIS (AFP) – 
French Prime Minister Manuel Valls stressed on Monday there was no link between extremism and Islam, as he opened a conference aimed at improving ties with France's large Muslim community.

"We must say all of this is not Islam," said Valls. "The hate speech, anti-Semitism that hides behind anti-Zionism and hate for Israel… the self-proclaimed imams in our neighbourhoods and our prisons who are promoting violence and terrorism."

Five months after the jihadist attacks in Paris that killed 17 people and shocked the world, the government will hold a series of meetings with top officials from the roughly five million-strong Muslim community, the largest in Europe.
(Its like he's never read a book)
9. Exactly how is the US not a communist country?
Thank you M., Wrath of Khan, Gates of Vienna and a host of others.
Part VII and possibly VIII of the Red Pill Brief could be up later today. Its quite an amazing thing to edit. More to come I'm afraid. Also The Funding Drive post was released as a sticky. I would like to thank everyone who sent in something to help this site survive. It is deeply appreciated and humbling to know this work means enough to others that they would help cover costs. These are, as the Chinese curse goes, interesting times.