1. BREAKING as of 5:45 EDT: Thousands evacuated from live finale of Germany's Next Top Model after bomb threat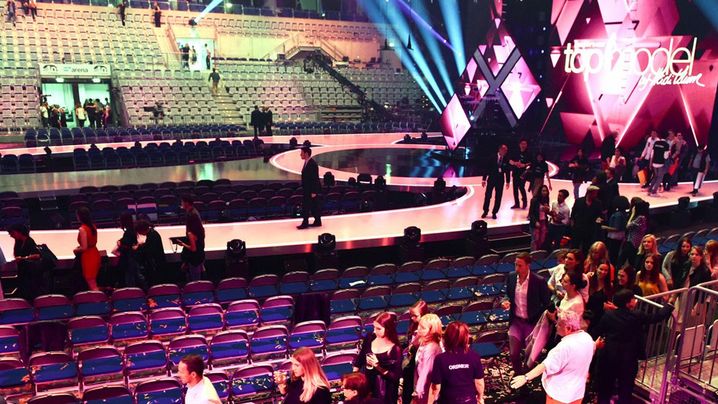 (Probably not muslims. Muslims don't do warnings till after they kill everyone they can)
The live broadcast of the finale of Germany's Next Top Model has been unexpectedly cancelled and the set evacuated after an apparent bomb threat.

Nearly 10,000 spectators were ordered to evacuate the SAP Arena in Mannheim, Germany, according to reports.

Bild.de reporter Daniel Cremer tweeted that Heidi Klum and other judges on the show were the first to leave the area, before the audience was escorted to the parking lot.

According to SWR News, the organisers of the event received an anonymous call with the threat at about 9pm, and the full evacuation took place at 9.30pm.
2. MEMRI has a translation of the whole Al Baghdadi speech for all who wish to read it.
3. Texas woman accused of stalking her sister before 'honor killing' of brother-in-law
(From May 5 but new to this site. More on this later tonight)
4. Albania: Construction of largest mosque in Balkans
(I wonder if Turkey has ever built anything like a museum or a school that wasn't about islam anywhere outside of Turkey since Erdogan?)
Turkey will be building the biggest mosque in the Balkans at a cost of 30 million Euro, which will be financed by the Turkish Presidency of Religious Affairs.
The Turkish Presidency of Religious Affairs will finance the building of the Balkan's largest mosque in the Albanian capital Tirana, authorities said.

Mazhar Bilgin, deputy chairman of the trustee committee of Turkey's Diyanet Foundation, told Anadolu Agency on Tuesday that the complex will be 10,000 meters square.

The mosque will be built near the Albanian parliament's building in Tirana.

Turkish President Recep Tayyip Erdogan, Albanian President Bujar Nishani, Albanian Prime Minister Edi Rama, Turkey's top cleric Mehmet Gormez and Albanian Muslim community leader Skender Brucaj will inaugurate the construction work of the mosque Wednesday
5. Canada's Multiculturalism Minister says his country defends Israel 'not because it's popular, but because it's the right thing to do.'
Supporting Israel is part and parcel of the fight against anti-Semitism, and other countries should learn from Canada's example in doing so, a Canadian minister has said.

Speaking to Arutz Sheva at the 5th Global Forum for Combating Anti-Semitism, Minister of State for Multiculturalism Tim Uppal said it was "only natural" that the Canadian government should send a senior delegation to the event.

He cited Canada's role as a safe haven for Jews fleeing persecution in the past, including some 40,000 holocaust survivors "who came  to the country, established themselves and really helped helped build the country into what it is today."

Apart from that, Uppal said Canada was immensely proud of its roughly 330,000-strong Jewish community, and its contribution to Canadian life.
6. Malaysia Turns Away 800 Boat People; Thailand Spots 3rd Boat
"What do you expect us to do?" Malaysian Deputy Home Minister Wan Junaidi Jafaar said. "We have been very nice to the people who broke into our border. We have treated them humanely but they cannot be flooding our shores like this."

"We have to send the right message that they are not welcome here," he told The Associated Press. Four days earlier, about 1,000 refugees landed on the shores of Langkawi, a resort island in northern Malaysia near Thailand. Another 600 have arrived surreptitiously in Indonesia.

Thai Prime Minister Gen. Prayuth Chan-ocha also made it clear that his government does not have resources to host refugees.

"If we take them all in, then anyone who wants to come will come freely. I am asking if Thailand will be able to take care of them all. Where will the budget come from?" Prayuth said. "No one wants them. Everyone wants a transit country like us to take responsibility. Is it fair?" he said.
(What is truly frightening is that if you put that statement through a United Nations realistic-to-likely outcome translation it reads,
Everyone on board please learn how to bilk the Canadian social services as you prepare for a life on the government dime in Toronto
7. More on the message from the Islamic State to tards across the world
ISIS Releases New Baghdadi Message Calling for 'Every Muslim to Fight in His Land'
"Do not think the war that we are waging is the Islamic State's war alone. Rather, it is the Muslims' war altogether. It is the war of every Muslim in every place, and the Islamic State is merely the spearhead in this war. It is but the war of the people of faith against the people of disbelief, so march forth to your war O Muslims," he says. "March forth everywhere, for it is an obligation upon every Muslim who is accountable before Allah. And whoever stays behind or flees, Allah (the Mighty and Majestic) will be angry with him and will punish him with a painful torment."

Baghdadi stresses that "whoever thinks that it is within his capacity to conciliate with the Jews, Christians, and other disbelievers, and for them to conciliate with him, such that he coexists with them and they coexist with him while he is upon his religion and upon tawh?d (monotheism), then he has belied the explicit statement of his Lord."

"Islam," he adds, "is the religion of war."
(And the religion of the occasional honest statement)
8. Iran beats its chest at Saudi Arabia
(The last phrase sounds an awful lot like what a primitive would say if he had the confidence of a newly developed strategic arsenal, doesn't it)
9. More on today's Iranian threat on a cargo and oil ship
Thank you Yucki, M., Richard, Ox AO., Wrath of Khan,