1. Another news article about the man arrested for the bomb plot on a US military base
KANSAS CITY, Kan. —A Topeka man is facing federal charges for allegedly plotting to detonate a car bomb at Fort Riley, Kansas, federal officials said.
Related
U.S. Attorney Barry Grissom said John Thomas Booker Jr., also known as Muhammed Abdullah Hasson, 20, was arrested at 9 a.m. Friday in Manhattan as he was making final preparations to detonate the bomb.
2. Finnish security police cancel Lars Vilks speaking engagement within the Finnish parliament on the basis that they could not protect him. In other words, the Finns are not sufficiently in control of their own nation to protect a person not liked by muslims within their own parliament buildings. Canada take note. Greater security (sadly) will likely be needed still.
3. Muslims Gave Man 3 Chances To Convert, What He Says Next Will Haunt You
4. United West reminds us about Grove Norquist's role in the subversion of the United States
5. ISIS executes 4 of its commanders by direct order of al-Baghdadi in Diyala
The source said in an interview for IraqiNews.com, "ISIS leader al-Baghdadi ordered to execute four of the most prominent commanders of the terrorist group in Diyala, including a security officer in the former regime, on the outskirts of al-Sharqat area in Salahuddin, because of their escape from the battlefield in the northern areas of Muqdadiya (40 km northeast of Baquba)," noting that, "The execution was in front of a gathering of people."

The source, who requested to remain anonymous, added, "The four leaders were arrested two months ago in Hamrin on the border between Diyala and Salahuddin, after fleeing from Muqdadiyah battles."
(In the Islamic State the only way you know if they really care about you is if they execute you)
6. BREAKING:  Albanian national held on suspicion of murdering Israeli tourist in Berlin
Motive for suspected murder of Yossi Damari, 22, reportedly remains unclear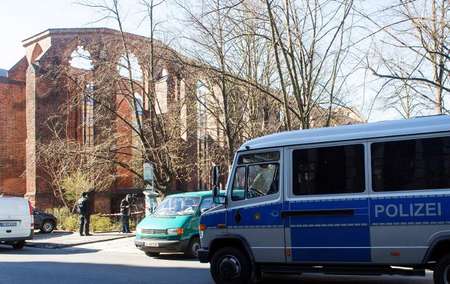 Police cars stand in front of the ruins of the Franciscan Monastery in Berlin on April 5, 2015, where the body of an Israeli man was found ( Maurizio Gambarini (DPA/AFP/File) )"Maurizio Gambarini (DPA/AFP/File)"
An Albanian man was arrested Friday in the Czech Republic on suspicion of beating to death an Israeli tourist in Berlin, German police said.

The victim, identified by police Thursday as 22-year-old Yosi Damari, was found by passersby early Sunday beaten beyond recognition in the ruins of a Gothic church. No motive has been found for his horrific murder, which had taken place the previous day, Berlin police say.

It took several days for police to confirm the identity of the battered man, using his passport and DNA testing.
(Muslim beats a Jewish Israeli to death in Germany. Motive unclear. Police in Europe clearly have blindfolds as part of the mandatory uniform)
7. UK: Three prominent muslim school principles etc. arrested and charged with fraud and various offenses. 
8. The married Lib Dem 'feminist' and his drunken strip club night of temptation caught on camera
A would-be Lib Dem MP who describes himself as a feminist has been filmed repeatedly trying to touch a naked lap dancer.
Married father-of-one Maajid Nawaz asked for two private sessions at a strip club in east London.
Footage shows the prospective parliamentary candidate – who calls himself an advocate of women's rights – attempting to touch her arms and thighs, which is against the venue's policy.
Staff said Nawaz had been pestering the girl all night and his actions had been 'outrageous'.
In the film, Nawaz – a convicted former extremist – can be seen repeatedly trying to make contact with the girl as she dances naked for him in a private room during two £20 lap dances.
Thank you M., George Igler, Carpe Diem and all.
The Daily mail seems to have implemented a new advert scheme were there is some random playing of videos at odd intervals and not even continuous, just blurts and bleeps and sometimes a whole add. It is infuriating if you have a lot of tabs open and don't know which one is interfering with your thought process like the beeps in the Kurt Vonnegut story, Welcome to the Monkey House.   So you may want to read the story in item 8 and close the tab.