1. Frankly if this wasn't MEMRI I wouldn't believe it. Its a little like a sudden jihad video. Or more likely a great add for a product like this)

2. Sweden tries to end maelstrom over Wallstrom
("And the truth shall set you free", but it also ends trade ties with Saudi Arabia as the Swedes found out. This is a great opportunity to see if that government has any morals or ethics at all though. I see she tried to back out of her factual statements about human rights in the KSA, even if she didn't know they were fundamental islamic principles, but at least she didn't totally try and retract all the facts)
Sweden's Parliament summoned Foreign Minister Margot Wallstrom to formally appear in an investigation into the crisis she caused with her criticism of Saudi Arabia, Asharq Al-Awsat newspaper reported on Saturday.
Swedish-Saudi trade ties have been greatly affected by Wallstrom's statement and are now uncertain after the Saudi decision to halt visas for Swedish businessmen and not renew expired visas.
Wallstrom tried to back down on her statement and said Saudi Arabia is a pivotal country in the Middle East and its stand is very important to Sweden and EU countries.
In her statement before Parliament, Wallstrom said: "Saudi Arabia is a member of the G-20 countries and holds a key to many international issues, and is also one of the important donors in the world, not to mention its role in international efforts to combat terrorism."
(Frankly as a woman, she should feel like a Jewish person having to make nice with the Nazi government to keep train parts selling. Seriously.)
3. Khamenei responds to Obama's video message
4. The issue with Tommy Robinson and the influence peddling Tory member, now suspended from his party is turning into a daytime soap.
ITV.Com story    Telegraph story    IBTimes version    Express and Star    The Guadian    The BBC    The Independent and Sky news even has a live thing going on about it. I haven't checked any of these yet. I will look forward to the CBC not covering it unless their think tank comes up with a way to make it fit the Little Mosque on the Moores narrative work though.
5. "Mosques are enemy bases" -Buddhist leader in Burma
6. Nigel Farage brands pub invaders 'scum' as protesters jump on his car bonnet
(As it turns out that ANTIFA and other similar groups who did counter demo's to the EDL and PEGIDA etc. have been clearly on the government payroll and often complete creations of the government, I would not be too surprised to find out that was the case here. Union and government Cossack thugs. Farage should know he is a real threat to establishment now if they resort to this)
Nigel Farage and his family have been chased out of a pub in Kent and had their car attacked by protesters demonstrating against the UK Independence Party (Ukip).
The Ukip leader labelled the demonstrators "scum" on Sunday afternoon and said his two children had yet to return after the family got split amid the hostility.
Mr Farage said his children were so scared they had to hide from the protesters and criticised them for using force to make their point.
7. London police arrest six after synagogue attack
(The incident to which the Daily Mail refers, is of an event the video posted here last night was about)
8. Cartoonists face 2-year jail sentence, allegedly depict Erdo?an as gay
(On the list of most dangerous professions in the 1990s, I am pretty sure cartoonist would have not even made the top 100. I bet its close to the top now)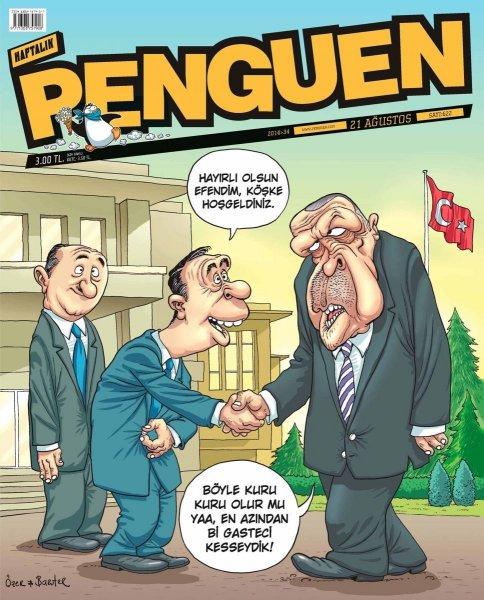 Cartoonists Bahad?r Baruter and Özer Aydo?an face possible prison sentences of 14 months to two years and four months for allegedly "insulting" President Recep Tayyip Erdo?an.
The indictment against the cartoonists alleges that they depicted the president as a homosexual on the cover of the Aug. 21, 2014 issue of the satirical Penguen magazine.
Cem S., a man who identifies as a sympathizer of the ruling Justice and Development Party (AK Party), informed the Prime Ministry Communication Center (B?MER) that the cover-page cartoon of Penguen showed a "top" signal in reference to Erdo?an, according to the Cumhuriyet daily. The Turkish term "top" in this context refers to shaping one's fingers into a ring to imply that someone is homosexual.
9. Funeral held for woman in Afghanistan beaten and burned to death after someone accused her of breaking superstitious fetishism.
(Maybe its just me but I still say it would have been simpler and better to just not have killed her)
10. Yassine: the Tunis museum gunman who 'loved life'
Yassine Laabidi, one of the gunmen who killed 20 foreign tourists at a Tunish museum this week, was a young man who "loved life", his brother told AFP Saturday, expressing shock and dismay.

"My brother was a bon vivant, who liked to dress well, surround himself with friends and his family," said the older of the two, who refused to give his name.

Yassine "enjoyed a drink with mates and would joke around with everyone. He had no complex whatsoever."

Laabidi, spelled Abidi by the authorities, and co-assailant Jabeur Khachnaoui, killed the tourists and a Tunisian policemen in a brazen attack on the museum Wednesday.
Thank you M., Don C., GoV., Draculea, Richard, Wrath of Khan and all who contributed comments and links.