1. I don't think this student was an Islamic terrorist at the TV station in the Netherlands. Neither his clothing, note, actions nor speech were at all typical of any Islamic action. He did not seek martyrdom and in fact seemed to feel an urgent need to warn the people of the Netherlands about what might actually be an impending attack.
He was well dressed, polite, surrendered without hurting anyone and was certain everyone would be unharmed once he delivered his message. More on him here. But I think we need to know what he wanted to say. CTV now reports his gun was a fake.
2. Voluntary sharia law tribunal begins in Texas. The slippery slope indeed.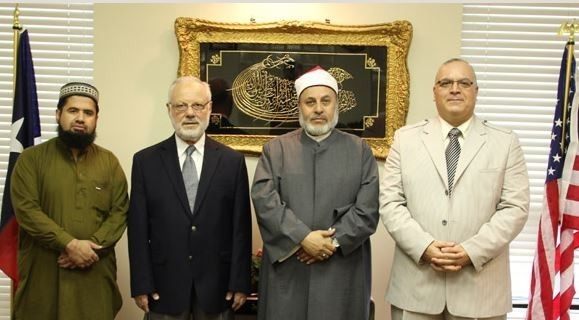 Islamic Tribunal Website
3. EU interior ministers discuss anti-Muslim discrimination in Europe
(EUROPOL: shutting down your most fundamental rights one at a time)
[…] He said one of the main measures will be not only improving the monitoring of Internet but boosting the programme "Check the web" at Europol to be a bit more effective in removing illegal content from the web. On his part Rihards Kozlovskis, Minister for the Interior of Latvia, said "we are going to continue to discuss measures to help fight terrorism, such has combating radicalization, improving exchange of information and cooperation among all the authorities involved in fighting terrorism. As well, I would like to mention the fighting against the traffic of illicit firearms." (end) nk.ajs
4. Israeli Arab arrested for running ISIS recruiting and training cell in Israel:
Translator's notes:
ISIS Terrorists in Northern Israel
A few weeks ago the Israeli security services uncovered six members of an ISIS terror cell in northern Israel. The cell's main organizer, Adnan Jameel Ala Adin, a 39-year-old from Nazareth, has been a successful Israeli Arab lawyer. He recruited other young Arabs to join and fight along with ISIS in Syria. At his farm they trained in assembling Molotov cocktails, and they bought sheep to train in beheading, all with the objective of escaping to Syria.
On his Facebook page Ala Adin posted the infamous Hadith calling on Muslims to find the Jews behind the rock and to kill him:
Bukhari (52:177) — Allah's Apostle said, "The Hour will not be established until you fight with the Jews, and the stone behind which a Jew will be hiding will say. "O Muslim! There is a Jew hiding behind me, so kill him."
He added the following: "Does anyone still have the temerity to doubt the virtue of this Hadith?
To the rest of his cell members, Ala Adin described himself as the future ISIS military chief of staff in Palestine.
5. No women allowed: Saudi Arabia wants MEN-ONLY Olympics with ultra-conservative plan for segregated games
(And if we wanted a games with no muslims allowed somehow we would be the bad guys)
Ultra-conservative Saudi Arabia wants to see men and women compete in separate Olympics with a controversial proposal to joint-host segregated games.

An official from the Saudi Arabian Olympic Committee floated the idea of male athletes competing in his country while a female games would be held in neighbouring Bahrain.

Prince Fahad bin Jalawi Al Saud, an international relations consultant to the president of the Saudi committee, told French sports website Frances Jeux that he could see the country bidding for the Olympics with another Gulf state.
6. APNewsBreak: Suspected terrorist brother of no-fly-list man
By MATTHEW BARAKAT
Associated Press
ALEXANDRIA, Va. (AP) – The FBI on Thursday added a former taxi driver from northern Virginia to its list of most-wanted terrorists, saying he was a recruiter for the al-Shabab terror group in Somalia.

An arrest warrant, originally issued in February, was unsealed Thursday in U.S. District Court in Alexandria for Liban Haji Mohamed, 29, a naturalized U.S. citizen born in Somalia.

He is the older brother of Gulet Mohamed, who for the past four years has been challenging his placement on the government's no-fly list, the attorney representing the younger Mohamed, Gadeir Abbas, told The Associated Press on Thursday. A hearing on Gulet Mohamed's case is scheduled in federal court in Alexandria on Friday.

Abbas said Liban Mohamed aggressively advocated on his younger brother's behalf when Gulet Mohamed was detained in Kuwait several years ago and barred from returning to the U.S., and that the FBI began to harass him as a result. He said his family suspects he went into hiding to avoid the harassment.
Thank you Don L., Shabnam, M., Yucki, Richard and all who sent in materials.