1. Four teenagers are charged after rabbi is attacked in Gateshead
"Qaiser Malik, 19, and Balawal Sultan, 18, both of Newcastle, and male youths aged 17 and 16 have been charged with racially aggravated common assault. They appeared at South Tyneside Magistrates' Court on Saturday July 19."
2. Heavy Casualties Reported in Xinjiang Terror Attack
Dozens of civilians were killed or injured in a terrorist attack early on Monday morning in Shache County, Kashgar Prefecture, northwest China's Xinjiang Uygur Autonomous Region, local police said.

A gang armed with knives and axes attacked a police station and government offices in Elixku Township, and some moved on to the nearby Huangdi Township, attacking civilians and smashing vehicles as they passed. Dozens of Uygur and Han civilians were killed or injured, according to the local police.

Police officers at the scene shot dead dozens of members of the mob.
3. 'We are looking at the beginnings of a Holocaust'  
Danish Ambassador Jesper Vahr warns MKs against linking anti-Semitism and Gaza operation.

Jerusalem and Diaspora Affairs Minister Naftali Bennett and IJC President Vladimir Sloutsker. Photo: YOEL BALINKO / ISRAELI-JEWISH CONGRESS
The situation facing European Jewry is "simply intolerable, unacceptable and inexcusable," Israeli Jewish Congress president Vladimir Sloutsker told MKs and foreign diplomats at a special session of the Knesset Immigration Absorption and Diaspora Affairs Committee on Monday.
4. Rising tide of anti-semitism in Britain as Jewish people face backlash over bloodshed in Gaza
Over 100 hate crimes recorded this month, more than double usual number
Attackers invoke the Holocaust and even shout 'Heil Hitler' at victims
Bricks thrown at Belfast's only synagogue, smashing windows
Rabbi attacked by four Muslim teenagers outside school in Gateshead
Bomb threat and stones thrown at a boy on a bike in North London 
5. Miami: Synagogue vandalized with swastikas, "Hamas"
MIAMI (CBSMiami) – For the second time in just a few days messages of hate targeted members of South Florida's Jewish community.

Early Monday morning, spray painted swastikas and the word "Hamas" were discovered on the pillars of the Congregation Torah Ve'emunah, at 1000 NE 175th Street, in northeast Miami-Dade.
6. Gaza Crisis: Rome's Historic Jewish Quarter Daubed with Swastikas and Anti-Semitic Posters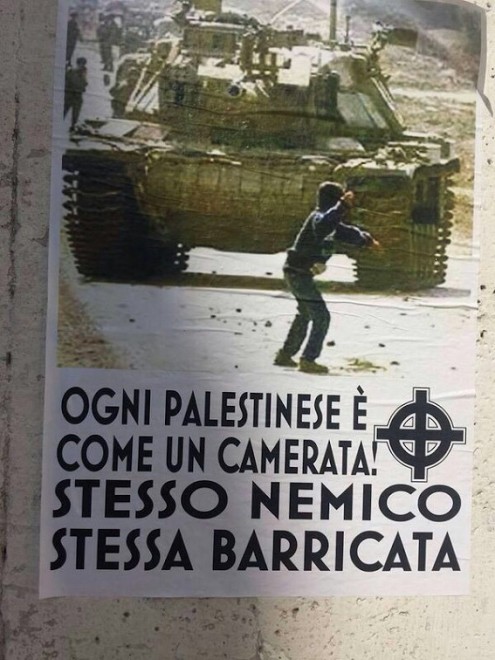 Anti-Semitic graffiti and flyers have defaced shops and walls in Rome's historical Jewish San Giovanni neighbourhood raising fears of a rise in anti-Jewish sentiment in the capital.
Thank you Richard, Buck, M, and all who sent in materials. There is a pile more. Jihad watch today alone has 7 or 8 stories of Islamic antisemtism and renewed calls for global genocide around Canada, Europe and North America.
I am expecting however, that Jewish people will not go softly into that long night on this occasion. Even if some of the idiot leftist ones who are partially responsible for creating this situation (supporting Obama twice, pro state enforced gun control and pushing the 'Islam is peace' meme etc.) should be made to recognize their part in this. It is important however to remember, that is because they are leftists. Not because they are Jews. Jews are not a hive mind. But they once again have become a collective target.