1. BBC assists the USA in normalizing Al-Qaeda by demonizing a branch of Al-Qaeda called ISIS
2. Did the Muslim Imam at the Vatican's Prayer for Peace pray for "Victory over the Infidels"?
(I am not aware of any islamic prayer that is not one for victory over the unbelievers)
Is this what happened on Pentecost Sunday in the Vatican Gardens?
We're not entirely sure. A controversy has erupted in Europe over this. According to Egyptian-German political scientist, historian, and author Hamed Abdel-Samad, who could be described as the Modernist version of a Muslim, the Islamic clergyman who offered the "prayers for peace" in the Vatican on Sunday (our coverage here) did not stick verbatim to the prepared text of the prayers as published beforehand, but instead ended with a quotation from the last verse of Sura 2 in the Koran, which reads, "You are our protector, so give us victory over the disbelieving people" (source). The "disbelieving people" can alternatively be rendered "unbelievers" or "infidels." In any case, what is meant is victory over people who are not Muslim.
3. Charges against Paul Weston for quoting Winston Churchill in public are now dropped. Press release from Liberty GB just came in.
Below, the Fox panel chat on it and below that, Vlad Tepes' interview with Paul Weston on the day of his release from custody when arrested:
4. Mosul Seized: Jihadis Loot $429m from City's Central Bank to Make Isis (Al-Qaeda branch)  World's Richest Terror Force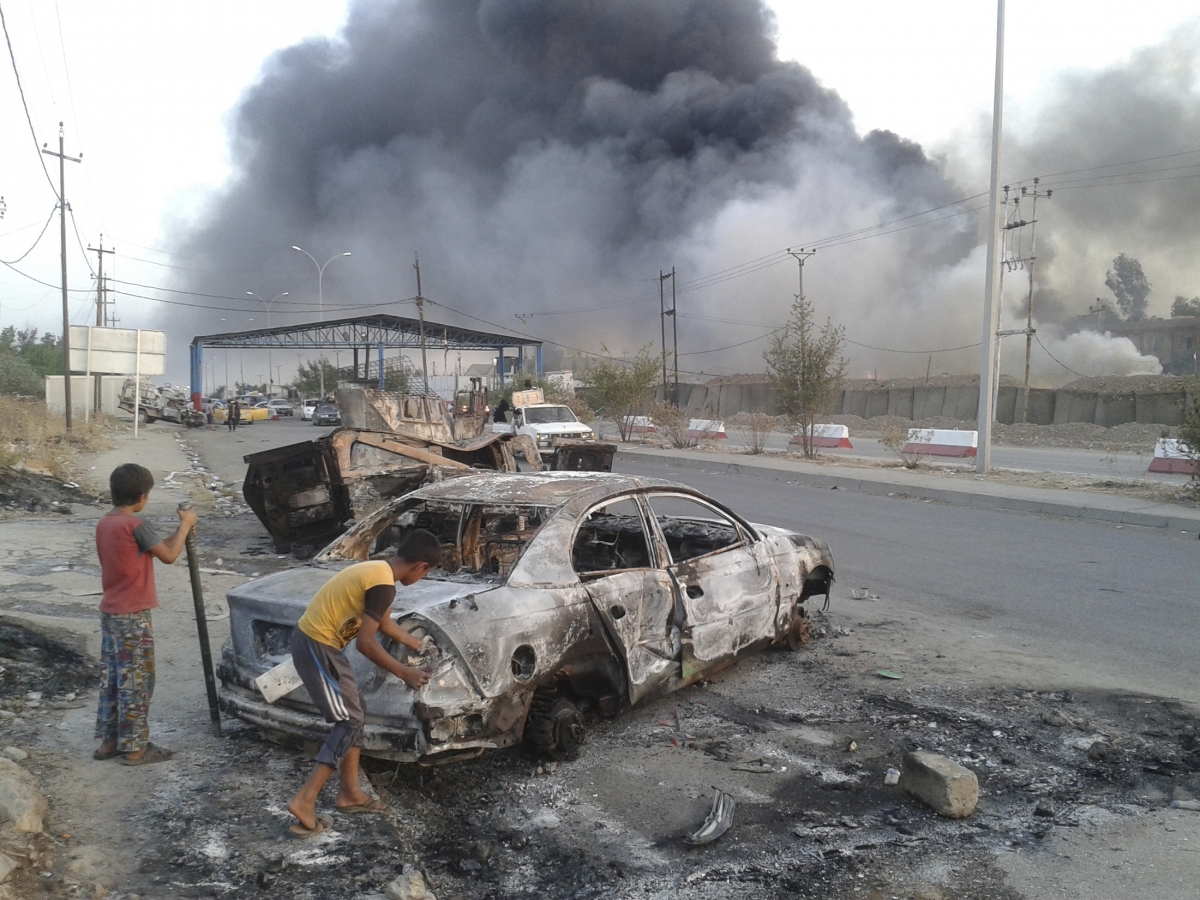 The Islamic State of Iraq and al-Shams (Isis) has become the richest terror group ever after looting 500 billion Iraqi dinars – the equivalent of $429m (£256m) – from Mosul's central bank, according to the regional governor.
5. In the UK, Muslim burials are subsidized by more than 66% while indigenous brits have to pay the full cost of their burial services. Muslims apparently need concrete bunkers to be buried in. As some areas attempt to remove that subsidy, muslims are getting upset. More about this issue here, and a charges and fees scale for the various faith groups here
6. Alarm as Iraq's Second City, US Equipment, Seized by Islamists
(I wonder if now isn't a good time for a US president who actually opposes terrorism and Islamic supremacism and is willing to apply even 1% of potential US force to end this problem for the sake of the entire freaking world)

Iraqi security forces (pictured) were forced from Mosul by ISIS
Iraq's Prime Minister Nouri al-Maliki has asked parliament to declare a state of emergency, after a radical Al Qaeda offshoot seized control of the country's second city on Monday night.

Islamists from the Islamic State of Iraq and the Levant (ISIS) captured Mosul, in northern Nineveh Province, prompting some 150,000 panic-stricken refugees to flee to the nearby autonomous Kurdish region in northern Iraq, to escape the notoriously-brutal ISIS.
7. Karachi airport: Islamic Movement of Uzbekistan claims attack
Thank you Don L, UK Pete, Sheik Yermami, GoV, Yucki, m, Bains, Wrath of Khan, and more. Shortly, Gates of Vienna will post a good translation of the humiliation the Vatican subjected itself too, when the imam they invited to pray for peace asked his god for help defeating the unbelievers. Look out for that. I will post the link here as well as soon as its available.