Norwegian justice dept. epic fail.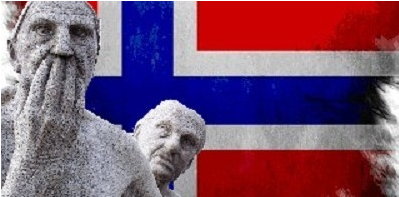 In Oslo, a 28 year old Algerian recently was arrested, over an armed robbery attempt. It has transpired this man formerly has:
 -shot and nearly killed an 18 years old man, being sentenced to five years in prison over this

-repeatedly been convicted over drugs charges and threats

-throwing rocks at the police during the 2009 Oslo riots over the Gaza war

-threatened to cut the throat of a police officer

-making this comment in court. ""I shall f*** the prosecutor and kill her because I'm innocent"

-impersonating a police officer during a home invasion, threatening to kill a property owner
So far, this man has not served major prison time in Norway. His lawyer has made this comment:
 "It is a part of the picture that this attempted murder was controlled by events, being far from planned. There were no indications over him committing any new crimes".
H/T: Always Watching
(Dagbladet): A 28-year-old man who in 2009 came close to killing a 18-year-old with five gunshots after an argument at Railway Square in Oslo, Saturday 2 February arrested after committing an unsuccessful armed robbery of a convenience store in Greenland in Oslo.
The 28-year-old  was still waiting to being summoned to prison for the attempted murder verdict.
Shot five times
The appellate court proved last year that the 28-year-old must have thought that the shots would kill the victim, and stated that even random passersby in the city center could have been shot.
[…]
Having appealed a tingrettsdom in September 2011, the 28-year-old in the Court of Appeal 5th last September was sentenced to six and a half years in prison for attempted murder and threats, a verdict that was enforceable in the Supreme Court at the start of December.
Yet the man was still at large two months later, and had again acquired firearms.