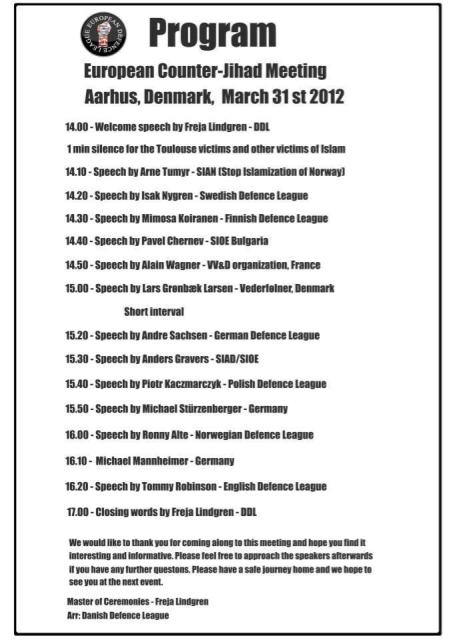 End of live blogging.
Last entry: The EDL and their brave supporters in all the other CounterJihad groups have left the area. Now all that remains is this: It nicely captures the essence of the Left, the maker of tall effigies for simplistic demonstrations that show off their complete ignorance, arrogance and abject tomfoolery.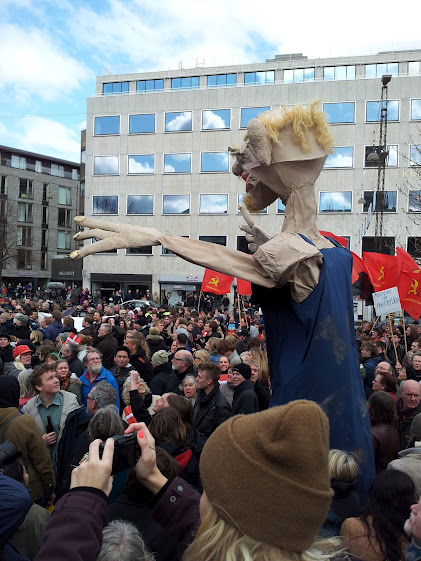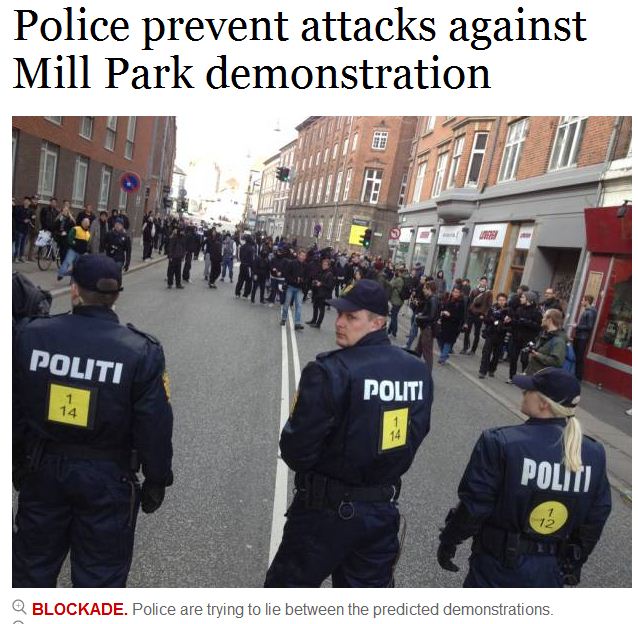 18:05: From Politiken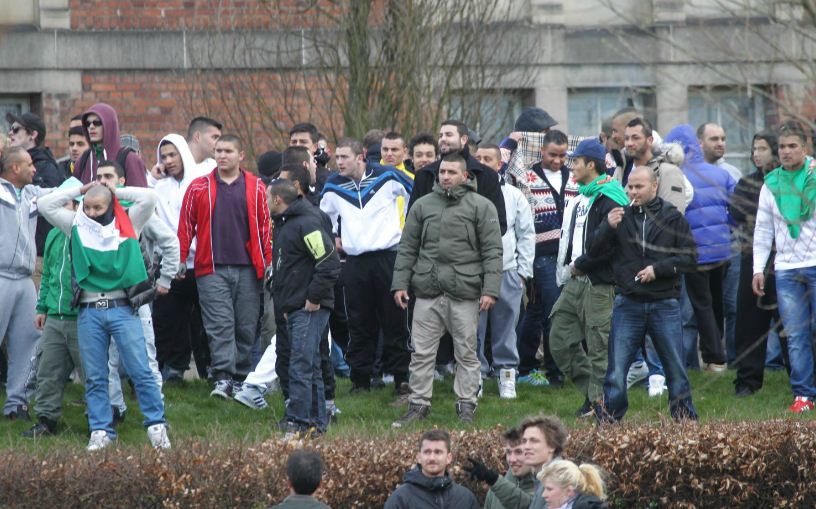 17:58: Immigrant mobs were there as well: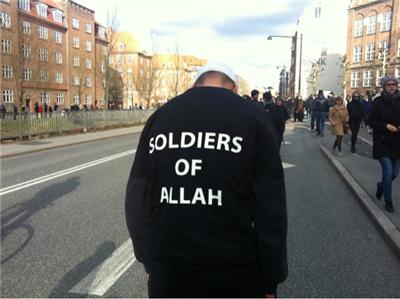 17:48: Soldier of allah hoodie was there…

German Defense League and EDL supporter interviewed
17:34: KK: about 12 norwegian Antifa protesters just got arrested next to the park. Anti EDL protesters are being gathered in a so called "choo choo train" sitting down front to back.
17:30 KK: about 12 norwegian Antifa protesters just got arrested next to the park
17:29: Krimikolle: a few arrests have been made after young minorities barricaded the street throwing bikes and rocks at police lines
17:28  A group of antifascist entered Mølleparken and attacked the EDL demo. Police have lost control of the situation
17:26  krimikolle:  just seen about 50 antifa break through police lines. Total chaos right now. EDL starting to panic.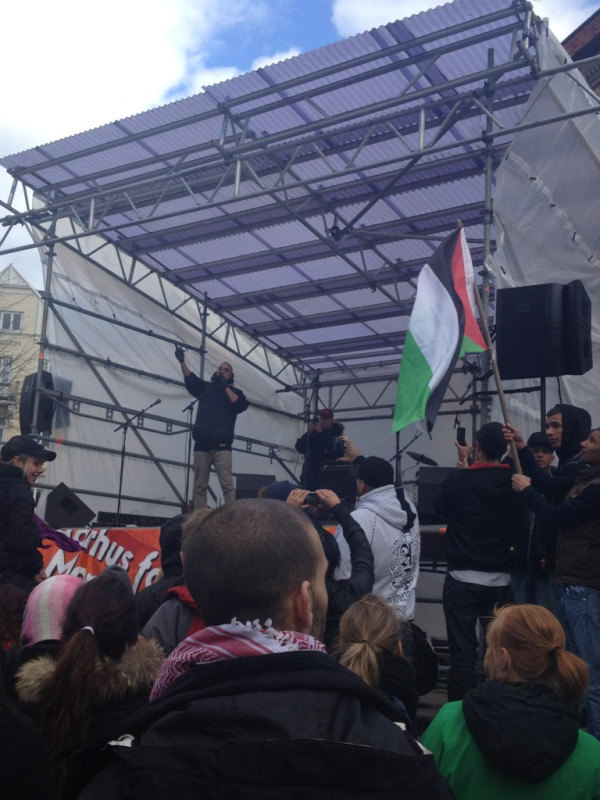 17:22 Marwan the rapper says on stage + flag; "We will fight their hate with our love" #aarhusdemo #Palestine.  This is in light of the fact that their fellow demonstrators are heading towards the Counterjihad activists to crack open their heads.
17:18: Skriver: Shameful that Antifa, a part of diversity demo, can not stay in the skin. Do not come afterwardsand say: "They provoked"
17:16: several hundred Anti EDL protesters moving towards the park Krimikolle
17:14: The Left rag Guardian trots out the old "Far-Right" meme….
17:08: "There should also be subjected to gas by the police. The young group of immigrants and the police meet right now."
17:07: Stiften.dk: well surprise surprise….the violence has started in Denmark…..and as usual it's the muslims and the left who are kicking off #EDL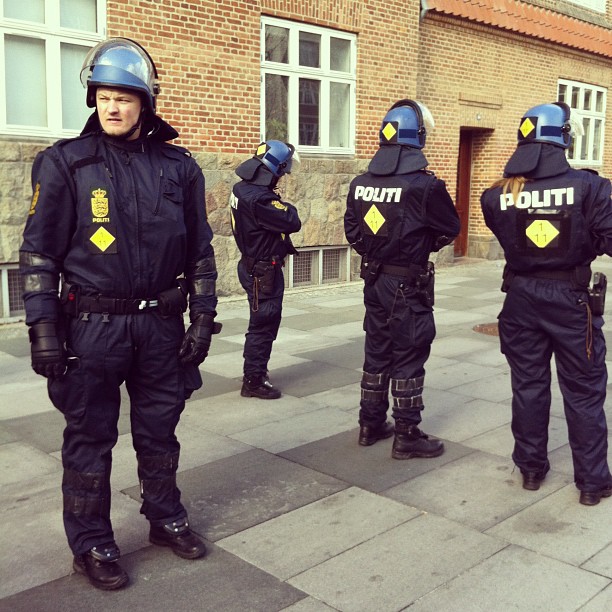 17:02: Police have taken the whole outfit on. Thrown bottles at police. Police have taken kniblerneback and has turned a drunken man in the head.
17:00  Stiften.dk: "The wind farm, anti-Islam-demo: a military helicopter is now hanging over the wind farm. Different groups of young immigrants are gathered around the park, but they are stronglyopdækket by police.16:49: They say it's getting ugly now………."
16:58: Great pics here.
16: 56: Its starting to kick off. Unlikely alliance of immigrant dames and antifascists trying to disrupt #edl demo #aarhusdemo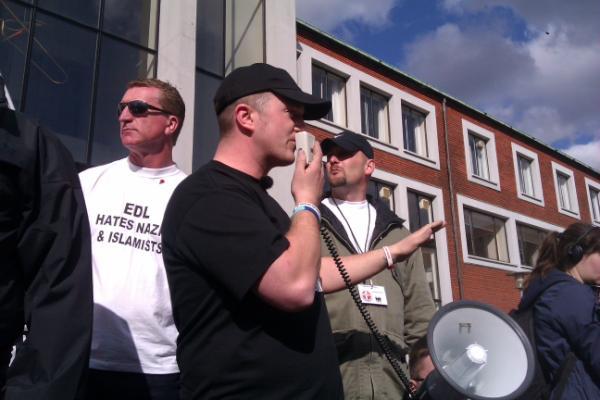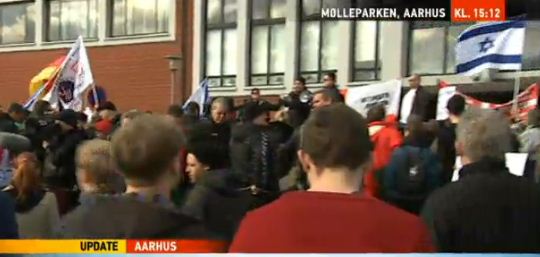 Pic of Tommy Robinson speaking at demonstration meeting place.
16:49  Danish TV report:
16:46: Possible trouble forming. Police are doing their job however from what I hear. 150 antifascists moving forward at Voxhall/Vester Alle. 10+ police vans moving in between #aarhusdemo #aarhusantifa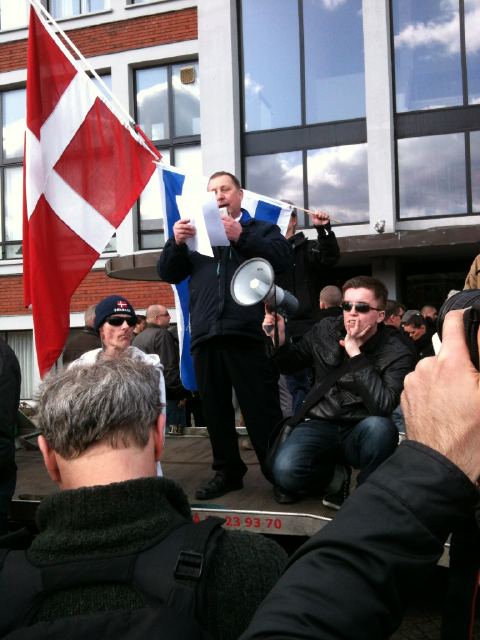 16:45: Tommy has finished speaking, now it's Anders Gravers turn.
16:40  Counter demonstrator: Tommy Robinson was just interrupted during his speech. The police stop the demo. Bye, EDL!What a successful expansion, haha.
1635: Antifa provoking along the river. A group of antifascists are at the river and shouting at EDL. EDL are trying to attack.Police are in the middle #aarhusantifa #aarhusdemo
16:30: Police does seem to be well in control.
16:28:  Now they're (antifa thugs) trying to get around the police.
16:27: Groups of antifascist moving slowly towards Mølleparken #aarhusdemo #aarhusantifa
16:22: Counter demonstrator: "170 supporters from EDL/DDL in Mølleparken, 4000 here for diversity! #aarhusdemo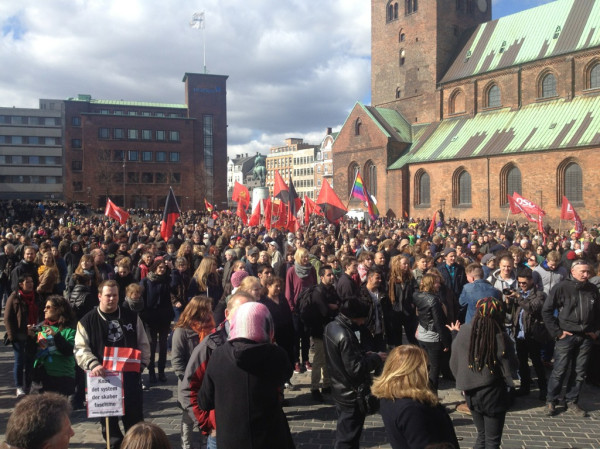 16:18: OK, counter demonstration now at their target.
16:16: Arabs driving by the EDL demo shouting "fuck the Jews" (… and police do nothing)
16:09: (TT colleague): "so a thousand anti-fascists come to beat up on 15 poms?"
16:08 Mark Townsend: Tommy Robinson, head of EDL, says english contingent in #denmark is, wait for it…. 15-strong.
16:03: The morons at Exposing Racism will have to fumble around with the logic in their teaming up with marxist socialists, the very same breed that sent over a hundred million people to the grave, victimized Jews, hated blacks (deemed them inferior) and helped to starve over tens of millions of Ukranians. Just saying.

16:02: Exposing racism mentions the TT's live blogging of the demo.
15:56 One can only wonder why these people marching against supposed anti-liberal voices (they're not,  the EDL and other defense leagues are actually for a liberal democracy) have no problem with communists in their ranks. I can only assume that they're ignoramuses.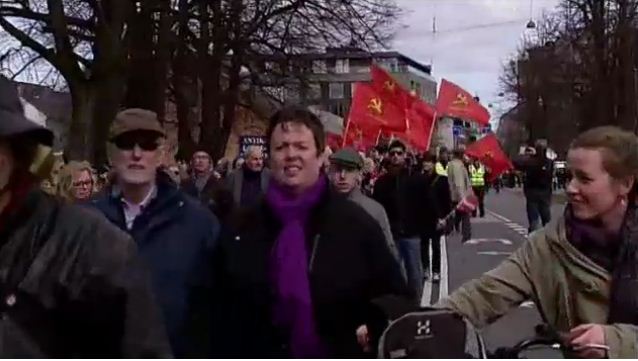 15:52: Nyhederne has more video…with lots of commy sympathizers.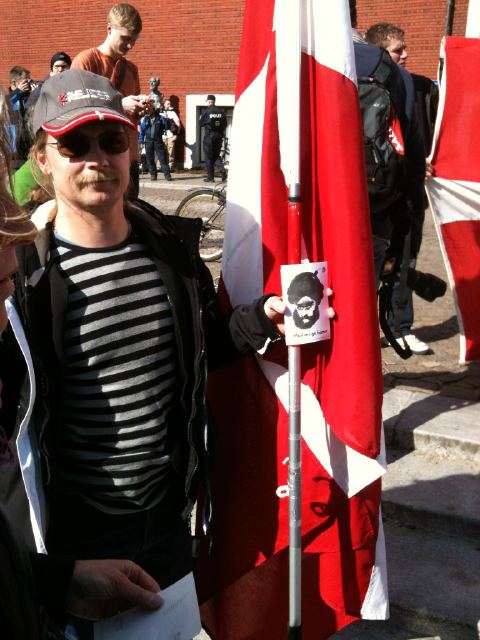 15.42 Mo finds his way into the demo:
15:30: Preaching liberty and brotherhood………with the chains of totalitarianism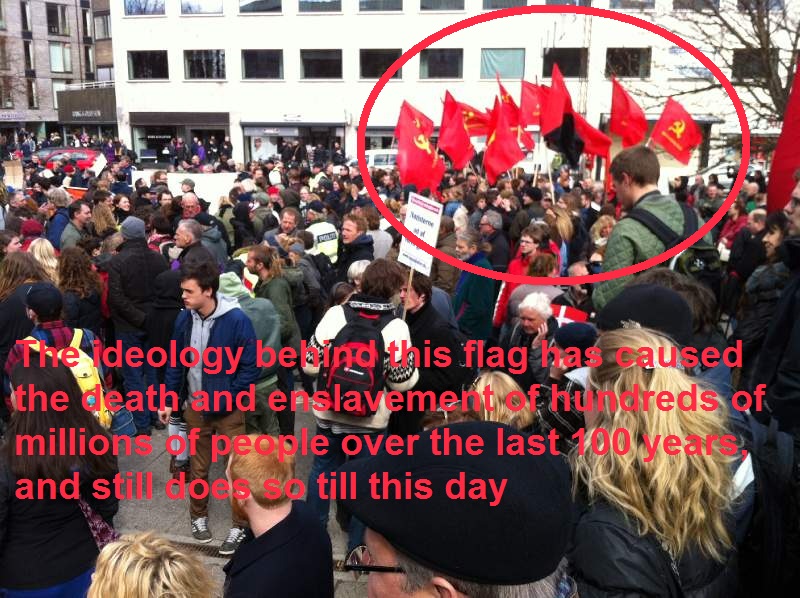 15:34: More flags of totalitarianism spotted. Totalitarians demonstrating against supposed totalitarians marching for the liberal freedoms of our modern day democracies. Talk about absurd, the Left are brain dead.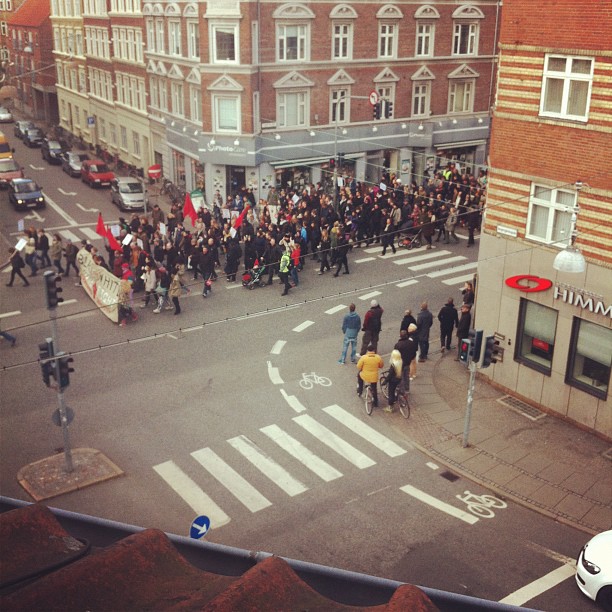 15:o6: Here come the totalitarians…..Commies marching like commies do. From Martin fabricious
15:03 From behind enemy lines…..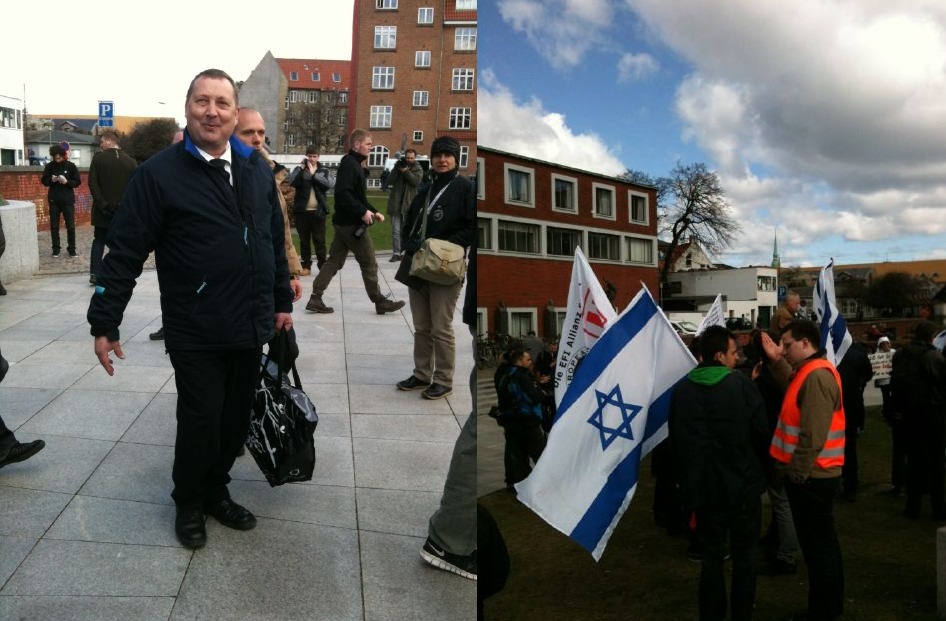 14:55: fluffi: those two pics from https://twitter.com/#!/LDaugaard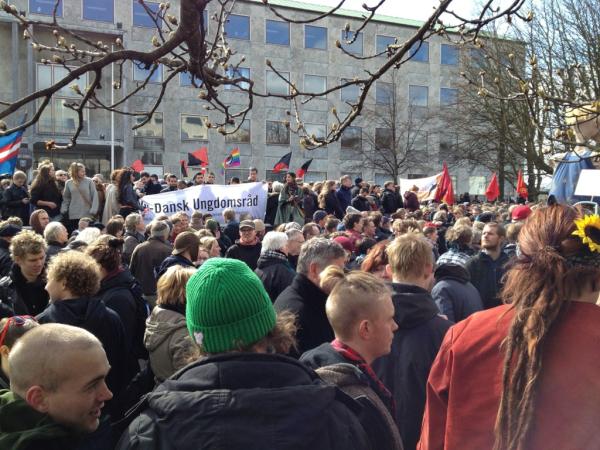 14:52: Approx ten buses of anti-fascists heading from #Copenhagen and #Malmo to meet #EDL and others in #aarhus @Goodwinmj
14:50: Sydsvenskan: "The police estimated at least 3,000 protesters in total in the various camps and has therefore set up what is called "the biggest police operation in Jutland in 35 years."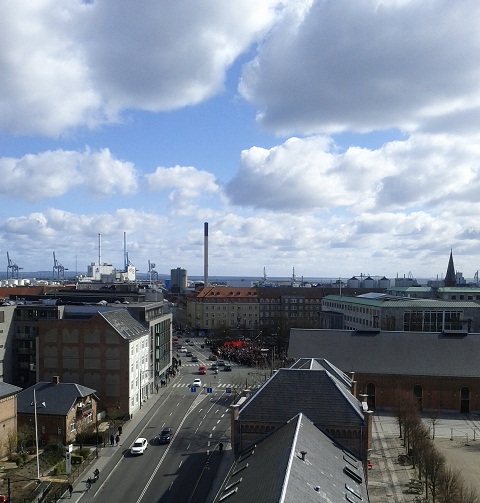 13.05 Communist banners and flags as far as the eye can see on national Danish TV reporting from the "people's" demonstration for "diversity."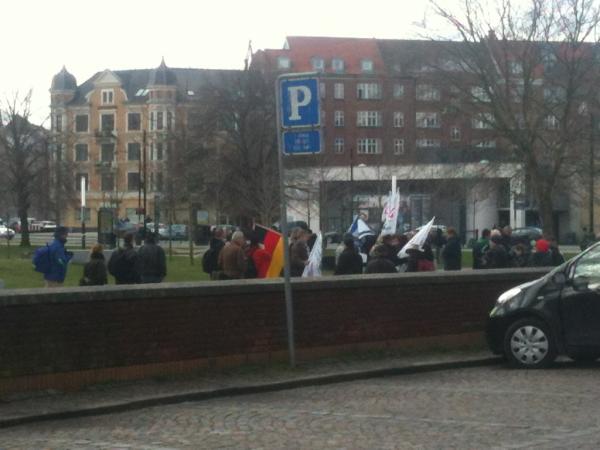 13:oo: Great, tattooed Arabs are heard shouting Islamic battle cry Allah-hu-Akbar on the square.
12:35, Antifa Twitter: The Swedes are being searched and registered before they're allowed to continue to Aarhus.
12:28: Bloggers from P77 are covering the event, quoting Swedish police for expecting some 700 DDL/EDL participants.
12:27 Ekstra Bladet: At least two persons in the Gellerup suburb have been taken into police custody to prevent clashes.
12:08, Antifa: –Antifa busses are arriving. Over night Antifa activists have poured butyric acid  (now, that's a stinker!) on the DDL/EDL demonstration site in Mølleparken.