Sad news, and after having to endure 10 months with these savages, only to be murdered by them during an attempted rescue. Heartfelt sympathies go out to the families of these men.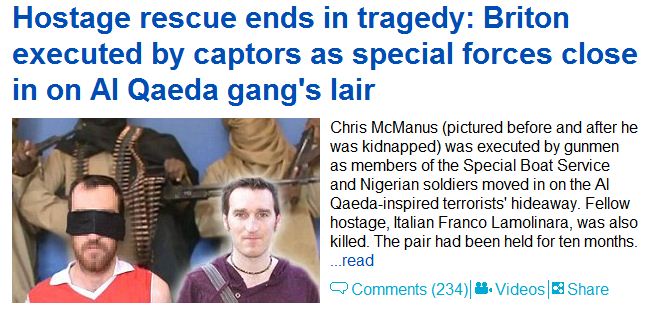 British Chris McManus and Italian Franco Lamolinara were captured by kidnappers in May while working in northern Nigeria

Two videos showing the hostages pleading for their lives while under armed guard were released by their captors


PM David Cameron authorised the rescue mission as the pair's lives were in 'imminent and growing danger'

But the kidnappers killed the two men as members of the Special Boat Service and Royal Marine commandos moved in on their hideout

By DAVID WILLIAMS and JAMES CHAPMAN
PUBLISHED: 17:43 GMT, 8 March 2012 | UPDATED: 07:35 GMT, 9 March 2012
A British hostage was killed by his captors in Nigeria yesterday when a UK Special Forces rescue operation ended in tragedy.
Chris McManus was executed by gunmen as members of the Special Boat Service and Nigerian soldiers moved in on the Al Qaeda-inspired terrorists' hideaway.
Fellow hostage, Italian Franco Lamolinara, was also killed. The pair had been held for ten months.