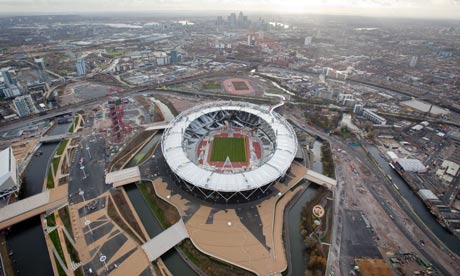 Aerial view of the Olympic Park. Photograph: Oda/Getty Images
One of the London boroughs hosting the Olympics has been warned by counter-terrorism officials that it is home to a high number of al-Qaida-inspired extremists.
ABOUT 2,000 Muslims marched through High Wycombe today to celebrate the birth of the Prophet Mohammed and spread a message of peace.
[Ed: Now if only Muslims could go a day without slaughtering a ton of people for their god allah. Might save some marching]
A colourful procession, led by an open top bus, marking the Eid-Milad-Un-Nabi weaved its way through the town centre.
Roads were closed as the march took place.
After beginning at the Jamia Mosque in Jubilee Road at about 11.30am, it made its way through Desborough, into Bridge Street and onto Oxford Road.
(ANSAmed) – TUNIS – Tunisian educational circles have decided to react against the wave of violence in a number of schools in recent weeks, caused mostly by Islamic extremists, who are attempting to use force to overturn the ruling that bans women form wearing the niqab in class. Schools will be suspended for twenty minutes by teachers on Wednesday, who are looking to force action from the government, which has been accused of a complete lack of action against the problem. Teachers have also accused the media of not paying enough attention to the problem.
(ANSAMED)
[Ed: If only they knew about the march for peace in High Wycombe ay?]