Filed under lying Muslim.
The only sour note is that this woman didn't get to sit her rear in the pokey for six months, that in itself is a miscarriage of justice. KGS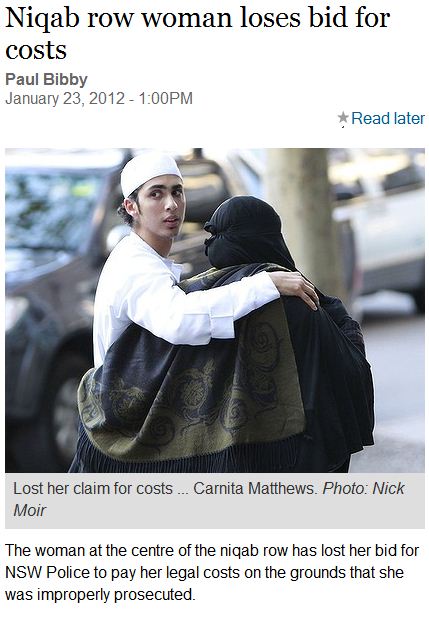 In June last year Carnita Matthews, 47, successfully appealed against her conviction and six-month jail sentence for knowingly making a false complaint.

The charge was in relation to a now infamous incident in June 2010 when she was stopped by a highway patrol officer at Woodbine, in south-west Sydney.

It was alleged that Ms Matthews later claimed in a statutory declaration that, after she refused to remove her veil fully for the purposes of identification, the officer tried to remove it himself.
This declaration was later found to be false, and she was charged.

However, a judge later found there was no evidence the statutory declaration had been made by Ms Matthews or even that it was knowingly false.

She then claimed that the entire prosecution was improper and unreasonable and demanded that NSW Police pay her legal costs.

That claim was rejected by Judge Clive Jeffreys in the Downing Centre District Court today.

AAP reports: The judge said he could not find that the investigation into the alleged offence had been conducted in an unreasonable or improper manner, or that the proceedings had been initiated without reasonable cause.