Qibla, Qibla, where's the Qibla?
REMEMBER THIS SIGHT?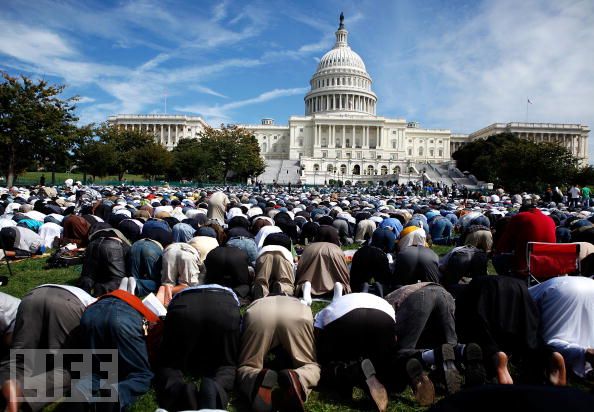 TIME: WASHINGTON – SEPTEMBER 25: Muslims say prayer during the 'Islam on Capitol Hill 2009' event at the West Front Lawn of the U.S. Capitol September 25, 2009 in Washington, DC. Thousands of Muslims gathered for the event to promote the diversity of Islam.
WELL HERE'S THE ACCURATE DIRCTION BY QIBLA LOCATOR:
Since a Muslim is to always point in the direction of Mecca for prayer, this is proof that mass praying isn't really of religious significance, but primarily of showing primacy of numbers and clout. KGS
NOTE: If any of the Tundra Tabloids' readers have pics of Muslims praying in mass numbers, with accurate street location, please send it in. Vlad Tepes and the TT will use it for a video on it. The TT already has the Madison avenue and E41 st. pic, as well as the one in Paris, on Myrha street.