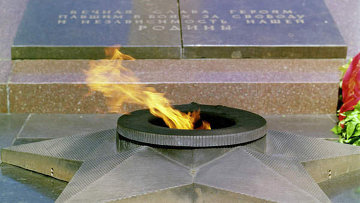 © RIA Novosti
17:56 22/03/2013
VOLGOGRAD, March 22 – RAPSI.
A court in the southern Russian city of Volgograd sentenced Egyptian citizen Mohammed Montafer to 1.5 years in a penal colony Friday for desecrating a memorial for those who perished during World War II.
The prosecutors requested a three-year sentence, while the defense attorneys insisted on two months in prison.
On New Year's Eve, the 29-year-old man urinated on the Eternal Flame on the Heroes Alley in downtown Volgograd and then picked a fight with a local resident who rebuked him for an incident.
Upon being detained, the Egyptian told the police that he arrived to Volgograd a month earlier to intern with the Volgograd State Medical University.
He added that he and his flatmates celebrated the holiday on New Year's Eve and then took a walk around the city.