1. Enemy propaganda. Count the lies, exaggerations, Marxist language and targeted marketing of the Counter-measure injections
Syndicated talk show feature on Covid19 vaccines pic.twitter.com/pgaCY0IzZ3

— Wittgenstein (@backtolife_2023) January 7, 2023
2. UK: Women prisoners who call transgender inmates 'he' or 'him' face extra jail time
Women prisoners who call transgender inmates by the wrong pronoun could face extra time in jail under equality rules, says a justice minister.

Female inmates who deliberately call a transgender woman "he" or "him" could be punished under rules barring "threatening, abusive or insulting words or behaviour".

The penalties will be decided by an independent adjudicator, a visiting judge, who has the power to impose additional days if they feel the abuse merits such a punishment.

The disclosure comes amid a growing debate over the policy of holding male-to-female transgender prisoners in women's jails. 
(The implications of this are astounding of course. There is that phrase in Islam, "…must pay the jizya and feel themselves subdued". Reality oriented people in Maoist based communist countries like Canada and the UK and parts of the US, must accept an imposed pseudo-reality and reflect that in their language, or actually be punished by extra incarceration. Time for the Dalrymple quote again.)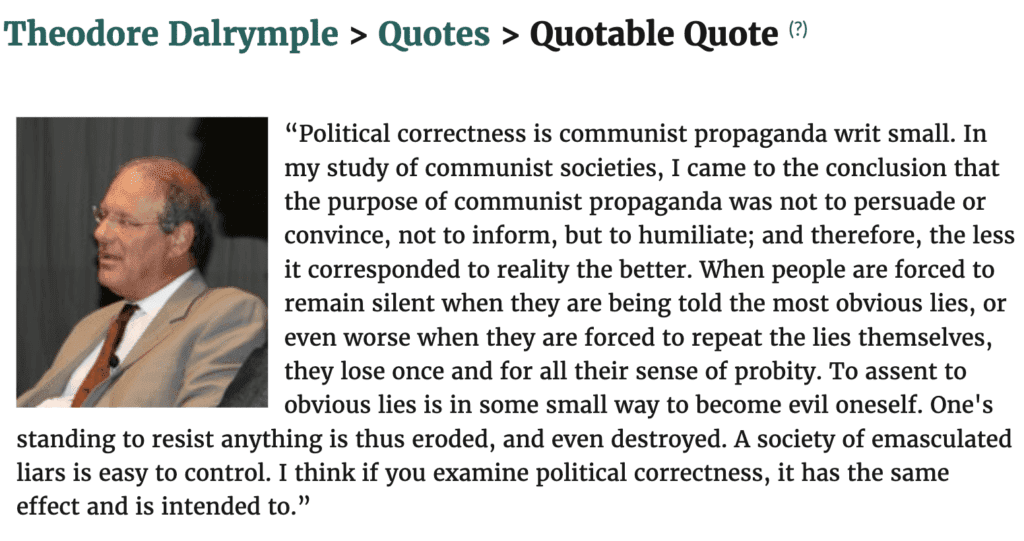 3. The following video is brought to you by the company which has received fines among the largest in corporate history
4. The following is from a post on SMS Gettr from Dr. William Makis MD
? 28 year old Ontario socialist (Ontario NDP staffer) died for Pfizer and Moderna ? "So tired of antivaxxers…they should be denied medical care" "if you decline Moderna and are waiting for Pfizer you are a piece of garbage" "Take the fucking vaccine you are able to get" Liam DIED SUDDENLY on Dec.31, 2022. A fervent socialist/communist ideologue, Liam died for corporate greed of Pfizer & Moderna. This is a fascinating phenomenon.

He was brainwashed and angry. Everything he believed was a lie. He trusted his government and big pharma. He trusted his vaccine pushing NDP employer. And then, he dropped dead. Never got the chance to wake up.
A little about the 28 year old socialist:
? NDP MPP Jennie Steven's 'LGBTQ+ rep' Liam Coward defends article calling for "elimination of capitalism", "Marxist feminism"

Radical revolutionary Marxism has the ear of NDP MPP Jennie Stevens.

When the recently reelected St. Catharines provincial rep consults on topics of LGBTQ+ issues, she turns to Liam Coward.

Coward's pinned tweet is an article published by zine Spring Magazine ("A magazine of socialist ideas in action").

The first line reads:
"There can be no true liberation from cishetero-patriarchal oppression, or other forms of oppression, without the elimination of capitalism"

Liam Coward, SpringMag.ca, Sept 1, 2021
A relative of mine many years ago once said, "Stupidity is not the most common substance in the universe. Irony is."
But then again, is this irony, karma, or a victim of his own dialectical attack on Western civilization and its liberties.
Here is the "Died Suddenly" post on CHCH.Com
Some almost random tweets:
Just got my second dose of the #Mpox Vaccine! ??

If you are at risk & need your 1st or 2nd dose, call @NRPublicHealth at 905-688-8248 ext 7425! https://t.co/8WKbNQsKro@poslivngniagara pic.twitter.com/FcW0qxPRh3

— Liam Coward ???? (@liamxcoward) November 10, 2022
Hot take: if you decline Moderna and are "waiting" for Pfizer you are a piece of garbage. Take the fucking vaccine you are able to get. There are billions of people on this earth… what "choice" do you think those in developing nation would make? #onpoli #COVIDVaccination

— Liam Coward ???? (@liamxcoward) June 21, 2021
He retweeted:
NEW: All Ontarians aged 5+ are now eligible for the bivalent booster. Keep up to date on boosters to stay healthy this winter and prevent serious illness:
Book an appointment at: https://t.co/PI6W1TdgYk
Flu shots can be administered at the same time: https://t.co/HBBVkFqA9f

— Marit Stiles (@maritstiles) December 15, 2022
This Tweet was from Dec 14th, 2022. He was put in a coma on Dec. 30 2022 and died on Dec. 31
Not me catching COVID this late in the pandemic. ? pic.twitter.com/d9vn14wcTw

— Liam Coward ???? (@liamxcoward) December 14, 2022
The one upside of being sick is that I have rediscovered my love of green tea with honey in it ??

— Liam Coward ???? (@liamxcoward) December 14, 2022
According to CHCH.com he had a serious accident on Dec. 30 and "died suddenly" while in an induced coma Dec. 31 Seems like his being sick with Covid and multiple vaccines could be an unspoken factor perhaps though. Even so, his advocacy for the vaxx and his contempt for those who rejected it was spoken quite loudly.
5. In what may be one of the best examples of how one may attempt to beat one component of the Maoist system by acquiescence to another component of it, a father attempting to gain custody of his daughters, declares himself to be a woman to level the playing field in court custody battle. Given the fungible rules, but not direction of politically correct poker, this may improve his odds a little.
The video continues to detail how another father lost custody to a mother who wants to turn their son into a monster using critical gender theory.
Reposting an interview from NYE, here is a father in Ottawa that actually won a case to not have his children vaxxed according to the wishes of their mother. The sad truth is probably that despite the win in court, who is to stop the mother from going to a pharmacy and just walking the kids in and getting them stuck with counter-measure mRNA.