1. The facts surrounding the banning of certain "journalists" on Twitter. There is a story going around saying Elon has banned certain journalists because he doesn't like what they said. The truth is, the broke the golden rule for all internet control and command centres. They doxxed people. Namely Elon. Twitter has ALWAYS had a policy to ban doxxers as it endangers people's lives. In this case, a "journalist" located Elon's personal aircraft and tweeted his real location to the world. This is more than ban worthy, it is a crime.
I happen to know people who were doxxed on Twitter a couple of years ago with photos and personal information, and Twitter did nothing about it and claimed it was not a violation of its ToC. Why? Because they were counter-revolutionaries. Non-Leftists. And so it was perfectly OK to doxx them on Twitter. This happened to a LOT of people. And now, Elon is making sure the rules are applied fairly to all. And of course, the left is lying about it and having a melt-down.
2. Died suddenly:
2a: 'TRUE GENT'  Tributes paid to 'extremely kind' paramedic after he dies suddenly as colleagues 'heartbroken'
TRIBUTES are being paid to an "extremely kind" paramedic after he died suddenly this week.

Jamie Buckley, who worked for National Ambulance Service Mid-West, passed away at home on Tuesday.
(Read the article twice but it doesn't seem to say his age. In the photo, he appears to be in his 20s or 30s. I guess its now verbotten to say how old people are, when they die of the vaxx so it's harder to know they died of the vaxx)
2b: Tributes paid after another GAA hurler dies suddenly
Over the weekend, GAA lost Paddy Coen Jnr, who played for the Kiladangan intermediate hurlers, after it was revealed he died suddenly over the weekend.

A tweet from the Kiladangan club, which is a Tipperary GAA club located in County Tipperary, Ireland, read: "Paddy Coen Junior (1987-2022).

"At a later time we will put into words what Paddy Coen meant to us – at this moment we are just unable.
Paddy Coen Junior (1987-2022)

At a later time we will put into words what Paddy Coen meant to us – at this moment we are just unable.

A proud Johnstown man, Kiladangan man and upmost gentleman. As a club and community we are devastated and his loss leaves a massive void. pic.twitter.com/ZohHXmYJqe

— Kiladangan GAA (@KiladanganGAA) November 28, 2022
(So, athlete and 35?)
2C: Heartbreak as young Gaelic footballer from Northern Ireland's Co Tyrone dies suddenly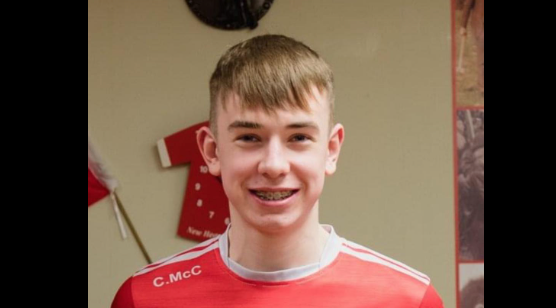 The young Gaelic footballer from Ireland's Co Tyrone died suddenly on Tuesday, November 8, however, news of his sudden death began circulating on November 10.

His club took to Facebook to share the news: "Our club is devastated following the sudden passing of one of our players, Conor McCaughey.

"Our most sincere and heartfelt thoughts and prayers are with Conor's family Dermot, Bernie, Michael, Caitríona, Diarmaid, Seán and Eoghan, his wider family and his wide circle of friends." […] No cause of death has been made available at this time.
(No age given either. I guess soon they will just put a symbol on the gravestones. Sorta like the child formerly known as…)
3. Alberta seizes power from 'hostile' federal government's gun grab
Alberta Attorney General Tyler Shandro issued a stern notice to the Trudeau Liberals, announcing the province is seizing back constitutional power from the feds to protect legal gun-owners from being persecuted under Bill C-21.

"Albertans have had enough. So today we are taking action," Shandro said.

"First, as Alberta's attorney general, I have directed that the Alberta crown prosecution service takeover the handling of charges involving the Firearms Act starting January 1st 2023."

He said as things currently stand, the federal government handles these matters. 

Shandro's announcement on Thursday effectively protects legal gun owners from suddenly becoming criminals if Bill C-21 comes into force.

Shandro said he sent a letter to the federal minister of justice to let him know of the shift of jurisdictional duties.

"Alberta's crown prosecution service already has the expertise to take on this work, and any further resources will be provided."

Shandro further stated that "a new protocol has been issued to crown prosecutors, which outlines how to handle charges related to the Federal Firearms Ban."

He said Alberta's new protocol instructs crown prosecutors not to pursue criminal charges for anyone in possession of a banned firearm if: 
The accused lawfully obtained the firearm or prohibited device prior to May 1, 2020.
The firearm or prohibited device was reclassified as prohibited on May 1, 2020.
The accused has not been charged with any other offences related to the possession or use of that firearm.
4. Some things are so bad they are actually funny. It seems that the Chinese communists have put a key logger on every phone belonging to a teenager in the Western World.
5. 1. THREAD: The Twitter Files, Part Six TWITTER, THE FBI SUBSIDIARY
And the eternal question rises to the surface again. Is it easier to destroy the CIA, FBI and other alphabet agencies and start over with something new? Or fix them as they are. As the days pass and the evidence mounts, its gets easier and easier to answer.
Thank you all for reading this site and considering the offerings here.