1. Top general was warned military's COVID vaccine mandate was unnecessary, possibly illegal: memo
We get lots of legal opinions out there, but we can't allow one legal opinion from stopping us from doing the right thing,' Gen. Eyre says of the briefing note
OTTAWA — The commander of the Canadian Armed Forces was warned by his senior legal and medical advisers last year that requiring all troops to be vaccinated against COVID-19 was unnecessary — and that doing so "may not constitute a legal order."

The message was delivered to chief of the defence staff Gen. Wayne Eyre in an August 2021 briefing note, two months before then-defence minister Harjit Sajjan directed him to impose a vaccine requirement for all troops.
2. This one you have to stick with. This now famous UK doctor has learned to speak in the kind of code all people in communist countries learn if they want to survive in any field with any authority. Much like when my own doctor told me that they could not give me HCQ because "It doesn't work and we have to keep it for the people who get really sick". Classic commie double speak. The official line followed by a version of the truth which contradicts the (literal) party line. In this you have to watch for a while. He tells what he thinks is the truth by explaining what the YouTube rules are for talking about Covid19, while also slipping contradictory facts in about the various people and treatments. At one point it even gets a little funny. Like when he explains that we are not allowed to contradict the leader of the WHO, who is not a medical doctor but has a PhD in some highly relevant field he is sure.
3. Sky News asks questions about Joe Biden's judgement
4. PJ Media: Hacked Soros Documents Reveal Some Big Dark Money Surprises
Last Saturday, a group called DC Leaks posted over 2,500 documents hacked from the Open Society Foundations (OSF), a group run by leftist billionaire George Soros. The leak reveals Soros' funding of a wide range of activities: the Black Lives Matter movement, influencing the European elections in 2014, swaying a Supreme Court decision, smearing political activists, and attacking the nation of Israel.

But you likely haven't heard about these key "dark money" revelations. Soros has given $7 million to the pro-Clinton super PAC Priorities USA and has dedicated $25 million to support Democrats and their causes. His fundraising matters politically, and should be a big story.

But The New York Times, CNN, The Washington Post, CBS News, and other major media outlets did not even report on the leak, much less the stories revealed by it. To rectify this coverage gap, PJ Media is presenting 5 of the biggest stories released so far. Enjoy!
(Click through to read the rest at PJ Media. Breitbart also has the story here.)
5. Another jab advocate dies in public, possibly from the injections.
Twitter: (With MSM news images)
Twitter official from radio station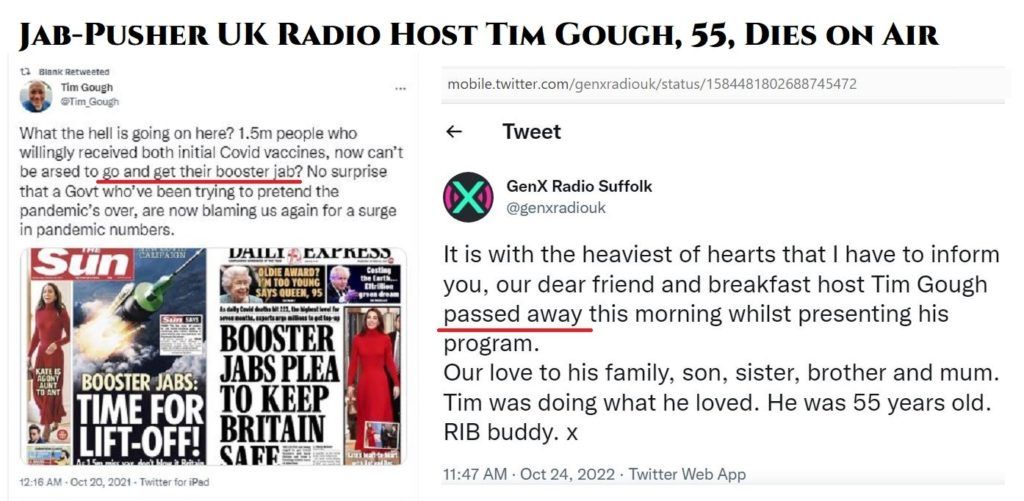 Thank you all for following these issues. I know they are divisive, and I know there is a lot of pressure on all sides. In this case, the precautionary principle, as rotten as it is logically anyway, suggests not taking an experimental shot for a disease that doesn't seem to be a real threat, is a bad call.