1. The US appears to have reentered Syria as a theatre of war.
Related: 25 minute analysis of Ukraine
2. Swedish birth rate data: what does it really show us?
there has been a great deal of talk about swedish birth rate data (among many other countries) in 2022.

i think sweden provides a particularly interesting lab/test case for a number of reasons:

they provide good data
it goes back 25 years
they did not engage in much lockdown so that is not a confounding factor to the extent it is in most of the rest of the west

there seem to be two competing lines of argument:

some are pointing to precipitous drops in recent months and claiming this is a highly unusual outcome.
others are claiming this is no big deal and that there is always variability like this. […]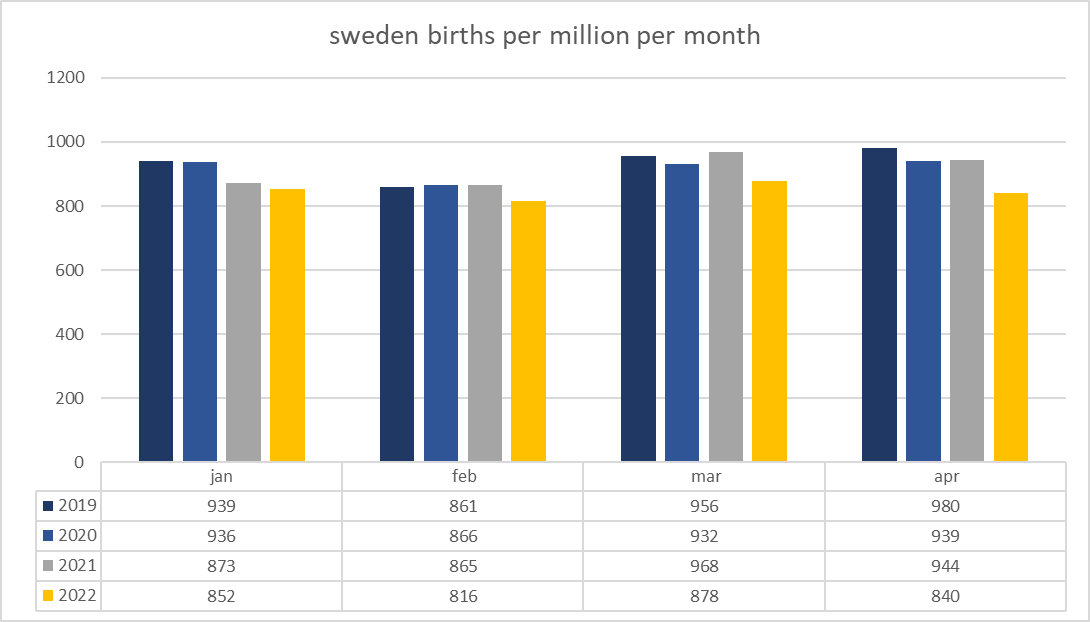 (This seems like a good time to repost this clip from the Hungarian Parliament:
3. And then there is this: 'Pandemic babies' with no immunity are ending up in intensive care across Australia with respiratory illnesses
A concerning number of 'pandemic babies' with no immunity to respiratory viruses are ending up seriously ill in ICU.

Doctors have revealed children born during the Covid-19 pandemic are requiring intensive care 'from encountering viruses they haven't come across before', such as influenza, RSV and Covid.

The children had been born and raised when there were virtually no other viruses circulating in Australia, other than Covid-19.

The Children's Hospital at Westmead infectious diseases paediatrician Dr Philip Britton said an analysis of ICU admissions across shows babies are testing positive for influenza and Covid at the same time.

'Over the last month or so, we have seen four times the admissions to hospital for flu in children as for Covid,' Dr Britton told The Daily Telegraph.

Dr Britton said five per cent of the children presenting with co-infections were being admitted to ICU, a statistic he described as 'very concerning'.

About half of the children had no pre-existing health conditions, with the elevated number of admissions putting pressure on the hospital system.

Some of the 'pandemic babies' are presenting with inflammation of the chest, brain and heart caused by influenza, Covid, and RSV.
4. Why Did Local PDs and FBI Suppress Information that July 4th Killer Crimo Was Connected to Antifa, Progressives and the Occult?
(Once again I must reference the Babylon Bee headline: "FBI finds it harder to solve crimes they don't actually commit")
The identity of the July 4th killer in Highland Park, Illinois was first released yesterday before his arrest.  Hours following the shooting, authorities identified the shooter as Robert 'Bobby' Crimo, III.
BREAKING: Police Name Person of Interest in Highland Park Parade Shooting: Robert 'Bobby' Crimo III – Social Media Video Shows School Shooter Fantasy
[…] Far-left on social media users began telling lies about Crimo after the parade shooting.  They implied that Crimo was MAGA. […]

His affiliations with socialists, progressives, Antifa, and the occult were all over his social media posts.

It is clear this guy is dark and he has more to do with Antifa than MAGA.
5. U.S. sues Arizona over proof of citizenship voting law
(It's like the Democrats are now providing proof they stole the 2020 election)
WASHINGTON — The U.S. Department of Justice Civil Rights Division announced Tuesday that it has sued Arizona over a law signed by the state's Republican governor in March that requires people registering to vote prove their citizenship to participate in a presidential election or to vote by mail in any federal election.

Republican proponents of the law, HB 2492, claim that requiring voters to provide a documentary proof of citizenship, like a birth certificate or passport, helps prevent voter fraud. But voting rights advocates say that non-citizen voting is extremely rare, and the law will disenfranchise voters who will have to jump through additional hurdles to be eligible to vote.    

"HB 2492's onerous documentary proof of citizenship requirement for certain federal elections constitutes a textbook violation of the National Voter Registration Act," in addition to the Civil Rights Act of 1964, Assistant Attorney General Kristen Clarke said in a press call Tuesday.

The law is set to take effect in January, despite a 2013 U.S. Supreme Court ruling that Arizona couldn't require voters using the federal voter registration form to provide proof of citizenship. The high court did allow Arizona to continue allowing proof of citizenship for state elections. 
Thank you all for your continued willingness to check out this site, its materials and interpretations of events.
Please stay on the look out for a write up of the trial of Tamara Lich that took place today over her Canada-Wide arrest warrant for accepting a human rights award by the JCCF in Toronto.
So, it takes a woman 9 months to gestate a baby from conception to delivery. By a shocking coincidence, the Canadian government now says that people are required to get a gene therapy shot that increasingly seems to show it affects fertility at that exact interval. Coincidence continues to be the leading cause of death in much of the world. Perhaps now it will be the leading cause of drop in live births and fertility.
'TWO DOSES ARE NO LONGER ENOUGH': Canadians required to get COVID shot every nine months
As we continue to live with COVID-19, turns out we will also have to get used to living with COVID-19 vaccinations.

Canadians will be required to get a booster shot every nine months for the foreseeable future, Health Minister Jean-Yves Duclos told reporters.

So if you thought you were fully vaccinated, think again.

Duclos said that the previous definitions of "fully vaccinated" makes no sense, explaining that it's more important that shots are "up to date" and whether or not a person has "received a vaccination in the last nine months."

He added, "We will never be fully vaccinated against COVID-19," according to Blacklock's Reporter.

Duclos was asked if he was preparing Canadians for the return of vaccine mandates in the fall, he reportedly replied, "We must continue to fight against COVID."

In other words, mandates won't be ruled out just yet.