1. NATO to dramatically increase forces on high alert to over 300,000 from 40,000 amid Russia threat
NATO will significantly increase the number of forces on high alert to over 300,000 from 40,000 as part of the biggest overhaul of the alliance's defences since the Cold War.

With Vladimir Putin's invasion of Ukraine changing the security environment across Europe, the head of the alliance also confirmed that allies will expand troop deployments in NATO countries that sit closest to Russia.

Ukraine is not a member of NATO.

The decisions will be set out at a landmark summit this week in Madrid.
2. This guy handled ANTIFA rather well
Alex Stein just showed us all how to deal with 'anti-fascists.' @alexstein99

Legend. ? Watch to the end. pic.twitter.com/iQSPLvOgwQ

— Billboard Chris ???? (@BillboardChris) June 27, 2022
3. Covid-19 vaccination BNT162b2 temporarily impairs semen concentration and total motile count among semen donors
Objective

To investigate the effect of covid-19 BNT162b2 (Pfizer) vaccine on semen parameters among semen donors (SD).
Methods

Thirty-seven SD from three sperm banks that provided 216 samples were included in that retrospective longitudinal multicenter cohort study. BNT162b2 vaccination included two doses, and vaccination completion was scheduled 7 days after the second dose. The study included four phases: T0 – pre-vaccination baseline control, which encompassed 1–2 initial samples per SD; T1, T2 and T3 – short, intermediate, and long terms evaluations, respectively. Each included 1–3 semen samples per donor provided 15–45, 75–125 and over 145 days after vaccination completion, respectively. The primary endpoints were semen parameters. Three statistical analyses were conducted: (1) generalized estimated equation model; (2) first sample and (3) samples' mean of each donor per period were compared to T0.
Results

Repetitive measurements revealed ?15.4% sperm concentration decrease on T2 (CI ?25.5%–3.9%, p = 0.01) leading to total motile count 22.1% reduction (CI ?35% – ?6.6%, p = 0.007) compared to T0. Similarly, analysis of first semen sample only and samples' mean per donor resulted in concentration and total motile count (TMC) reductions on T2 compared to T0 – median decline of 12 million/ml and 31.2 million motile spermatozoa, respectively (p = 0.02 and 0.002 respectively) on first sample evaluation and median decline of 9.5 × 106 and 27.3 million motile spermatozoa (p = 0.004 and 0.003, respectively) on samples' mean examination. T3 evaluation demonstrated overall recovery without. Semen volume and sperm motility were not impaired.
Meanwhile, in the real world:
Lindsay several explanations: 1) fewer prospective parents due to #sacredcow deaths in that group 2) young people forced to take it become infertile both on male and female sides of conception 3) increase fetal loss in pregnant #sacredcow recipients

— Peter McCullough, MD MPH (@P_McCulloughMD) June 26, 2022
I'm no mathematician, but that looks like quite a significant drop in the first quarter of 2022, and the VAXX is pretty much the only variable that can account for it. Its not like they suddenly brought back all the best TV shows in German and no one wants to have sex anymore.
4. Have to say, this person who rebuffed CNN did so with such clarity and confidence that it brought a lot of joy to me. It is like a single candle in a dark stadium at night. This means a lot of people get what is going on now. Enough that this is a viral video.
LOVE LOVE LOVE THIS!
??? @DeniseInCanada https://t.co/zGUG9o3OSI

— Canada Is Broken?Alberta Independence | ??? (@WindchimeSerene) June 26, 2022
5. CDC officials had information that Confirmed Post-Vaccination Death From Blood Clotting due to the COVID injection Two Weeks Before Alerting Public: Emails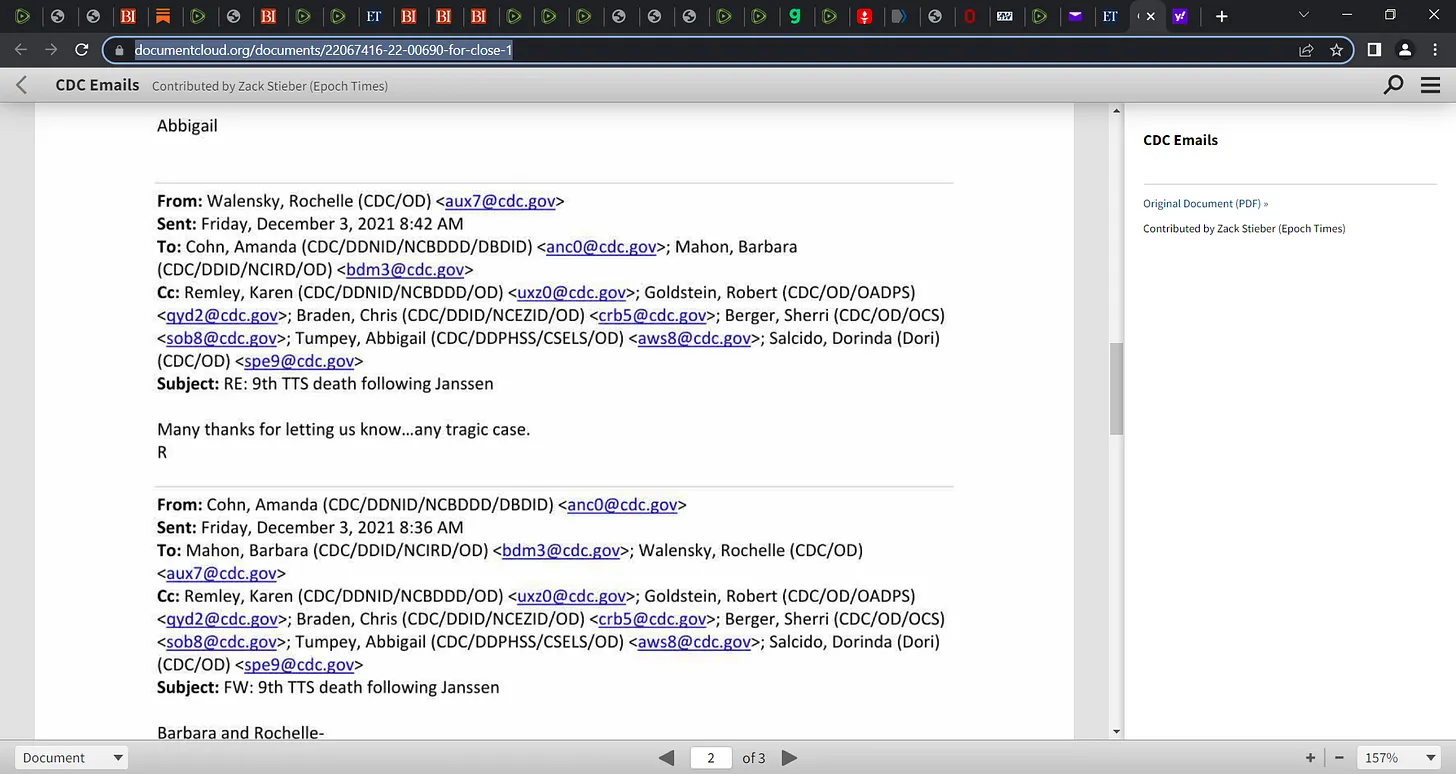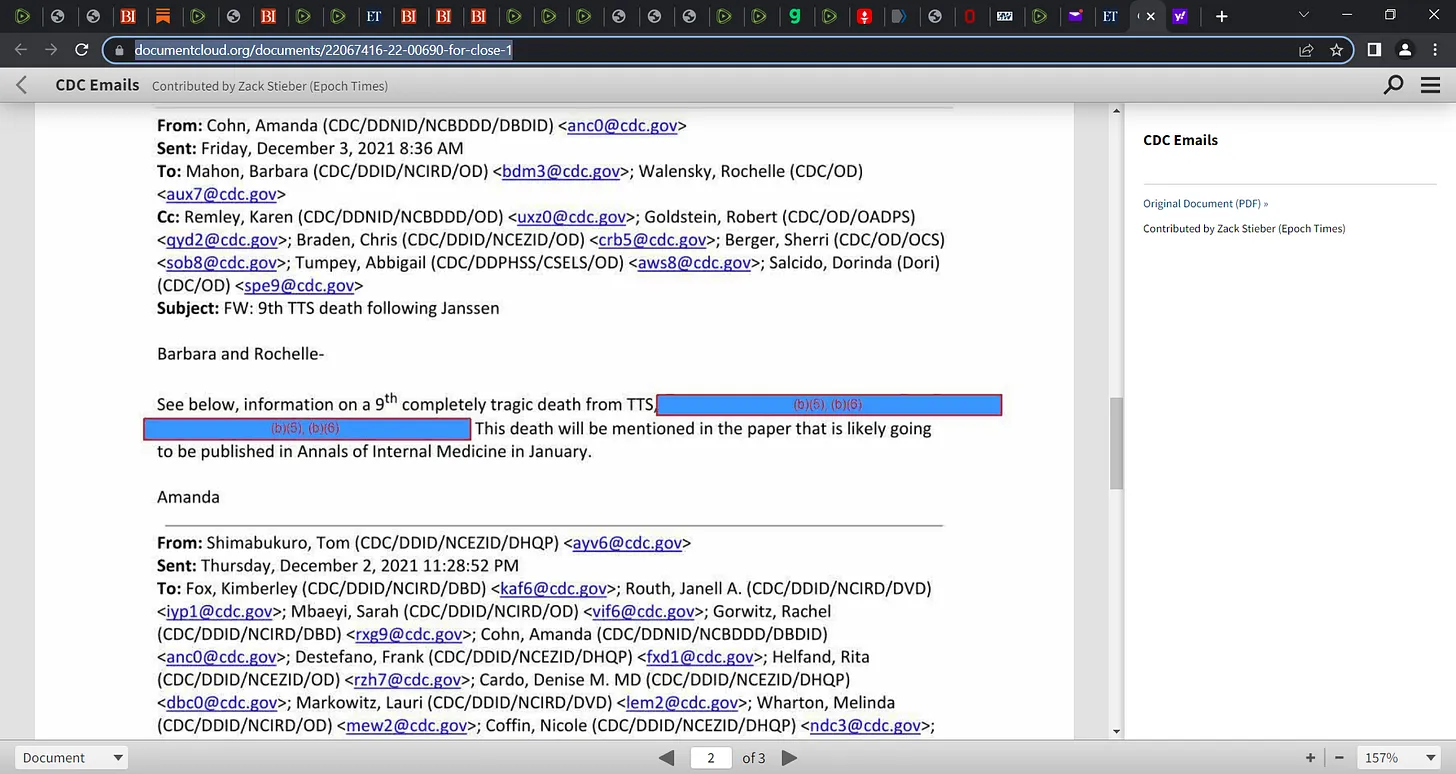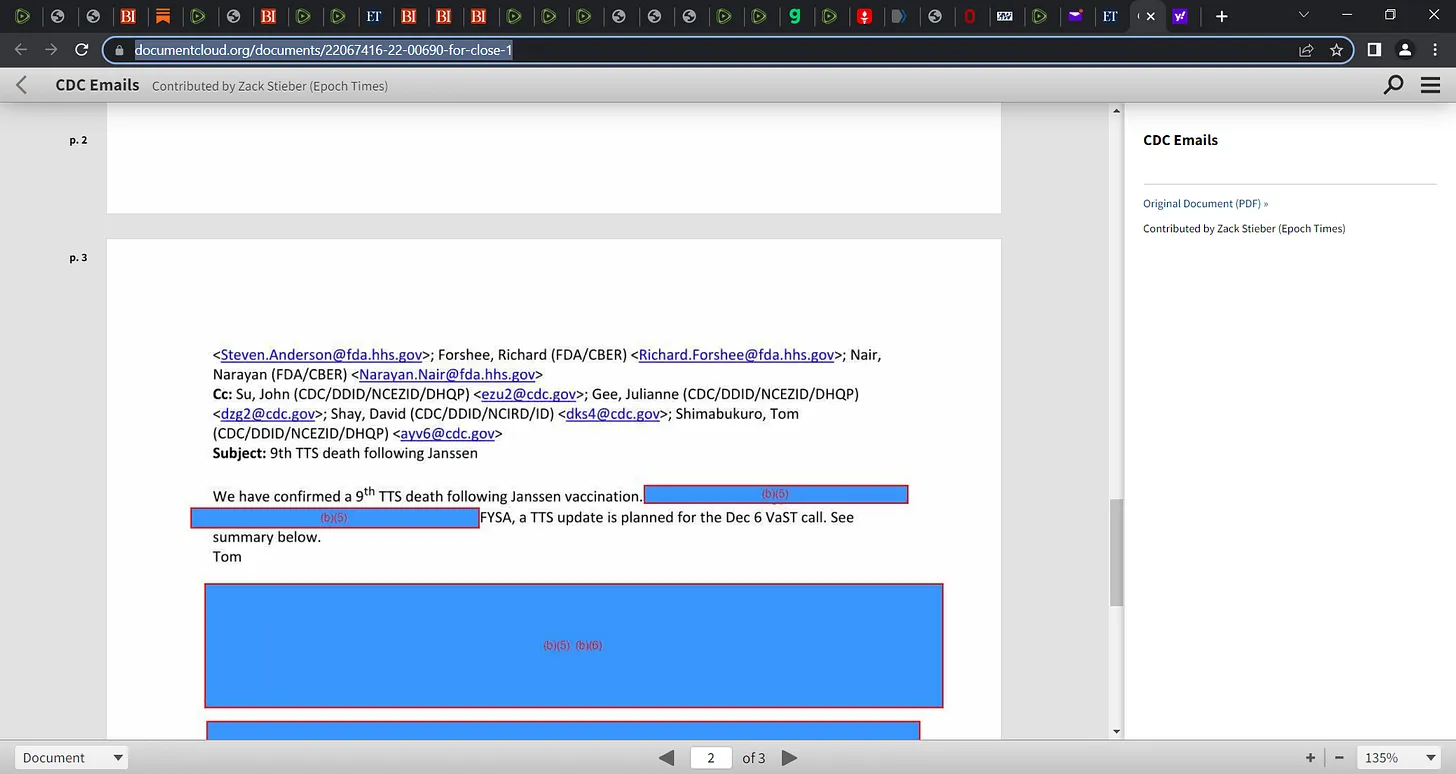 I'd like to take this opportunity to mention something I have been working on but is not yet public.
I have been working with a doctor in the US who has determined by 3 independent sources that an actual medical school was aware of 3 serious adverse reactions to the gene therapy shots and went ahead and mandated the shots for students anyway. Not only that, they actually omitted the data from their studies when they did the mandates. So they knew it caused heart damage, and they lied. A medical school. Just so you know who you can trust today. What was it that Fox Muldar used to say on the X-Files?
Thank you all very much for your willingness to consider other possibilities than the state/corporate scripted ones.