1. Message from Dr. Zev Zelenko
2. Naomi Wolf on the FDA authorization
3. China Turns Dissenters QR Codes Red, Conservative Leader Warns We Could Be Next
The head of the Dutch party Forum for Democracy (FvD), Thierry Baudet, warns, "and that's why our 'leaders' find the corona pass so interesting: if citizens are planning something that they don't like, you just put their QR codes on red, and they have nowhere to go."
A protest planned by hundreds of bank depositors in central China seeking access to their frozen funds has been thwarted because the authorities have turned their health code apps red, meaning they could no longer move about freely. They had carried green health codes when they left their hometowns, said the people, who declined to be identified for fear of reprisals.

Their health codes turned red when they scanned in at the central train station of Zhengzhou, the capital of Henan province. The depositors were planning to travel to the central province of Henan this week from across China to protest against an almost two-month block on accessing at least $178 million of deposits, which has left companies unable to pay workers and individuals unable to access savings.
4. Rep. Sean Casten says his 17-year-old daughter Gwen died peacefully in her sleep
(Maybe now that the ruling class is losing children they can get a damn grip on the FDA and the CDC)
Rep. Sean Casten mourned the loss of his 17-year-old daughter on Wednesday and said the teen died peacefully in her sleep.

The Illinois Democrat released a heartbreaking statement that said his oldest daughter, Gwen Casten, went to bed Sunday night and never woke up.  

"There are no words to describe the hole in your heart when a child dies," the Congress member said in a statement from himself, his wife and his second daughter.

His office announced Gwen's passing in a short statement Monday, but provided no further information at the time.
5. This one is fun. An epidemiologist who is in the corner with the gene therapy makers, calls a victim of the shots a liar directly on Twitter and is shown up lickety split.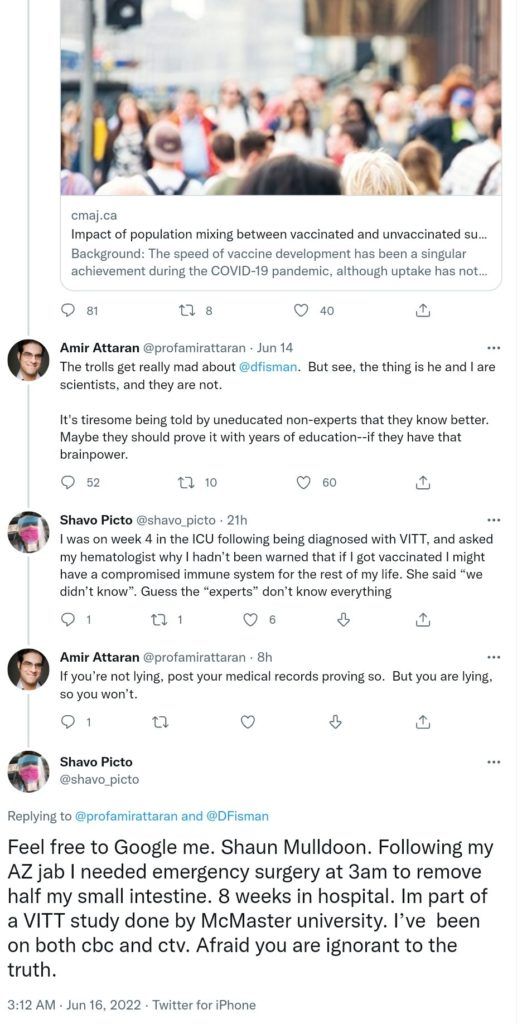 (The AZ shot is also a gene therapy. It isn't RAN based, but it is still a gene therapy. Possibly worse as its DNA vector, or something very much like that.)
Thank you all very much for your contributions, and kind attention to this effort.