1. British school and local governments capitulate to sharia law with unabashed appology to muslims and a promise of an investigation for showing a cartoon.
For context, if a school showed a Nazi era cartoon to show what Nazi cartoons of Jews were, that would be both OK and even necessary on a course which included Nazi propaganda. So this is about only one thing. Enforcing sharia limits on the West. And its working.
BBC article to get up to speed for those unfamiliar with the tempest in a teapot which this issue should be. As I write this though, it occurs to me, the way to take total control of a teapot is to create a tempest in it.
Prophet Muhammad cartoon sparks Batley Grammar School protest
A teacher who showed pupils an "inappropriate" cartoon of the Prophet Muhammad – sparking protests outside a school – has been suspended.
The image depicting the founder of Islam was used in a lesson at Batley Grammar School on Monday.

Videos posted online show dozens of people standing outside the school on Thursday, with some demanding the teacher be sacked.

The government said it was never acceptable to "intimidate" teachers.
Head teacher Gary Kibble apologised "unequivocally", adding the member of staff had "given their most sincere apologies" and been suspended pending an investigation.
Apology by school head.
Parents have been protesting outside Batley Grammar School this morning after a teacher allegedly showed a caricature of the Prophet Muhammed.

The school's headteacher, Gary Kibble, says "the school unequivocally apologises…"https://t.co/SzeM3aG9yy pic.twitter.com/w5w8LIhtxq

— ITV News Calendar (@itvcalendar) March 25, 2021
A lone voice worried about the consequences of capitulation?
Communities secretary @RobertJenrick has waded into the row over the protests at Batley Grammar School.

Says he's 'deeply troubled' that a teacher may have been 'censored' and left feeling 'threatened or intimidated' pic.twitter.com/ZydJBEkt1f

— ITV News Calendar (@itvcalendar) March 26, 2021
Tweet calling for protest: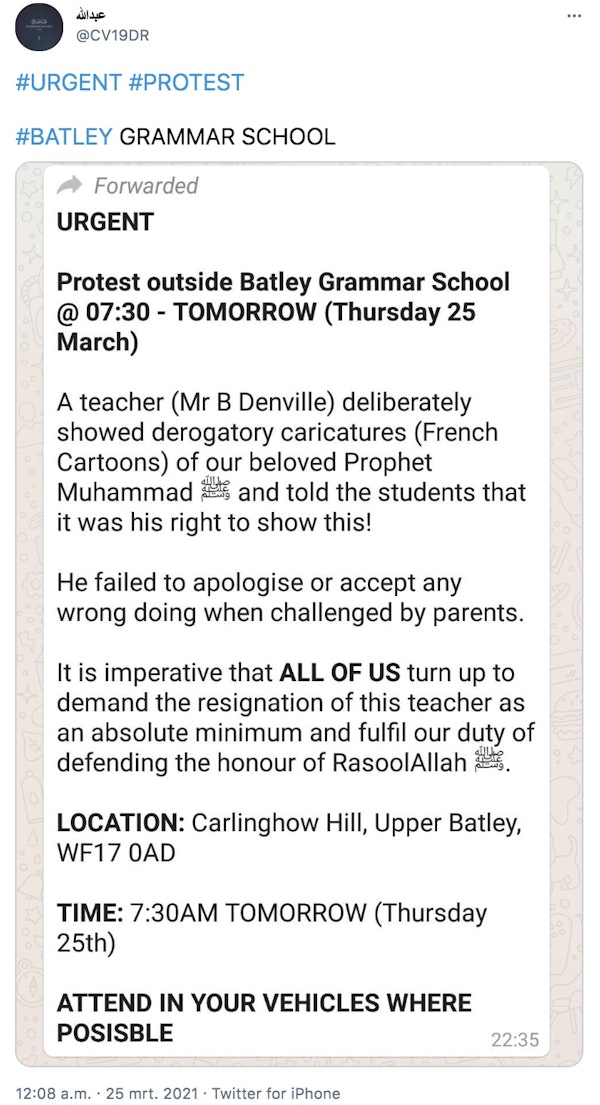 Muslims use the classic threat of jihad against the school in the form of group allah ackbarring.
Statement by spokesman of the muslim community, who may or may not be a parent of one of the children. Chances are not, if its anything like the Sam patty event.
The demand for criminal proceedings against the teacher is much in accordance with UN resolution 16/18 which demanded that each nation enact some kind of legislation that would make Islamic blasphemy or criticism of Islam to be a criminal matter.
With religion and blues musicians as a rule, the bigger and more ornate the hat, the more important the leader or performer. Below, a complex hat delivers a lecture on the matter.
Another video of the protest:
Daily Mail story on some of this. Note that the protestors are not the parents. This is a critical aspect. This is the Islamic use of an extension of the Rahm Emanuel slogan. Create a crisis, then maximize its use.
Thousands sign petition started by students calling for suspended teacher 'who showed Prophet Mohammed cartoons' to keep his job – after he was whisked away from home on police advice over death threats
A petition started by students of the teacher suspended by Batley Grammar School has been signed by thousands of people today – at a rate of one per second – as it was revealed he was forced to flee his home because of death threats.   

The 'burly Yorkshire lad' in his 20s, who has not been named, is getting support from police after he allegedly showed cartoons of the Prophet Mohammed as the headteacher today kept 980 children at home after 50 Muslim protesters from outside the area turned up for a second day.  

Some of his students have launched a petition trying to save his job, which has been signed by more than 3,000 people by 2pm today, up by 2,000 in the past 12 hours.

People who backed the campaign to save his job have described him as a 'good man' and a 'diligent teacher' who is 'respectful of all religions'. Others said the school must stand by him, insisting he was being 'bullied out' by 'radicals'. 

One Muslim parent signed the petition, named Mohammed J, wrote: 'I would like to convey my support for the school and also the teacher concerned. He has taught my daughter and she speaks very highly of him. I would not hesitate to see him teach her again. I am confident that the teacher concerned did not mean any offence and I hope following an investigation he returns to his role at the school.'
Thank you C. for all your hard work assembling these links.