1. Police station in France under attack by muslims. Only one media source, a major blog in France, bothers to mention who is attacking the station.
— OPTIONNUIT (@optionnuit) October 11, 2020
2. Tom Fitton from Judicial Watch explains to Epoch Times, the reason for all the attempts at a coup against Trump. To protect themselves from prosecution.
3. India puts up "Happy Taiwan Day" posters right outside the Chinese Embassy!
4. Here is a series of giffs showing the events involving the murder of a Trump supporter. See Simplex's analysis of the video here, where he says that listening to the audio, the gun is fired a second before the mace is used.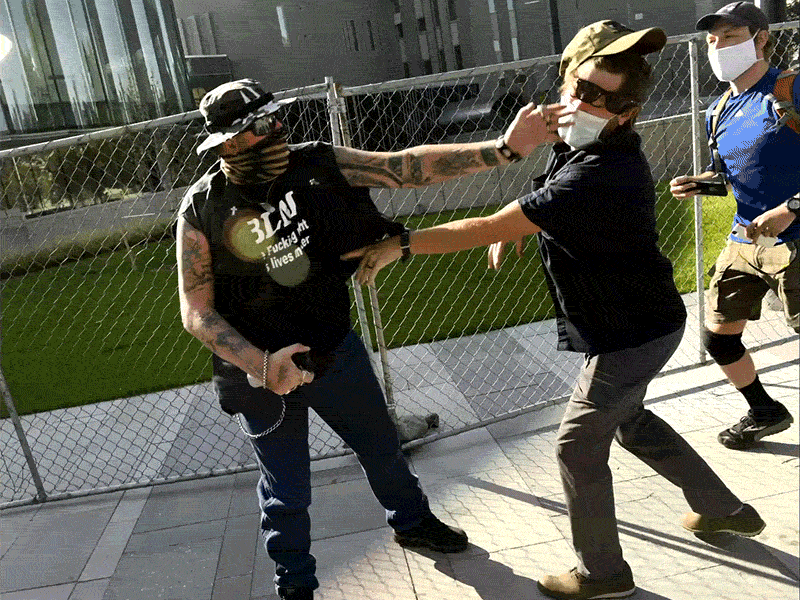 5. MPP Randy Hillier on Covid contradictions
Watch my video as I expose more COVID contradictions that expose either incompetence or malfeasance.

It is time we stand up & speak out. Contact your local representatives & let them know what you think of more lockdowns. #FordFailedThePeople #onpolihttps://t.co/lY17WwMSH4

— Randy Hillier (@randyhillier) October 11, 2020
6. Biden says 'chicanery' at polls is the only way he could lose US election
(Story at link. Chris Jones' comment here)
7. So we have to lock ourselves down and destroy our economy, but for sure still bring in as many people as want to come who will contribute nothing to the economy if it ever reopens.
This is Trudeau's health minister giving the green light to mass immigration again. She says the virus isn't spread through international travel. That's false of course. But if it were true, why does she continue to ban travel from the U.S.? pic.twitter.com/44JLfw7TJZ

— Ezra Levant ? (@ezralevant) October 6, 2020
8. Just about everything around Covid is a lie at this point.
There is no relationship whatsoever between the number of reported deaths on a specific date and the number of actual deaths on that date. The number of actual deaths has been steadily declining since early August.

Nothing alarming is going on in Florida. pic.twitter.com/fsl2DI1nki

— Jennifer Cabrera (@jhaskinscabrera) October 11, 2020
9. Here is what should be an excellent question but we all know the answer.
Now that the WHO has done a U-turn on lockdowns, does this mean YouTube will now remove any pro-lockdown content? After all, it has said it will remove any content that's contrary to the WHO's guidance. https://t.co/iCzjTQSiFZ

— Toby Young (@toadmeister) October 11, 2020
10. a BBC lie of omission. They fail to mention that the attack on the police station near Paris is by muslims. But the voice in the video sounds suspiciously non-French. Breitbart has a good item on this event including other atrocities that have taken place in the region recently such as:
It was the latest action among numerous attacks against police officers, and sometimes firefighters, that Interior Minister Gerald Darmanin says are a sign that France is growing "savage."

Last week, two police officers in civilian clothes were pulled from their vehicle in a Paris suburb and shot multiple times with their own guns. One officer remains in serious condition.
11. Muslim Woman Trashes Liquor Section of French Supermarket for a Second Time
A Muslim woman in the French city of Reims ransacked the liquor area of a supermarket for the second time in under a month, causing even more property damage than the first incident.

The first attack took place on September 16th at a Spar supermarket in the Croix Rouge area of the city at around 6 p.m. and saw the woman smash bottles of liquor before she was eventually arrested by police and taken for psychiatric evaluation.

On Thursday, the woman returned to the same supermarket and began again smashing hundreds of liquor bottles and allegedly explaining to witnesses that her religion, Islam, forbids alcohol. She also said she suffered from mental problems, L'Unionreports.

"I was outside the door when I heard the sound of broken glass," local resident Salah Byar said.

"I turned around and saw this woman throwing bottles everywhere. I wanted to come in to calm her down but an employee asked me out because I was in danger of getting hit."
('Multiculturalism' is an oxymoron)
Thank you Johnny U., M., Richard, C., Wrath of Khan, Chris Jones, Simplex, CathyB., and many more who are diligent this weekend.
Another kind of bomb threat
Where's Swalwell? pic.twitter.com/Mo3acXHufk

— James Woods (@RealJamesWoods) October 11, 2020