In news, now typical of the former republic of France, a poorly executed execution of an imam in France took place on Thursday, June 27, 2019.
Here are images of the letter that the alleged 'assassin' sent to the mosque, and every major media source he could, before he went forth to lightly wound the imam of Brest, with three shots. One to the phone, which injured a finger, one to the thigh but not near the femoral artery, and one shot to the calf muscle.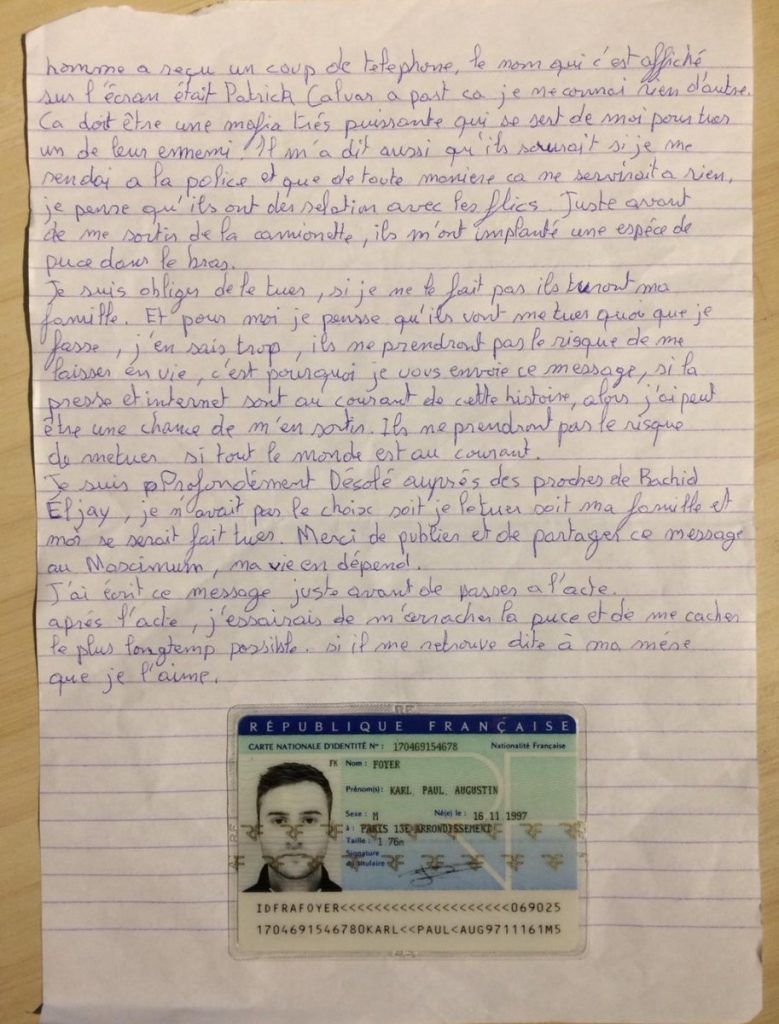 The shooter's ID: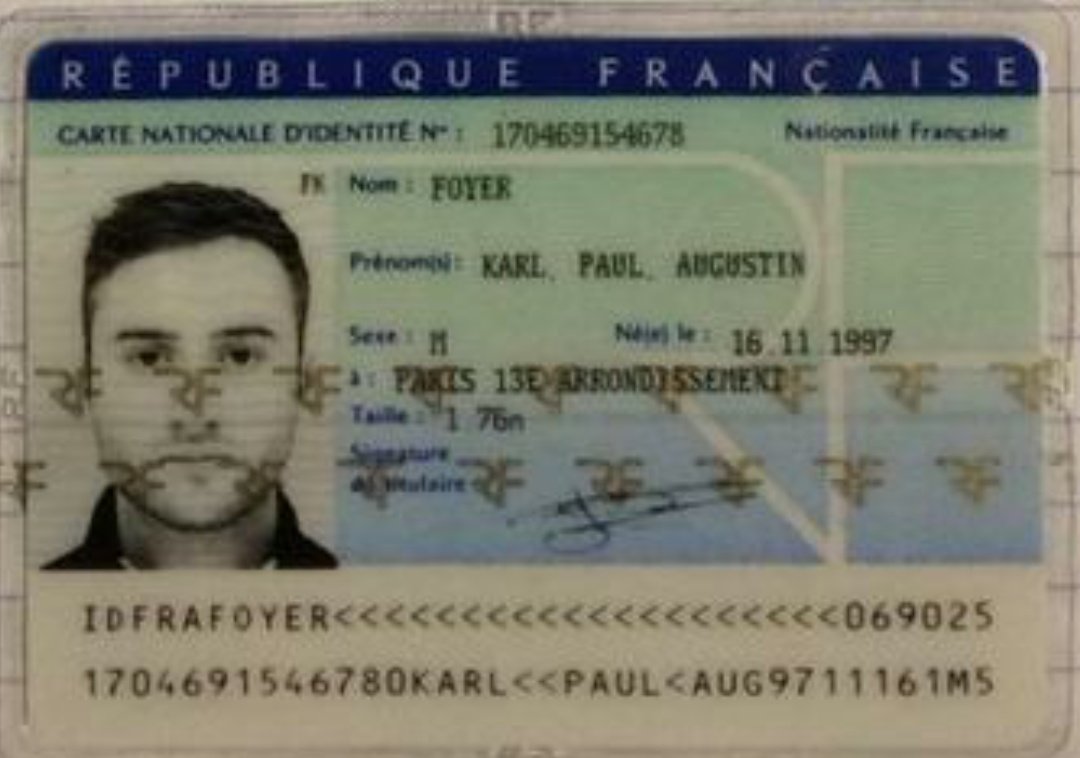 Translation of the letter:
---
"Hello,
I am sending you this message to protect the life of my family and mine. First of all, let me introduce myself, my name is Karl Foyer, I am 21 years old, living in Lyon [French City] since about 3 years.
I am a simple person, without any problem with an ordinary life. I have worked in multiple fields. I have been a busser, a kitchen assistant, a delivery guy an order packer. My last job was cleaning person.
Thursday 18th April around 11:30 PM, while I was coming back home after my job shift, a black van was parked next to the spot where I'm used to park. I had never seen it before. As soon as I closed the door of my car, the sliding-door of the van was opening then 3 hooded men went out, they forced me to get into the van. I was terrified. Once inside, they dazzled me with a flashlight and force me to sit down to the ground. Then, one of the men started telling personal informations about my life, that only me could know, informations on my family that none else could know. Its at this moment I knew I was facing very serious people. Once they made me understand they knew the adress and very confidential information on me and my family, they ordered me to slit the throat of the Brest Imam Rachid Eljay, and to push a french flag in his anus. He said I had to do it between 15th of June and 30th. I asked why this man, what he did, and he punched my stomach as an answer. He said that if I didnt kill him, it would be my mother, my father my sister and me who would be killed. Then he put a note in my pocket on which was written "Brest Imam Rachid Eljay, 15-30 june, French flag anus, knife throat".
I have no information on these persons besides they were 4 I think but I'm not sure, and that one of the men received a phonecall, the name displayed was Patrick Calvar, beside this I know nothing else.
It must be a powerful mafia that use me to kill one of their enemies. He also told me that they would know if I went to the police and that it would be useless anyway. I guess they must have relations with the cops. <b>Just before getting me out of the van, they implanted me a kind of microchip in the arm.</b>
I have to kill him, if I do not do it they will kil my family. Concerning myself, I guess they will kill me anyway, I know too much, they wouldnt take the risk to let me live, that's why I am sending you this message, if the medias and the internet are aware of this story, then maybe I have a chance to stay alive. They wouldnt take the risk to kill me if everyone was aware.
I am sincerely sorry for the relatives of Rachid Eljay, I have no choice, either I kill him or my familly and myself would be killed. Thanks for publishing et sharing this message, my life relies on it!
I am writing this message just before taking the action. After the action, I will try to extract the microchip and to hide as long as possible. If they find me quickly tell to my mother that I love her.
---
Here is a combination of two videos on the Brest Imam event:
Direct link: https://d.tube/v/vladtepesblog/Qmc74PnubbeCWsPWjztJBesgANPBHJNSTsJ6siK8uBT2kb
---
This appears to be the imam that was lightly shot three times in France, from a video we did several years ago.
Bottom line:
No matter if this guy is telling the truth, or a paranoid nut like the people who shot Ronald Raegan or John Lennon, whatever his motives are, they are not "islamophobia" and therefore, any attempt by the government to use this event to crack down, New Zealand style, against freedom to criticize Islam, or non-communist groups, is likely a false flag at least in one sense, or at best, a use of a crisis in a very dishonest way.
Thank you very much, M., Ava Lon, and Gavin Boby all of whom added materials, thought and work into this post.