1. There was some, probably deliberate, confusion about a British rich singer or something that was chest pounding her leftist credos and got busted for not actually following through. PJ Watson does a great job of presenting the time line on that story.
2. The following post is a good summary of a lecture I got in the 80s from a South African friend. It really stuck with me, as it was so contrary to the narrative even then, and Canada was at the forefront of BDS for South Africa based on, well a bunch of solid BS.
So I thought I would paste this comment as it summarizes the facts we are all not allowed to know or contemplate.
---
My doctor is an immigrant from South Africa to Canada…
He played a role in saving my life most assuredly and has a clinic that is exceptional serving the Winnipeg community.
I asked him on my last visit to his clinic if he had family still there. He didn't answer with yes or get angry, he instead talked about the history of those fomenting the actions against whites.
He didn't act irate or dismissive of those enacting the "reverse racism", but instead basically said history will repeat itself, Zimbabwe all over again.
He made sure I understood the history of South Africa… the people enacting the "reverse racism" are immigrants themselves as they came for jobs and the promise of a better life from Central Africa, they weren't original South African tribes.
He was resigned to the inevitable destruction of what the Afrikaners had created and too what it would become. He wouldn't say the words in his mind to describe what it would become… he wouldn't speak it. So I interjected, sort of paraphrasing, and I said "a shithole". With a hesitation and regret he nodded his head and said quietly "yes, a shithole"…
So this is what happens in our new progressive societies… destruction a western society based on idealism… even if it is misplaced and hateful.
God help us all…
---
3. This may be the headline of the year for 2018:
Police officer 'sexually assaulted' while trying to arrest rape suspect
(The article goes to torturous pains to write 5 paragraphs and give no information at all. So here is some. This area has been estimated to be about 50% muslim)
A police officer was allegedly sexually assaulted by a man she was trying to arrest on suspicion of attempted rape, South Yorkshire Police said.

The officer and a colleague were also hit with a wooden sign after they were called to investigate an incident in Scotland Street, Sheffield, on Friday.

A man has been arrested on suspicion of attempted rape, assault, sexual assault, and criminal damage.

He remains in police custody, a force spokesperson said.

Ch Insp Lydia Lynskey said the officers, one of whom was left severely bruised, had shown "immense bravery" in dealing with "a dangerous and violent situation".

Both officers are recovering at home, she added.
4. Iuliana Tudos death: Man jailed for Finsbury Park barmaid murder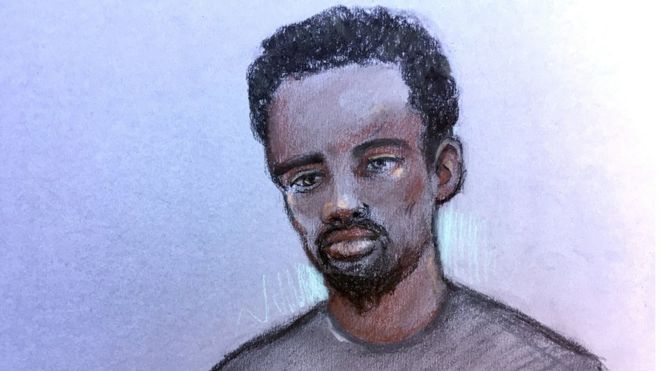 A man has been jailed for 29 years for killing a barmaid whose naked body was found in a park after she went missing on Christmas Eve.

Iuliana Tudos, 22, was discovered dead in a disused building in Finsbury Park, north London, three days later.

Ms Tudos, who was born in Moldova, had been slashed with a broken bottle in the neck, abdomen and wrists.

Kasim Lewis, 31, of Friern Barnet, north London, pleaded guilty to her murder at the Old Bailey on Thursday.

He was sentenced to life imprisonment with a minimum of 29 years
5. Man, 22, has his eyes gouged out with a spoon by his father and brothers because he wanted to marry a girl of his choice in Pakistan
(This article also manages to avoid saying anything that goes to motive. Which likely means its islam. But we can know that this kind of savagery is something we see pretty often coming out of South Asian cultures, usually islamic ones, and that its nearly unheard of in the West other than someone with a profound psychopathy)
6. FBI Used Secret Program To Gather Information On Trump Campaign, No Judge Needed, Report Says
A report released by The New York Times on Wednesday revealed that the FBI, under Director James Comey's leadership, used a secret program that does not require the approval of a judge to gather phone records and "other documents" on Donald Trump's presidential campaign.
The report also revealed that a government informant met several times with Trump campaign officials, which validates a March 8, 2018 report from The Washington Post. The New York Times reports:
The F.B.I. obtained phone records and other documents using national security letters — a secret type of subpoena — officials said. And at least one government informant met several times with Mr. Page and Mr. Papadopoulos, current and former officials said. That has become a politically contentious point, with Mr. Trump's allies questioning whether the F.B.I. was spying on the Trump campaign or trying to entrap campaign officials.
7. Updated: Swiss Islamic council members in court over alleged terrorist propaganda video
Updated: State prosecutors are calling for a two-year suspended prison sentence for three members of the Islamic Central Council of Switzerland (ISSC) who are facing trial on charges of having produced illegal propaganda for the terrorist organisation Al-Qaeda.
In a case that has raised concerns about possible infringements on journalistic practice, the Office of the Attorney General of Switzerland (OAG) says the trio broke Swiss laws that forbid support for groups such as Al-Qaeda and the so-called Islamic State (ISIS) by interviewing and publishing online an interview with Saudi cleric Abdullah al-Muhaysini carried out in Syria in 2015.

While interviewing radical Islamicists is not illegal, prosecutors say Naim Cherni, a young filmmaker from Bern and head of the ISSC's cultural production unit, together with the organisation's media spokesperson Abdel Azziz Qaasim Illi and ISSC president Nicolas Blancho contravened journalistic principles in the publication of Cherni's interview with al-Muhaysini.

Prosecutors say that by giving the Saudi cleric 35 minutes of air time and only giving two minutes to the interviewer, the makers of the video had produced propaganda for Al-Qaeda.
(If the prosecution is only asking for a suspended sentence, why not skip the middle of this process and just give them an Arts grant for film making?)
Thank you Sassy, Wrath of Khan, M., EB., Bernd, Xanthippa, and a lot of really wonderful people that are working very hard to help inform us all. These are the times of the Chinese Curse.
In theory, there might be another segment of the Israeli documentary on The Muslim Brotherhood in America tonight. if so, get some take out and book 40 minutes for it. I hear its truly amazing and a must see, even by the standards of readers of this site.