1. Govt Study Reveals Austrian Migrant Camp 'A Breeding Ground For Radicalization'
(The Austrian government should check out the local mosques. If they pay attention, they would have a myocardial infarction if the 'migrant camps' came as a surprise)
An Austrian Federal government official has warned that the migrant camp at Traiskirchen is becoming a hotbed for radical Islamism and a "breeding ground for radicalization," according to Die Presse.
Christian Konrad, the Austrian Federal governments Refugee coordinator has stated his dissatisfaction with the way the Traiskirchen migrant camp is being run. Of the 1,500 residents of the camp he said, "1100 of which are unaccompanied minors – all young boys," and added that the centre was a prime "breeding ground for radicalization," if no action is taken.
2. German Authorities Knew Migrants Were Groping Girls in 2013, Still Opened the Floodgates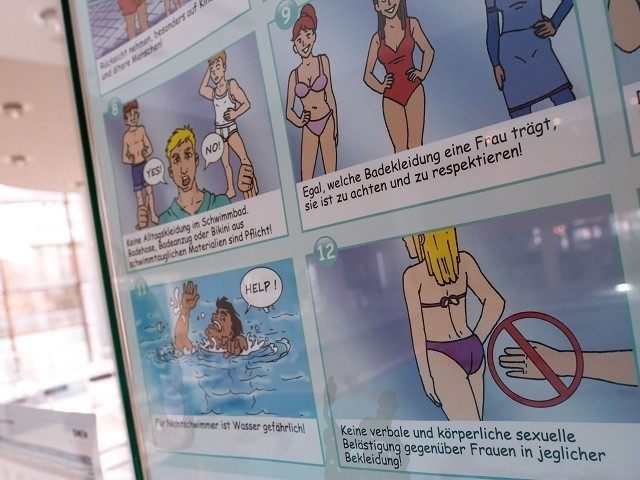 The Independent has drawn attention to the fact that etiquette leaflets advising migrants not to grope women while in public swimming pools were issued in 2013, in a bid to suggest that the migrant crisis has not led to a rise in sexual harassment.

However the bid may have backfired, as it only really offers proof that German officials were well aware that migrants were liable to grope German girls before they opened the borders to more than a million people last year.

The leaflets, which feature etiquette advice in cartoon form, came to light during reports in mid-January that men over the age of 18 were being banned from public swimming pools in Bornheim, Germany after six people filed complaints "over the sexually offensive behaviour of some migrant men at the pool".
(Gates of Vienna has offered to save the German Govt. a fortune in artist fees and focus groups by offering this solution to another more recent migrant issue)
3. The organization that busted planned parenthood for being wholesalers of baby parts and was subsequently arrested and charged with attempting to buy dead baby parts while no charges were laid against the dealer, have released this video:
(This seems to point at another pattern of political interference in the legal process. It seems that when it comes to drugs, the police go after the dealer as the buyer is thought to have no, or less, agency. When it comes to prostitution, the police go after primarily the user as the dealer is thought to have no, or less agency. Clearly the law decides which group is in political fashion and lays charges accordingly)
4. EXCLUSIVE: Neo-Nazis thugs warn of a 'year of violence' following attacks on child migrants at train station in Sweden
(Wow no one could have ever predicted this!)
Neo-Nazi thugs in Sweden last night warned of a year of violence against immigrants as the so-called 'liberal' state was forced to confront a new wave of support for the far right.

The extremist Swedish Resistance Movement (SRM) hailed the racist mob that attacked 'foreign-looking' men, women and children at Stockholm's Central Station 'heroes' last week, describing them as modern 'Robin Hoods'.

It comes amid rising anger at the nation's 'open door' policy on immigration – and concern that the influx of migrants is fuelling the growth of the far right.

A recent poll found that the Sweden Democrats, an anti-immigration group with a neo-Nazi past, have become the country's biggest political party with 28.8 per cent of the vote.
Scroll down for video 
5. Arrested Islamists may have been targeting Berlin: police
"It is about the possible planning of a terror attack in Germany, concretely in Berlin," state prosecution spokesperson Martin Steltner told news wire Dpa.

There are conflicting reports in the media about what the exact target of the attack was, with tabloid Bild claiming it was Alexanderplatz, the iconic centre of the former east of the capital.

Berlin daily Tagesspiegel meanwhile says popular tourist spot Checkpoint Charlie was to be hit, citing security sources.
6. Most Germans fear Merkel's refugee policy not working
At 81 percent, the number of survey respondents telling ARD's Deutschlandtrend poll they didn't think the government had the situation under control was an overwhelming majority.
Image: ARD
And that has a knock-on effect on Merkel, with her personal approval rating plunging 12 points to 46 percent – its lowest since August 2011.

Merkel's Christian Democratic Union (CDU) and their Bavarian allies the Christian Social Union (CSU) would still dominate if an election were to be held immediately, garnering the largest share – 35 percent – of public support between them.
(If 46% of Germans still approve of Merkel, the number of muslims in Germany must be a lot higher than admitted to)
7. New York City slashing attacks continue with three more within 24 hours
(In the video there is a conspicuous absence of information about the victims of these attacks. They interview a highly 'diverse' group of people and say they are just like the victim, meaning in age and in high school, but no name, description or interview of the vic is given. Highly unusual unless you are trying to cover motive for the attacks)
WILLIAMSBURG, Brooklyn (WABC) —

The recent rash of slashing attacks in New York City is continuing with three more incidents since Tuesday in three separate boroughs.

BROOKLYN
In Brooklyn, an 18-year-old high school student was slashed while walking home in Williamsburg at around 3:15 p.m. Tuesday afternoon.

The teen was surrounded by four young men at the corner of Graham Avenue and Maujer Street, investigators say.

The suspects struck him repeatedly with their fists, and one took a 2 to 3 inch blade and slashed him to the left side of his face.
8. The translation of the signs reads as follows:
New Construction of a refugee facility
We are building:
2 double houses for refugees
With 7 apartments and
1 community area
Incl. social service
With a living area of 86 to 100 square meters
Info: www.wohnstadtbau.de
Thank you Buck, Johnny U., M., Wrath of Khan, Richard, Maria J., and many more. Its always wise to read the comments in the daily links post to get the latest and most complete news feed this site and its readers have to offer. Not all of it makes the posts as editing and subtitling videos takes a lot of time.
A couple of added thoughts:
The video below may well have been faked. The camera is oddly on this couple as the action starts with the initial molestation. But here is is anyway. As with all videos of this kind, its hard to know what it was really about, when it took place or where. But it does illustrate the Finnish and German model of, 'just keep aggressive foreigners at arms length and use your kung-fu mittens is suicidal at best.
According to a Russian source on this video: 'this takes place in Germany at a public skating rink. The man standing with his wife takes offence when a muslim brushes his hand against his wife. Hilarity ensues as the fellow puts on a martial arts display par-excellance, opening up a steaming can of whoop-ass on these migrant racists who thought they could have a great day beating up a white guy after molesting his lady friend.'
The above clip as also been around for about 2 years.