Actually it isn't a crime wave exactly as the motive is political and not personal gain. But it does sure look and act like one
1. REPORT: Migrant Crime Up 47 Per Cent This Year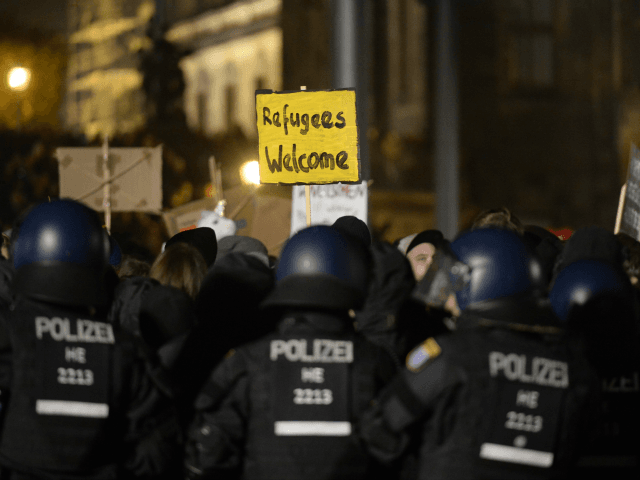 End of year statistics released by the Federal German state of Saxony has shown a steep increase in immigrant crime, with a growing number of multiple offenders responsible for the rise since 2014.

The increase is significant in the east German Free State of Saxony, as it lies outside the most heavy migratory path which is concentrated on southern state Bavaria. As the state is in the opposite direction of travel from the route leading to Berlin, France, Belgium, the United Kingdom, Sweden, and other popular migrant destinations – Saxony has received some of the lowest numbers of migrants of any state in Germany.

Despite having been largely bypassed by the migrant invasion, there have been more than 45,000 immigrants in the Free State this year, compared to a Germany-wide total of over one million.
2. Finland: Police forced to cover up Muslim rape of fellow officer at Hennala asylum shelter
"I have heard from a reliable source that a police patrol was sent to the scene at Hennala after an outnumbered female police officer had been raped. The matter has not been made public in order to escape "a lynching mood". Investigate it yourself, I can't personally strew this around because I am closely involved with the police in a certain way, but among the police, this kind of incident can't be allowed to be covered up."
(Tundra Tabloids would likely have more on this)
3. Santa chased, converts to Islam in anti-New Year celebration demonstration
Men dressed as Ottoman janissaries chased Santa Claus in a street show protesting the celebration of New Year's Eve in western Turkey, which ended with Santa converting to Islam.

As the show proceeded, Santa was brought to face a qadi, an Islamic judge in the Ottoman era, after he was caught by the janissaries, the Ottoman elite infantry units.

The act, staged by members of the nationalist-Islamic Grand Unity Party (BBP) in the province of Bolu, highlights anti-New Year's Eve celebrations sentiments in Turkey, where the festivity is widely deemed to be associated with Christianity.

Turkish media have reported education authorities in some districts of Turkey have sent notices to schools banning New Year's Eve celebrations.

This year's demonstration comes after a similar one by the BPP last year, in which Ottoman janissaries chased Santa on the streets and then took him before the sultan. The sultan then banished Santa from the city.
(What kind of song would you sing about a guy in a red suit and beard who dropped bombs down the chimneys of all the unbelievers one night a year?)
4. Belgian capital Brussels cancels fireworks display and New Year festivities because of terror alert
The New Year's Eve fireworks display in Brussels has been cancelled amid fears of a terrorist attack.

Authorities have suspended traditional December 31 festivities in the Belgian capital because of concerns over public safety.

Federal prosecutors said two people suspected of plotting an attack in Brussels on New Year's Eve had been arrested during house searches in different parts of the country.

"Together with the interior minister, we've decided to not have the celebrations on Thursday evening," Brussels mayor Yvan Mayeur told the state broadcaster RTBF.
(Why don't they just convert?)
5. Donald Trump on crypto-enviornmentalism
6. Man charged with setting Houston mosque fire was a devout attendee
(The mark of conspicuous religious observance epitomizes islam. Its more important to be seen to be observant than it is to have any shred of spirituality or quiet self sacrifice)
A Houston man has been arrested in connection with a suspected arson at a mosque on Christmas Day.

A spokeswoman for the federal Bureau of Alcohol, Tobacco, Firearms and Explosives confirmed that the man was arrested early Wednesday, sometime after midnight, and appeared in court 7 a.m. Wednesday.

The suspect, Gary Nathaniel Moore, 37, of Houston, appeared in court at 7 a.m., spokeswoman Nicole Strong said.

According to a charging instrument released by the Harris County District Clerk, Moore told investigators at the scene that he has attended the mosque for five years, coming five times per day to pray seven days per week.
7. US spying on Israel reportedly ensnares members of Congress
The National Security Agency's effort to eavesdrop on communications between Israeli Prime Minister Benjamin Netanyahu and his aides reportedly also captured private conversations involving U.S. lawmakers and members of American Jewish groups.

The Wall Street Journal reported Tuesday that the NSA's monitoring of such exchanges raised fears that the Obama administration would be accused of spying on Congress, with one official calling it an "oh, s— moment".

Sen. Rand Paul, R-Ky., a presidential candidate, told Fox News the report just demonstrates the need for more controls on the NSA.

"I'm appalled by it," Paul said Wednesday. "You could see how it would stifle speech if you're going to eavesdrop on congressmen, and that it might stifle what they say or who they communicate with."

House Intelligence Committee Chairman Devin Nunes, R-Calif., told The Associated Press he's already asked the NSA director and director of National Intelligence to brief lawmakers on the issue.

According to the Journal, the enhanced monitoring of Netanyahu began, with the assent of lawmakers from both parties, late in Obama's first term out of concerns that the Israeli leader would pursue a preemptive strike against Iranian nuclear facilities.
8. An expert analysis of how UN resolution 16/18 implementing blasphemy laws back into Western nations is being foisted on to the US public via bill 569
9. German Commissioner Oettinger voices fears of EU 'collapse'
(BERLIN) – Germany's EU Commissioner Guenther Oettinger Wednesday voiced fears the European Union could fall apart under the pressure of rising populism.

"The EU has learnt to overcome crises. But the number of unstable or populist governments is rising. That makes me worried," said Oettinger, a member of Chancellor Angela Merkel's Christian Democratic Union.

"I see for the first time a real danger that the EU could collapse," the EU's digital commissioner warned, without specifying which countries he was most worried about.
(Populism: when a democratically elected government needs a term of disparagement to call another party which may also get elected democratically instead of them)
10. EU commissioner: "Turkey will not join the EU this or next decade"
11.  Muslim Students Demand TOTAL BAN On All 'Islamophobic Speech' At Taxpayer-Funded College
The Muslim Student Association at San Diego State University is calling on officials at the public, taxpayer-funded school develop a formal policy outlawing political speech they dislike.

The demand to suppress free speech is part of a larger list of demands that is similar to the various lists proposed in recent months by black leftists on campus around the country, reports The College Fix.

The highlight of the extensive list of demands from "We the Muslim Student Association at San Diego State University" is a call for a ban on "Islamophobic speech" and, in fact, "bigotry towards any other identity group."

"We demand that the SDSU administration enact a zero tolerance policy explicitly for Islamophobic speech and actions as well as targeted bigotry toward any other identity group," reads the first demand of the SDSU administration.
(At times like this i feel its good to show the MSA pledge of allegiance)
12. Iran conducts 'provocative' live rocket tests near US ships
Iran's navy conducted rocket tests last week near US warships and other commercial vessels in the Strait of Hormuz, the American military has said.

The tests threaten to cause new tensions between the two nations following their landmark nuclear deal.

Iran fired "several unguided rockets" about 1,370m (1,500 yards) from two US vessels and a French frigate, US military spokesman Kyle Raines said.

The tests were "highly provocative", said Cmdr Raines.

The Strait of Hormuz is a narrow waterway between Iran and Oman that provides passage for nearly a third of all oil traded by sea. The strait is also crucial for ships taking part in the war against so-called Islamic State.
Thank you ML., M., Richard, Wrath of Khan, Pym Purnell, Dan Friedman, and everyone!
The newest version of where's Waldo
I have this from an excellent source in Europe:
"A house next to an international kinder garten for UN workers' children in Geneva will soon be used as a camp for a couple of hundred refugees. The local UN workers who are normally very pro-immigration and in opposition to criticism of Islam and Arab culture are wildly protesting the camp."
Frankly, the way to solve all these problems this site is about in under a year is to force the policy makers to suffer the consequences of their policies. So I for one am delighted by this new 'refugee' center. Maybe now, they will know why that one employee who was fired from her job at the BBC for asking a cab company to send a non-muslim to drive her daughter felt it was worth the risk.