1. Ezra on the rationality of Donald Trump's ideas
2. Syed Farook's friend: "There's so many sleeper cells, so many people just waiting"
In light of the news brought by the Obama administration whistleblower last night, this seems highly plausible and pretty dang scary:
NY TIMES – The regulars did not take it seriously when Enrique Marquez mused about terrorism at Morgan's Tavern, a dank dive bar where the bespectacled 24-year-old hauled ice, cleaned bathrooms and checked ID's at the door. After a few drinks, he would just start talking – about his money woes, trying to lose weight, wanting to join the Navy. News reports about terror were just fodder for more bar talk.

"He would say stuff like: 'There's so much going on. There's so many sleeper cells, so many people just waiting. When it happens, it's going to be big. Watch,' " said Nick Rodriguez, a frequent patron who had known Mr. Marquez on and off for the past two years. "We took it as a joke. When you look at the kid and talk to him, no one would take him seriously about that."
3. Daily Mail link to another story of Islamic State, pornographic atrocity of indignity extinguishing the life of a human being. 
4. PICTURED: The two Afghan Air Force trainees now being hunted by Homeland Security after they disappeared from U.S. military base in Georgia
Air Force officials say the Department of Homeland Security has taken the lead role in the search for two Afghan men who disappeared while training with the U.S. military at a base in south Georgia.

The men – who were part of a group of 23 from Afghanistan who have been at the base since February – have now been identified as Mirwais Kohistani and Shirzad Rohullah.

Their names and passports were released Thursday as part of a federal investigation to track down the pair, after they failed to show up for training on Monday.

Air Force Lt. Col. Chris Karns said Friday that Homeland Security, in coordination with the U.S. State Department, is leading efforts to locate the men.
5. bin Laden aide resurfaces on battlefield after being freed from Gitmo by Obama
A hardened Al Qaeda fighter who served as Usama bin Laden's jack-of-all-trades before spending a decade at Guantanamo Bay made a military prosecutor's prophecy come true when he resurfaced on the field of battle in Yemen, where he is one of the terror group's top leaders.

Ibrahim al-Qosi, a Sudanese native who once served as Usama bin Laden's cook, chauffeur and bookkeeper, appears in the latest video released this week by Al Qaeda in the Arabian Peninsula (AQAP), some three years after he was released from the U.S. military facility. The 55-year-old Al-Qosi is one of the Al Qaeda chapter's top men, according to the Foundation For Defense of Democracies' Long War Journal blog.
(So, Guantanamo Bay is actually a jihadi training center I take it? Cause statistically speaking that seems to be its greatest success)
6. Stunning: A Famous Person Just Called For The Assassination Of Donald Trump
(Anyone else think he will be invited to the White House and maybe get a scholarship to MIT?)
A rap artist is using his music to call for the assassination of businessman Donald Trump, who is leading the field of GOP candidates for president.

Rick Ross, who supports #BlackLivesMatter, raps in his latest song to "assassinate Trump like I'm Zimmerman," referring to George Zimmerman who shot and killed black teenager Trayvon Martin in a controversial confrontation in Zimmerman's white neighborhood.
7. This story seems to be an old one but published today? I'm not sure. But it does show the kind of refugees we get, what they do here at our expense, and how amazingly difficult it is to get rid of them even after a deportation order and that was under Harper. Now she will get a raise. The comments are also interesting.
8. Yemen crisis: Saudi-led coalition 'targeting' schools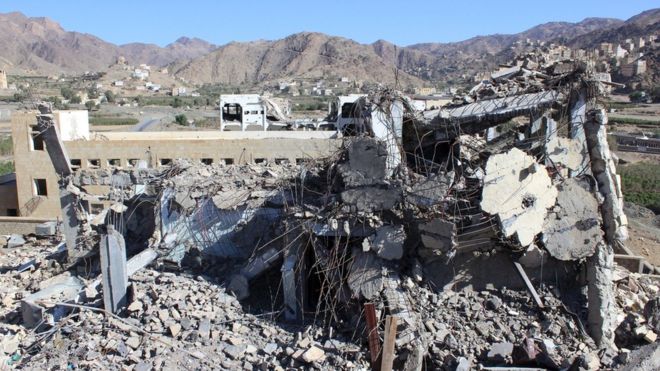 Air strikes carried out by Saudi-led coalition forces in Yemen have targeted schools that were still in use, Amnesty International has said.

The rights group accused the coalition of violating international law and disrupting the education of more than 6,500 children.

It said the US and UK should suspend the sale of arms used in such attacks.

The Saudi-led Arab coalition intervened in Yemen in March against Houthi rebels who toppled the government.
9. U.S. Agents in Greece Expose Syrian Who Sold Passports Thinking They Were for ISIS
ATHENS — An NBC News investigation has uncovered that a Greece-based document forger — who sold American passports to a U.S. agent after being told they were meant for ISIS — will not be extradited to America anytime soon, since he was not promptly arrested despite a nine-month-long investigation by the Department of Homeland Security.
(The most important thing about this story, is to make sure there is no backlash. Video at site seems to be somewhat disjointed and flashes back and forth between 2 videos. One on affirmative action, and one on the topic labeled. Is this the new ADHD gen video format?)
10. House Report: Obama Admin Misled Public on Bergdahl Swap
Keeping true to his complete disregard for Congress and our entire democratic process, President Obama reportedly broke the law when he initiated a prisoner swap between five Taliban members and Army Sgt. Bowe Bergdahl.
According to The Hill, a yearlong investigation by the House Armed Services Committee deemed that the Obama administration broke the law in failing to provide members of Congress 30 days' notice of any detainee transfer from Gitmo and also took great pains to hide the fact that it was engaged in prisoner-swap negotiations. The report also revealed that Obama misled the press and lawmakers alike about the swap. 
Congress was only notified mere hours before the May 2014 prisoner exchange took place, according to the Hill. 
"At the time, there were rumors that on-again, off-again talks about a prisoner exchange, which had broken down several years earlier, might be underway again, but the administration repeatedly suggested to reporters and to Congress that nothing significant was going on," the report found.
11. Turkish fighter jet intercepted by GREECE in another airspace violation
Getty Images

Turkish fighter jets invaded Greek airspace.. again
Turkey was embroiled in another airspace violation row – but this time ITS armed jets had to be escorted out of territory.

The breach comes just weeks after Turkey brought down a Russian fighter jet for allegedly breaching its own airspace. Russia denies any violation.

A radar was fixed on two Turkish F-16 fighter jets according to the Turkish General Staff when the jets entered the zone over the Aegean Sea. […] Intruding flights over Greek territory have more than doubled in 2015, compared to the previous year.
Thank you Charles M., M., ML., Gates of Vienna, Shabnam A., Richard, Wrath of Khan,  and all.