It is also worth going over to Gates of Vienna for commentary, analysis and updates
REDDIT has a live blog with good links here
LIVE SKY NEWS
Search google and send links you find in comments here please. I will post material underneath what is here, so the newer links will be lower down
Special thanks to Oz-Rita who is translating bits of news from France on the fly for us.
The best up to the minute coverage I hear, is from FOX TV. If you have a TV and get FOX, turn that on now.
[Editor: My guess is that the French will respond with the usual anachronistic thinking and treat this as a geopolitical matter and look for a longitude and latitude to attack as retaliation when this is a function of a population forced to mix with another population with fanatically different values]
[6:19 EDT Jewish people in France better batten the hatches. If true to form, these muslims will hit Jewish targets as well as they did with Charlie Hebdo and in Copenhagen. Both attacks went after Jewish targets shortly after the free speech/local attacks]
Police officials in France say there has been an explosion in a bar near a Paris stadium and a shootout in a Paris restaurant.
BFM television says there were several dead in the restaurant shooting in the 10th arrondissement of the capital. Two police officials confirmed the shooting but had no information about casualties.
One of the police officials said there was a separate explosion near the Stade de France north of Paris. It was unclear if the events were linked.
Both officials spoke on condition of anonymity because they were not authorized to be publicly named.
—–
2 dismembered bodies have been found outside the Stade de France, police sources say they could be suicide bombers, according to TF1.
——
3. DAILY MAIL: BREAKING NEWS: Several feared dead as Kalashnikov-wielding gunman goes on the rampage in central Paris in suspected terrorist attack not far from Charlie Hebdo shootings
——
4. 18 people dead in shoot-out and explosions in Paris
—–
6. CNN Live is sort of covering it 
7. This might be a pic of terror vics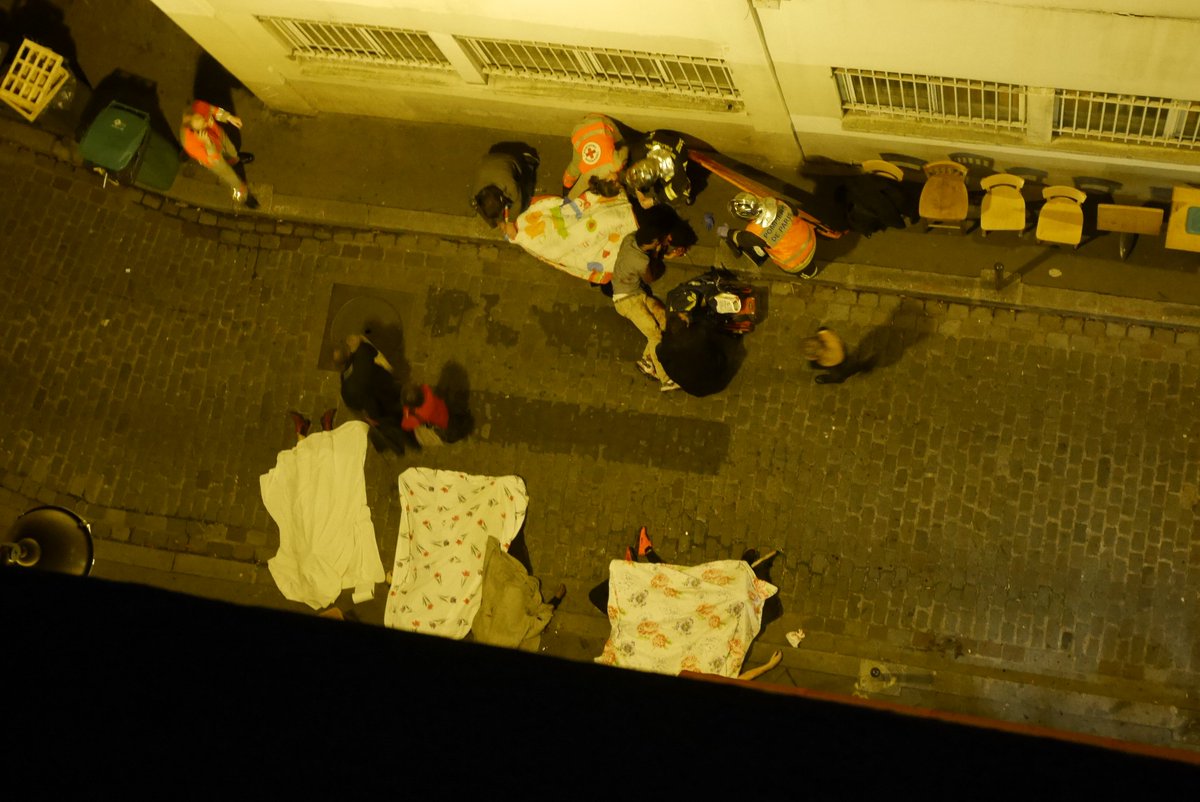 8. Breaking: 1 grenade exploded near Stade de France's Gate D by McDonalds, another near Gate H close to Decathlon, according to BFMTV.
Bataclan, a hostage is being
According to the prefecture, a hostage situation is underway in a theater Bataclan, in the eleventh arrondissement. According to our reporter on site, twenty policemen Raid buckle access at the metro Oberkampf, Boulevard Voltaire.
(Oz-Rita informs me that the 11th arrondissement is a very trendy leftist area. Essentially a Sodasopa)
10. YT vid from early on
11. The theatre  Balaclava or such has now 100 hostages I think…someone speaks of 35 – 40 dead
12 Alleged to be video of soccer game when a bomb went off
13. At least 30 dead, according to a latest report
At the last count, at least 30 people were killed in attacks in Paris, according to police headquarters.
14.  At 11.15 pm (Paris time? ) Bataclan, gunshots heard since 10 minutes
Our reporter on the spot heard gunfire for 10 minutes. According to him, the street is deserted and the police very nervous, aim toward the windows of the 2nd or 3rd floor of the building. According to another of our journalists present at the Oberkampf metro, the brigade of Research and Intervention (BIS) is happening locally.
Un témoin sortant du Bataclan : "On a réussi à s'enfuir, il y avait du sang partout, ils ont tiré au fusil à pompe sur la foule"
A witness exiting Bataclan: "We have managed to escape, there was blood everywhere, they have shot into the crowd with "fusil a pompe" ?
shot gun dont know what kind
14.  The result is getting worse due to very severe injuries. Police sources speak of 45 or 50 dead
15. There is new shooting happening now in "les Halles"  (2eme arrondissement) near Downhill.
16. shots fired in Paris
17. This twitter feed contains videos of inside buildings where there are wounded
18. STATE OF EMERGENCY DECLARED BY PRESIDENT HOLLANDE OVER ALL OF FRANCE NOW (first time since Algerian war)
19. France closes the borders. Authorities told all Parisians to stay indoors. 
20. Shouts of allah hu ackbar verified by witnesses.
21. FOX says they are expecting more attacks (FOX satellite radio)
22. HOSTAGES ARE BEING MURDERED ONE BY ONE NOW at the CAFE 6:23 EDT
23. FIVE NEW EXPLOSIONS HEARD AT CONCERT HALL WHERE 100 HOSTAGES ARE
(Muslim groups are reported to be celebrating in Paris)
24 There are now SEVEN locations in Paris where this is taking place and New York is on full alert
25. Oz-Rita: I have just heard BBC say the following:  "we have to announce that apparently according to a witness the attackers have shouted Allah U Akbar. HOWEVER  we cannot say what kind of allegiance – if any – that signifies.
Thank you GC., CC., Tasha C., Liberty Dk.,Oz-Rita, Thumbnail
Before anyone takes Obama seriously on whatever he spews about this,
remember this:
and what would Robert Mitchum do?