1. AFGHAN MIGRANT STABBED MUSICIAN TO DEATH BECAUSE HE WAS SINGING TO HIS WIFE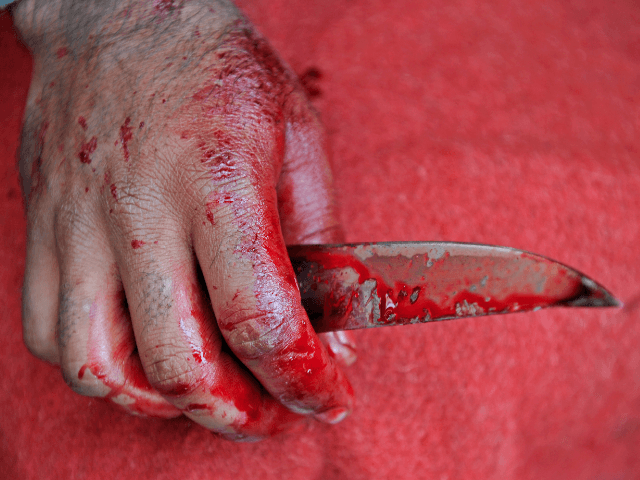 TAUSEEF MUSTAFA/AFP/Getty
An Afghan migrant has killed a father of two, also from Afghanistan, because he considered singing a sin in Islam. The victim's wife tragically noted they had "fled here from these religious fanatics", only to find them in Europe too.

The murderous 17-year-old came to Austria as a refugee in 2013. He has now been sentenced to 12 years in prison for repeatedly stabbing his fellow countryman over a religious matter.

The killer met his older victim, a 31-year-old musician, when they were both attending a German language course in March.

The teen took issue with the musician's penchant for singing and playing music. He told him he did not want to listen to music because he considered it "haram" and against the teachings of Islam, instructing the older man to desist.
2. 'Palestinian ambulance drove by scene without helping Israeli gunshot victims'
The distress call by a 16-year-old teen whose father and brother were murdered, presumably by a Palestinian gunman, near Hebron on Friday reveals that a Palestinian Red Crescent ambulance had driven by the scene of the shooting yet did not stop to administer first aid treatment.

Channel 10's weekly Friday evening newscast aired audio of the call, which confirmed earlier reports on social media that Palestinian paramedics did not tend to the victims of the shooting near the West Bank settlement of Otniel.

Ya'akov Litman and his son, Natanel, were pronounced dead at the scene by Magen David Adom ambulance crews after they were shot by unidentified assailants on Route 60.
(This is in sharp contrast to Israeli hospitals which triage muslim terrorists along with Israeli victims without bias but in severity of wounds only. Gazanians cross the border daily for help from Israeli hospitals as a matter of routine)
3. Austria to build fence on Slovenia border in new blow to Schengen pact
(Reality is quite the bitter pill for the utopians I bet)
Vienna (AFP) – Austria announced Friday it would erect a metal fence along its border with Slovenia, in a new blow to the's cherished open-border accord.

Barbed wire would be stored in nearby containers ready to be rolled out along the frontier if the situation escalated, officials said.

Austrian Interior Minister Johanna Mikl-Leitner insisted the "fence conforms to the Schengen accord", adding it was part of temporary measures aimed at "channelling" the human flow.

The move came a day after European Union President Donald Tusk warned that Schengen — one of the bloc's most important achievements — was on the brink of collapse because of fallout from the migration crisis.
4. Burma's muslims claim to have been sidelined in the federal elections.
(How interesting that the New York Times doesn't do pieces on how in Muslim countries, and far far more than one, non-Muslims have no rights at all. Their Churches and temples, if they exist at all, and when they do, often predate Islam's creation, are routinely attacked or burned down and sharia law itself says they may not be repaired or rebuilt when destroyed. How interesting that it never does videos about how the whole middle east is judenrein except Israel and they come down on Israel with a worse double standard than they are with Burma. Muslims world wide, once they feel the numbers protect a degree of honesty, openly state that democracy is evil from their point of view. Sharia for Belgium's leaders stated clearly that the muslims work to destroy democracy and create a sharia state, and that some do it using the democratic process and others do not. But that democracy was for some muslims a mere means to a non-democratic end and that all are united in that. This, would be a better lens through which to see this New York Times Marxist piece)
5. Denmark tightens asylum rules further to deter migrants
(This is fantastic! A real refugee would be delighted to be able to pay for their own costs as they are escaping the conditions that make them a refugee. Good on Denmark!)
Copenhagen (AFP) – Denmark on Friday unveiled tough new measures to deter refugees from coming to the country, including police searches of asylum seekers' luggage for valuables and cash.

A three-year wait for some family reunification claims and a plan to house migrants in tents has also been added to the plan.

"We are tightening access to Denmark so that fewer people come here," Prime Minister Lars Lokke Rasmussen said at a press conference.

However he said Denmark would not introduce border controls like neighbouring Sweden did on Thursday.

"After less than one day of witnessing Swedish border controls, it is our assessment that border controls would lead to more asylum seekers in Denmark and not fewer," he said.
6. UK press watchdog urged to act against media slurs on Muslims
The UK press watchdog must start considering cases of discrimination against groups of people, after some "grossly irresponsible" coverage of Muslim issues by some media, influential lawyers and community groups say.

Britain's Independent Press Standards Organisation (IPSO) does not currently have the power to pursue complaints of discrimination against groups of people, such as those of Muslim faith, if no individual is specified in an offending article.

But the Muslim Council of Britain and the UK's independent reviewer of terrorism legislation have both called for that to change, amid what some claim is slanted press coverage of Islamic issues.

David Anderson QC, the UK's independent reviewer of terrorism legislation, said some mainstream media have been "grossly irresponsible" in their coverage of Muslim issues.
(Will this mean that the media in the UK, the print media I mean, as its the only branch left of mass comm that actually has any freedoms whatsoever, will no longer be able to say anything true about any pernicious ideology? Or Just islam?)
7. A HUGE blaze is underway at Sudanese camp in Calais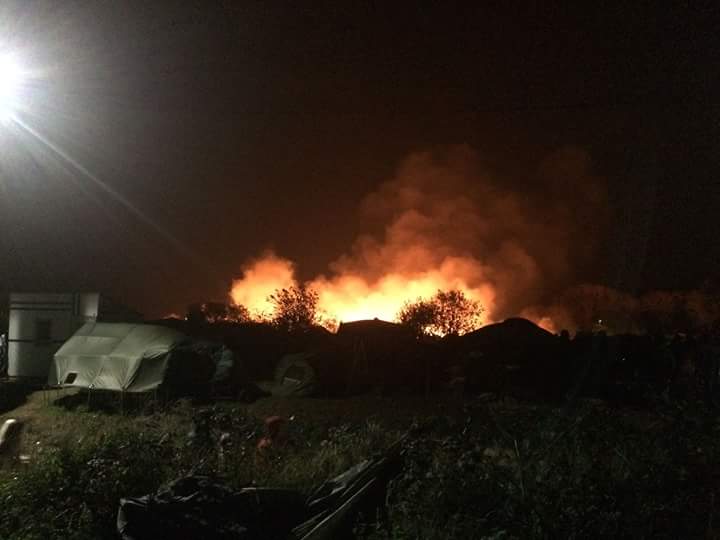 8. People at Paris soccer stadium sing French National Anthem as they evacuate
Thank you Kathy, M., Frankly the Paris attack has thrown me. I don't remember all who sent in materials but you ,know who you are and you know we are all grateful. Don't think it doesn't make a difference. People are getting it and need to know there is a community of nice, regular folks in all kinds of professions and strata of our societies that band together to try and force the red pill down the throats of the idiot politicians who work triple shifts to pretend things are not, what they so obviously are.