1. Lesbian bishop plans to turn church into non-denominational mosque
(If anyone wants to understand what the phrase, 'long march through the institutions' means, this is a pretty good example of the end game. More here at Breitbart)
2. Not sure what this Italian member of the European Parliament is saying, but I like his T shirt activism. I think he got this photo of Merkel a few days after she ran out of razors though)
3. Five men arrested in terror raids across Sydney following Parramatta shooting
(WARNING: Autoplay videos at site, first one relevant then its entirely unrelated)
POLICE have arrested five men in raids across Sydney's west following Friday's terrorist attack on police headquarters and the murder of Curtis Cheng, The Daily Telegraph can reveal.
A 16-year-old boy is among those arrested after armed officers raided four houses in Guildford, Wentworthville, Merrylands and Marsfield early this morning.

The raids began just after 6am on Wednesday when dozens of marked police cars and specialist vans left Merrylands Police station.
(More here. Of course the most important thing, as it always is, to make sure that people do not give in to Islam-o-phobia and name the enemy or the ideology that motivates them. Ideally, you should convert your churches into mosques and never bring a ham sandwich to work to show how tolerant you are to your killers and their creed)
Whatever else you do, keep your eyes firmly shut against the facts of islam. So sayeth Australian authorities after another killing and 5 more arrests and a series of raids

4. US Officials Ask How ISIS Got So Many Toyota Trucks
(They should try asking the US officials who bought them for the IS)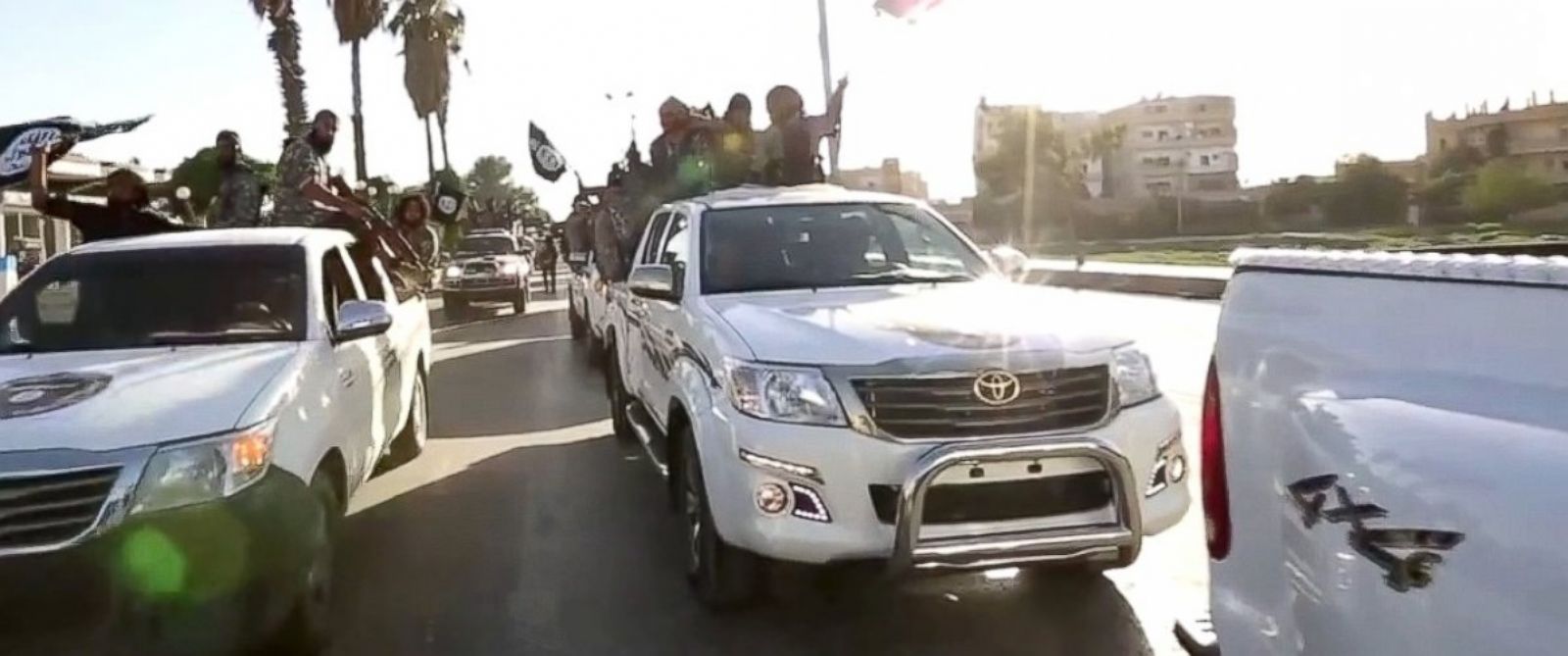 U.S. counter-terror officials have asked Toyota, the world's second largest auto maker, to help them determine how ISIS has managed to acquire the large number of Toyota pick-up trucks and SUVs seen prominently in the terror group's propaganda videos in Iraq, Syria and Libya, ABC News has learned.

Toyota says it does not know how ISIS obtained the vehicles and is "supporting" the inquiry led by the Terror Financing unit of the Treasury Department — part of a broad U.S. effort to prevent Western-made goods from ending up in the hands of the terror group.

"We briefed Treasury on Toyota's supply chains in the Middle East and the procedures that Toyota has in place to protect supply chain integrity," said Ed Lewis, Toyota's Washington-based director of public policy and communications.
5. CLAIM: 'No Borders' Activist Gang Raped By Migrants, Pressured Into Silence To Not 'Damage Cause'
A young, female 'No Borders' activist working in a migrant camp on the France-Italy border remained silent about her gang rape by Sudanese migrants for over a month because "the others asked me to keep quiet."

Colleagues are alleged to have said that reporting the crime would set back their struggle for a borderless world.
(Reminds me of the stories of the leftist anti-Israel activists raped by Palestinians who were asked to just shut up and "take one for the team")
6. UN alarmed at Israeli acts of self defense
UN Secretary General Ban Ki-Moon on Tuesday expressed his concern over the recent surge in tensions between Israelis and Palestinians, condemning the killings of Palestinians without mention of Israeli terror victims.

The UN chief said he is "profoundly alarmed by the growing number of deadly incidents in the West Bank, including east Jerusalem."

"The Secretary-General welcomes the commitment by Palestinian and Israeli officials to work together to curb the violence, including through continued security cooperation," he added.
7. So this has to have been part of the plan from the start. Muslims attack jews and store weapons in the beachhead known as the 'Al Aqsa mosque', knowing that sooner or later Israelis would have to respond in a way that appeared to violate the alleged sanctity of a 'holy' place, rallying muslims world wide along with leftist enablers to attack anything Israeli and of course, anything Jewish with total moral impunity as they imagine it.
8. German police commissioner, probably considering the private sector, explains the truth about muslim immigrants.
A German police commissioner has told an audience of how "delinquent", mainly Muslim migrants refuse to accommodate to their host nations, adding: "We have an increasing number of migrants in Germany, and many have not learned to have respect for women and the state. They live in parallel societies, where different rules apply."

Tania Kambouri, who has written of her experiences in her role as a police chief in a new book, said that there is a "taboo" around multiculturalism and those coming from Islamic countries, though she was keen to stress that her comments were not racially motivated, according to Die Welt.
Thank you M., Wrath of Khan, Actually lots of people. I lost the plot today due to a mild infirmity which ha slowed me down a lot. But in a few minutes I hope to have something showing the lighter side of islam. A Muslim Music Mass for kids in France! Should be posted soon and thank you Oz-Rita for the translation and as ever, Gates of Vienna for the edit. More coming from Austria tonight as well. Possibly the most open handed exhibition of the post-modern left I have seen to date. With luck, that will be tonight. Thank you Nash for your work on that as well.