1. A Finnish woman speaking in favour of preserving Finland as a culture, a people and a nation, was attacked on stage during her speech by another woman who doesn't look leftist or crazy at all
A bit more on her attacker. I think the first question should be, 'What college do you attend?' Could it be this one? More at Tundra Tabloids
Here is another video of the same event with titles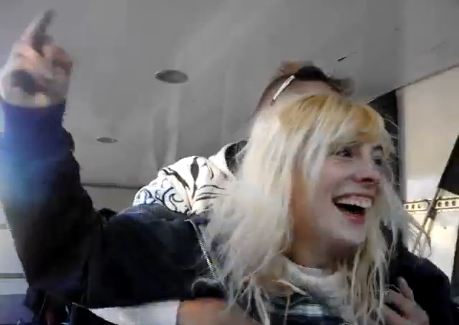 (This may be a good moment to repost an important concept. At TT, they quote someone present who says the following:
"HS also interviewed me. I saw the desperation from the journalists face. I knew he could not use any of it, because it was so good what I said."
This has happened to me exactly where CBC interviewed me on something and as I represented my POV well, they did not broadcast my interview, which is more honest than how the leftist media represents the other side now, with careful editing and dishonest representations of people's own views. People must remember if and when they chose to speak to any MSM to ALWAYS record the interview yourself with your phone even if you can just get audio or just get the interviewer but ideally get a friend to video you both from the side so if the media treats you dishonestly or does not broadcast a good interview and does broadcast ludicrous and non-representational ones, you can publish what actually took place. This is no small thing. This is a tactical necessity.)
2. Reuters article attempting to deflect the blame from islam for islamic terrorist acts of jihad in Australia on to Australians. Of course.
3. An UMI explains why he wants to go to Norway
4. Here is a series of short videos from Calais entitled, 'The Angry People of Calais'. Although its a French site, the videos are mostly self explanatory.
There are impotent things to know about this demonstration:
It was banned but took place anyway
It took place about 3 hours ago
The residents of this town are normally quite subdued and relaxed.
The mayor of this town is a far left pro-islam person who banned this march
it was organized by the critically important Website, Fdesouche which is linked above. If ever Western civilization is to survive I hope they get a statue next to Charles Martel
5. Obama takes the usual sanctimonious position on the murder of Jews by muslims doing jihad for explicitly antisemitic reasons. Its as close as he can get to blaming them out loud when they are the victims. He does blame them out loud when its easier to spin of course.
5. In second attack, Israeli teen stabbed near Jerusalem's Old City
A Palestinian man stabbed an Israeli teen outside Jerusalem's Old City early Sunday morning, in the second such attack in the past day.

Get The Times of Israel's Daily Edition by email
and never miss our top storiesFree Sign up!

The suspected assailant was reportedly shot dead by Israeli security forces.

The 15-year-old victim, later named as Moshe Malka, was moderately injured and received treated on site by paramedics. He was taken to Jerusalem's Shaare Zedek Hospital in stable condition with wounds to the chest and back.

The attack took place near the Old City's Damascus Gate.
6. Hundreds of would-be muslim terrorists surrender to Russia…
7. Many more however, 'declare war' on them. (Although one might be hard pressed to know the difference)
8. One US soldier has a few things to say in response to the latest Islamic State threat
(I suspect the person referred to at the end is this man)
9. 52 Saudi clerics, scholars call to battle Russian forces in Syria
(I guess the Russians will have to get special Italian table cloth penetrating bullets now)
By Huda Al-Saleh | Al Arabiya.Net
Monday, 5 October 2015
Fifty two Saudi inciters, both academics and clerics, have called on the public to "hurry" to Syria where they should be fighting Russian forces.
Thank you Liberty Dk., M., Richard, Oz-Rita, C. Stan., and many others. There is much in the works, some of which is very time consuming, so it is happening at the expense of other things. But there is a Romanian who has accomplished great things and a few of us are working on bringing you the story of how he stopped a mosque and starting a serious and effective movement against islamization in Romania as well as starting an effective movement nation wide, and if we can help it, world wide. But this may take a day or two.