1. The Prime Minster of Israel had a few worthy things to say to the elected leader of Greece in his official visit today, not the least of which was:
[…] The third area is security. We are faced with a very unstable world which while it forges new opportunities also presents new dangers. The dangers come primarily from militant Islam, either led by the radical Shiites headed by Iran or led by the radical Sunnis, at the moment headed by ISIS. These are two formidable dangers. They are expressed in many weapons and many attacks, but the most prevalent one that concerns Cyprus and Europe is of course the terrorism that emanates from these areas. Iran and Hezbollah organize a terrorist network that covers over thirty countries on five continents, including Europe, just about every country in Europe.
 
ISIS obviously endangers European societies, Western societies, African societies, the whole world, in its own way. And we are committed to help our friends, the same embattled societies counter the threat of terrorism, but also bolster our defenses in other ways and we are constantly in touch on this and prepared to do more with each other. I welcome that.
 
We want to achieve peace. Peace is dependent on security, and ultimately if you don't have a capacity to defend the peace, it collapses very rapidly in our area. But peace also depends on the willingness of parties to talk to one another and to try to put ancient issues behind them or at least resolve them in a way that they don't prevent us from seizing the future.
2. A couple of items about Planned Parenthood, their ethics and tactics.
2a. Restraining judge seems to have strong political views
2b. Hack of PP website appears to have been a hoax to elicit donations from the sympathetic 
(If you don't like Infowars, and I don't, follow the links he posts)
3. In Austria, the trick of restricting all speech and thoughts to the officially acceptable ones (subject to change without notice of course) and pretending that freedom is measured only in degree of sexual perversions allowed, goes to a whole new level
The media and the Red-Greens act as if constantly holding gay celebrations with as much naked skin as possible and mounting new gay traffic lights[4] is the essence of liberal thinking. Actually, the great liberals of history would spin in their graves if they could hear that — whether it be a Hayek, a (Milton) Friedman, a Mises or an Erhard in the 20th century. Or in previous ages, a Voltaire, a Hume a Locke, a Mill or a Smith.

If there were a substratum of liberalism in Austria today, vigorous indignation would explode over the fact that a judge in Eisenstadt, in all seriousness, uttered the statement: "One gets the impression that what you are saying here (in a video), is coming from you, because that is your point of view." So what is being indicted is no more or less than a person's point of view.
Or the report of a trial in Upper Austria, where you can read: "Furthermore, the prosecutor accused him of sharing a cartoon which denigrates this religious group, and of insulting a member of parliament who has an immigration background."[5] And that doesn't make anyone throw up a little.

In truth, this means that members of parliament may continue to be insulted in the coarsest terms, unless one of them is from an immigration background. In that case, the state's attorney applies the force of the law. Some animals are more equal than others.
(If the thing about 'gay traffic lights' stumped you, here is a story about it. These are to replace, not straight couple lights with hearts, but the usual gender neutral ones you see around the world. This means it isn't trying to 'balance' straight themed walk signals, but to make ones specifically gay in lieu of neutral ones. So basically a provocation to straight Christians. Only a muslim complaint will be strong enough to take that down, as we saw in Sweden, the left feels muslims trump gays by about 5:1.Gates of Vienna suggests that If we have any readers in Austria, please check out the muslim neighborhoods and see if any of those gay crosswalks are there. I doubt the bookies will make any money on the answer to that one. The actuarials will though)
4. Al-Qaeda-linked group in Syria flaunts U.S.-made TOW anti-tank missiles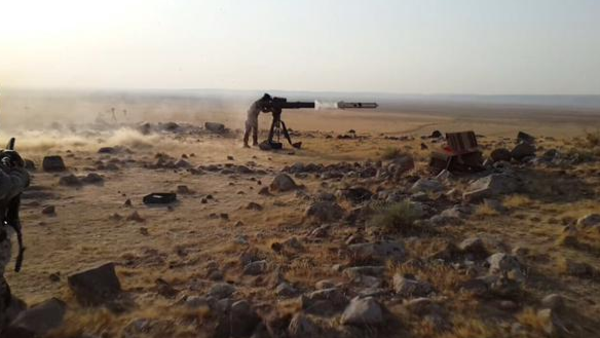 The Caucasus Emirate in Syria, an al-Qaeda-affiliated militant group, recently released photos on Twitter showing them possessing a U.S.-made BGM-71 anti-tank missile.

In one Twitter picture, a militant was seen holding a small black sign with the group's in Russian while an anti-tank missile is seen in the background.
(I believe a video of this appeared in the comments some days ago courtesy of Martin. At the time I did not understand the significance, as the video didn't say it was an Al-Qaeda group in English)
5. Yazidi boy, four, is forced to join ISIS terror camp to learn Sharia Law, the Koran and given sword to behead his own MOTHER
A Yazidi mother has told how her four-year-old son was taken from her to join an ISIS terror training camp where he was forced to learn passages from the Koran, Sharia Law and even given a sword and taught how to behead his own mother.

Bohar – not her real name – could do little but watch as her young son was handed a sword by their captors, who told him 'this is to kill your mother'.

Later, he revealed they were training him to chop people's heads off, shoot guns and hate his own people, at an age when most children around the world are just learning to read.

Scroll down for video 
6. 
Could it get any worse? Taliban look set to clash with ISIS as Mullah Omar's successor vows to continue the war in Afghanistan
Afghanistan's unstable security situation could be set to worsen with fears growing that Taliban defections to a small but growing ISIS franchise group may lead to further violence.

Following the Taliban's official confirmation of Mullah Omar's death, fears have started to grow that a ISIS franchise has the potential to pose a serious challenge to the jihadi group in Afganistan.

ISIS's Khorasan branch (wilayat al-Khorasan) remains a small group of militants but it could now receive significant financial backing from ISIS with signs of Taliban instability.
(Muslims around the world, hear the call. Half of you must go join the Taliban in this historic struggle and defend the land from the shirk of Al Baghdadi, and the other half must run to the 'defense' of the Caliphate and take over Afghanistan and implement the sharia with all the majestic and  Lilliputian differences that Islamic State sharia has with Taliban. It is the call to jihad! A ticket to paradise! How can you not go?!)
Mullah Adbul Qayoum Zakir, a member of the Taliban's executive council and the group's former military commander, denied reports that he disagrees with the appointment of Mullah Akhtar Mohammad Mansour as the replacement for deceased Taliban emir Mullah Omar. Zakir is a former detainee at Guantanamo Bay who is an influential leader in the jihadist group.
In fact the new leader just released his first audio threats in fine islamic tradition.
(…and the media downplay it)
Thank you WTD., M., Richard, Yucki, Wrath of Khan and so many more who contributed to today's blogging.