Check this story from the Yorkshire Standard:
A 19-year-old from Leeds, West Yorkshire, who was arrested in connection with an offensive video he posted on a social media website has been released on bail.
A video, which was shared to the Yorkshire Standard, showed a man ripping apart an English translation of the Koran with his teeth and putting it in the toilet before burning it.
The police arrested the suspect on 27 December after people raised concerns for the safety of the person who had posted the video up following a number of public comments made in response to it.
People also called the police complaining about the offensive nature of the video.
The suspect was arrested from an address in Beeston, Leeds, on suspicion of a racially or religiously aggravated public order offence.
Superintendent Mabs Hussain, of Leeds District Police, said: "Due to the nature of this offence, any decision to charge must be taken by the Director of Public Prosecutions. We are currently preparing an advice file which we will be submitting to the Crown Prosecution Service in due course. In the meantime the arrested man has been released on bail to an alternative location.
This is a critically important story to follow.
I see three ways for this to go.
1. They arraign this man on one of the new anti-Enlightenment charges based on 'community relations' or other charges based on submission to extortion and violence from the muslim community. This has happened before with koran burners so its likely.
2. The American method. Some attempt to deeply hurt this individual without directly showing that he may not offend islamic limits on Western expression.Much like the American government did to the film maker of that crappy-but-factual history of muhamed, showing us all that truth is no longer a defense.
An example of this method might be that he is taken into unwilling protective custody in an unpleasant place and manner, or with many muslim co-prisoners.
3. Equally likely is he will be black listed from anything he values, schools. career opportunities, anything which involves government assistance in some way or which is dependent on grants etc. which is everything in the UK. Much like Canada.
There are other possibilities of course. The mere fact that he was arrested and released on bail, as opposed to simply released shows that the police consider it a crime. As it isn't really, I would suggest that a significant number of Englishmen go out and burn korans now and post them to the internet ASAP. Go to a mosque bookstore, buy them online, but make absolutely sure you pay for it and for the love of any god that doesn't despise its own creation, keep the receipt so you can show that this koran was your private property and you can legally do with it what you will.
If we don't take a stand now when the costs are relatively low, think what the cost will be when you finally decide you have to.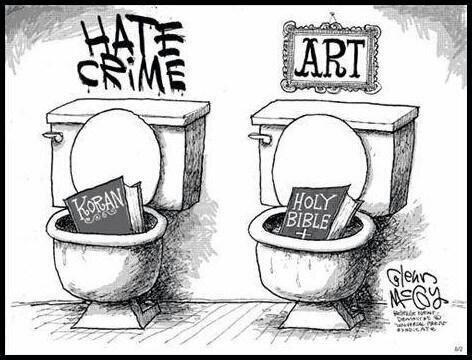 Here is one of the first videos I ever did. My own Koran burning using the only one I could find at the time. they tell me that the only ones that matter are the ones printed in Arabic. As if scribbly has some magic property or something. Well, its the thought that counts.