Article by Carpe Diem. (sources linked at bottom)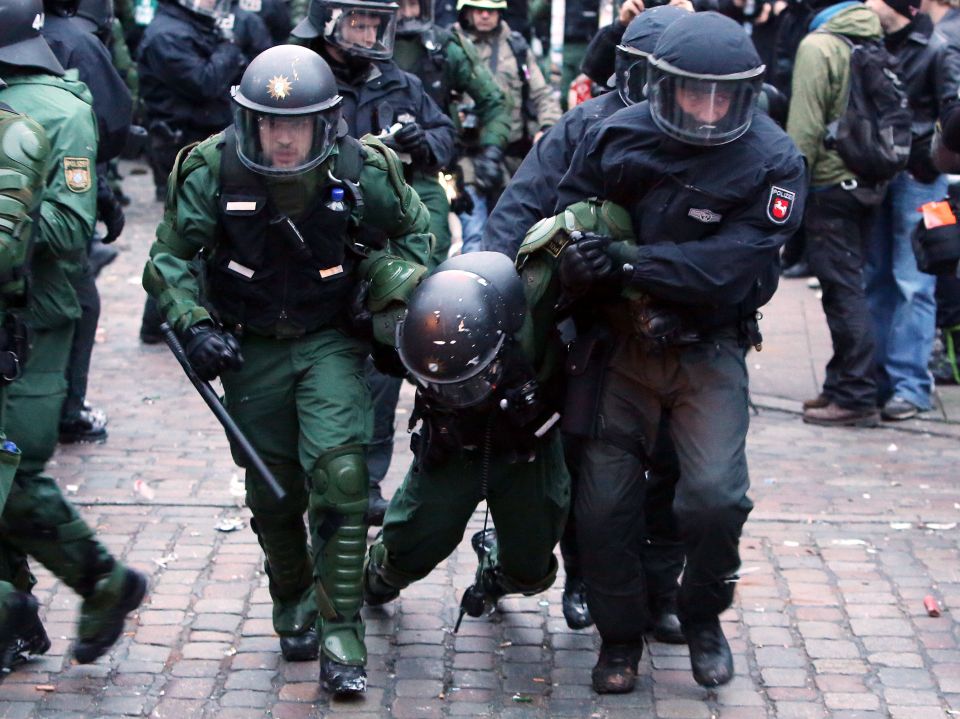 During police actions, suddenly, a Muslim mob shows up out of nowhere, pushes the policemen, insults them, attacks and interferes with them. This cell-phone video upsets Berlin:
But, for the 16,000 policemen in Germany's capital, this is nothing unusual. "Insults like 'Filthy Pig' or 'Dirty Bastard' are part of the daily routine these days", says a cop from Berlin who has been on duty for roughly 30 years. "We get spat upon and kicked.", he continues. "No matter where we show up, we are the scapegoats of the nation."
The policeman feels abandoned by the authorities and government. "For years we have been dismantled. Job cuts and medieval equipment."
On Facebook, a colleague comments: "I wouldn't recommend that anyone join the police. I hope I will reach retirement age in good health."
Only short time after the video had been uploaded, there was the next attack: In Storkower Street in district 16 (Berlin-Prenzlauer Berg), a Molotov cocktail is thrown against a police car.
This is not the first time a police car was set on fire:
On April 11th 2011 a group of hooded people attacks the police station at Wedekind Street with Molotov cocktails and stones. Police were able save a leaving member of the cleaning personnel at the very last second. The offenders managed to escape.
On May 5th 2012 a mob of approximately 30 people attacks a police car in Skalitzer Street. The windows get smashed and a Molotov cocktail explodes on the backseat. Police were able to save themselves. The offenders escaped.
According to Rainer Wendt, chairman of the German Police Union (DPolG), in Germany more than 30,000 policemen are attacked each year, and in over one third of the cases an officer is injured.
Unfortunately, the migration background of an offender is not listed in police statistics. Surprisingly Mr Wendt from the Police Union tells a camera team from RTL what everyone knows but mustn't speak about. It is prevented by German politicians, as it could raise prejudices within the German population.
In October 2013, union's newspaper Deutsche Polizei (German Police) published a reader's letter from a young policewoman from the city of Bochum. Tania Kambouri describes her frustration about criminal immigrants – most of them Muslims (e.g. Turks, Arabs, Lebanese), she says. Lacking support from politicians and the courts, police become more and more helpless.
Tania Kambouri was only able to write this letter because she has Greek roots herself. Rainer Wendt from the police union is convinced that for the same letter a male German colleague would have faced disciplinary punishment.
Sources:
PI-News.net
http://www.pi-news.net/2014/05/video-moslems-und-linksextreme-verachten-beleidigen-und-attackieren-polizisten/
German newspaper BZ
http://www.bz-berlin.de/tatorte/wuetender-mob-geht-auf-polizisten-los-article1846095.html
Writer's letter in Deutsche Polizei (German police union newspaper of the) Nov/2013 pages 2-3
http://www.gdp.de/gdp/gdp.nsf/id/dp201311/$file/DP_2013_11.pdf
Documentary from RTL extra "Alltag deutscher Polizisten: kein Traumjob mehr"
(deleted by RTL) Full video here on YouTube (20:48 min)
http://www.youtube.com/watch?v=m7Jk0IgpwUU