1. Synagogue attacked in Muslim dominated Malmø, Sweden
An original translation by Nicolai Sennels
The Simon Wiesenthal Center has issued travel advisory for Jews going to Malmø. Via 10news.dk, translated from Swedish Avpixlat:
"Five people whose ancestry and religious affiliation are not reported in the media, tried imposing themselves on Thursday in the Jewish community center's premises at Kamrergatan in multicultural Malmö where they shouted anti-Semitic slogans. …  
After previous unwelcome visits at the premises, the building is equipped with a security gate. This stopped the five men from getting further into the premises. Instead, they shouted insults about Jews. They also photographed and filmed. Spokesman Fred Kahn is concerned and takes the incident seriously. Earlier this year, there have been stones thrown at the synagogue and windows have been smashed. Malmo's Jews has been subjected to an increasing number of anti-Semitic crimes and attacks, almost all performed by people with Muslim Middle East Immigrant Background."
 2. Does the NSA mine your metadata to determine your personality, and therefore, a kind of 'pre-crime' determinism?
3. UK: Now TWELVE schools are being investigated by Ofsted amid claims hard-line Muslims are trying to indoctrinate pupils
Extremist Muslims are trying to indoctrinate pupils at a dozen state schools in Birmingham, it has been claimed. Local MP Khalid Mahmood warned of the risk posed by religious radicals as it emerged that education authorities had widened their investigation into the allegations to include more than 12 different schools.

In some schools non-Muslim teachers are reported to have been sidelined by Islamic extremists, who have allegedly imposed halal food in canteens and abolished sex education classes.
[poll id="23″]
 4. Remember that Palestinian 'embassy' which had the major explosion in the Czech Republic not long ago? Yes, it was explosives illegally stored at the residence of the Pali ambassador 
5. David Cameron orders inquiry into activities of Muslim Brotherhood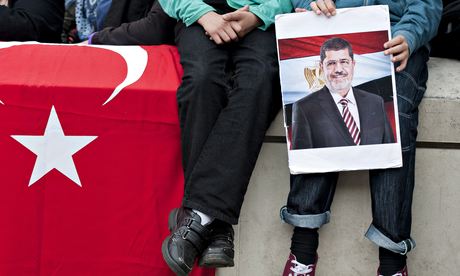 A young boy holds a photo of Mohamed Morsi at a London protest in support of the Brotherhood. Photograph: Will Oliver/AFP/Getty Images