More demands, more whining, more feet stomping.
This is the heart of multiculturalism, there's no assimilation, just competition, and with Islam, eventual destruction of the host culture as the historical record shows. You only have to look at once Christian Egypt (and the Levant and Maghreb) to see how host cultures were obliterated.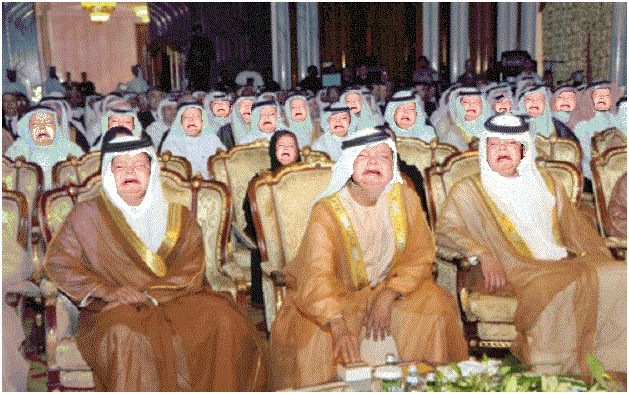 Finnish Jews have lived in Finland for over 120 years as a thriving community, and yet not once have they ever demanded official religious paid holidays from the Finnish state, let alone exclusively for themselves. Islam does not aim to co-exist, but to rule (eventually).
NOTE: Anas Hajjar is the same imam who stated that non-Muslims cannot teach Muslims on religious issues in Finnish schools (religion is taught in Finnish public schools), and condemned Geert Wilders documentary Fitna as being provocative.
Translation done by Tundra Tabloids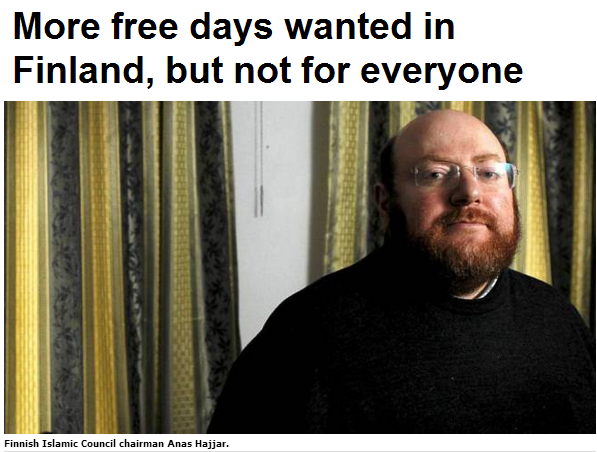 Holidays in accordance with the religion of Islam would apply only to Muslims.
IltaSanomat: Kotimaa24 reported on Monday that the Finnish Muslims want four free days in connection to two important festivals.

The imam of the Islamic Society of Finland and the Finnish Islamic Council chairman Anas Hajjar hopes that this matter could be decided in order to be binding.

– The agreement should be permanent, in that it doesn't in any way have to be decided on a yearly basis, Hajjar says to Kotimaa24.

Would apply only to Muslims

The free days hoped for by the Muslims to celebrate would be a one-day celebration of the end of Ramadan (Eid al-Fitr) and the three-day pilgrimage related to the sacrifice celebration of (Eid al-Adha).

Hajjar says that these should be public holidays, but would apply only to Muslims.

Hajjar hopes that this matter could be done as with similar decisions for church holidays.

– We should find out if legislation is needed or that collective bargaining would suffice.

Church holidays during the week are done in accordance with church law.