A real journalist, how refreshing.
Tiffany Gabbay over at, TheBlaze, did one of the most thorough reports in the international media on the near assassination of Lars Hedegaard to date.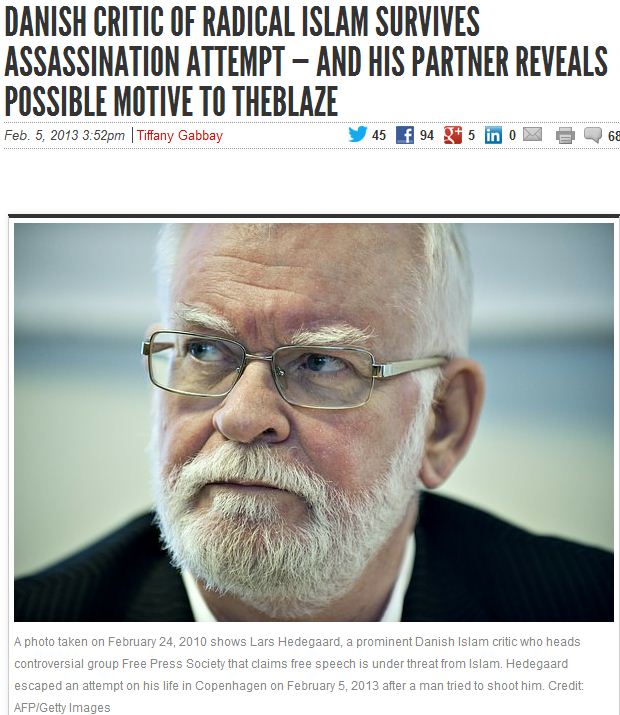 Danish free speech advocate and critic of radical Islam, Lars Hedegaard, survived an assassination attempt by a gunman Tuesday at his Copenhagen home.
Hedegaard's partner, Swedish journalist Ingrid Carlqvist, told TheBlaze that the young man appeared to be of Arab descent and that she and Hedegaard are certain the motives for the attack stem from the launch of their new weekly newspaper, "Dispatch International," which contains content critical of radical Islam.
Hedegaard was shaken but not physically injured in the attack at his apartment, where a gunman, posed as a deliveryman, rang the doorbell under the pretense that he had a package to deliver. When Hedegaard opened the front door, the man pulled out a gun and began firing.
"The bullet flew past my right ear, after which I attacked him and punched him in the face, which made him lose the gun," Hedegaard told the AP. Carlqvist said that the gunman attempted to shoot twice more but that the assailant's gun jammed each time.
"I am so happy that he was such a lousy shooter, that he missed." Carlqvist told TheBlaze. "The bullet went right beside Lars' head. It is really a miracle that Lars is alive."