Now why would the guardian run a story now trying to change the understanding that aisha was 19 years old when the vast majority of muslims believe that when was 9 years old when mohamed raped her. You will see they are running a poll on the FB app to see who agrees with this garbage, currently that shows that 173 readers agree that she was 19, 17 disagree, this is a total contradiction of how the vast majority of muslims understand islam. But funnily enough there won't be any protests outside any embassies over this. Saudi Arabia and Iran, the 2 homes of the sections of islam both allow paedophilia as proscribed by Mohamed.
taken from: http://www.guardian.co.uk/commentisfree/belief/2012/sep/17/muhammad-aisha-truth
The truth about Muhammad and Aisha | Myriam François-Cerrah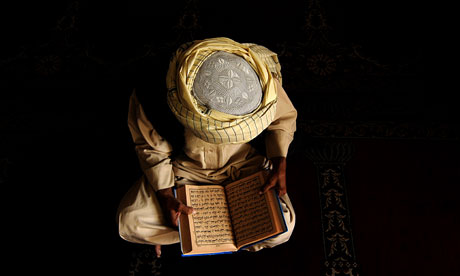 'The Qur'an says that marriage is valid only between consenting adults, and that a woman has the right to choose her own spouse.' Photograph: Shah Marai/AFP/Getty Images
Read by 2,263 people
Monday 17 September 2012
Innocence of Muslims repeated the claim Muhammad was a paedophile, but the story is more complex and interesting than that
Writing about Muhammad, the prophet of Islam, the Orientalist scholar W Montgomery Watt wrote: "Of all the world's great men, none has been so much maligned as Muhammad." His quote seems all the more poignant in light of the Islamophobic film Innocence of Muslims, which has sparked riots from Yemen to Libya and which, among other slanders, depicts Muhammad as a paedophile.
This claim is a recurring one among critics of Islam, so its foundation deserves close scrutiny.
Critics allege that Aisha was just six years old when she was betrothed to Muhammad, himself in his 50s, and only nine when the marriage was consummated. They base this on a saying attributed to Aisha herself (Sahih Bukhari volume 5, book 58, number 234), and the debate on this issue is further complicated by the fact that some Muslims believe this to be a historically accurate account. Although most Muslims would not consider marrying off their nine-year-old daughters, those who accept this saying argue that since the Qur'an states that marriage is void unless entered into by consenting adults, Aisha must have entered puberty early.
They point out that, in seventh-century Arabia, adulthood was defined as the onset of puberty. (This much is true, and was also the case in Europe: five centuries after Muhammad's marriage to Aisha, 33-year-old King John of England married 12-year-old Isabella of Angoulême.) Interestingly, of the many criticisms of Muhammad made at the time by his opponents, none focused on Aisha's age at marriage.
big snip.. go to http://www.guardian.co.uk/commentisfree/belief/2012/sep/17/muhammad-aisha-truth to read the rest
Those who manipulate her story to justify the abuse of young girls, and those who manipulate it in order to depict Islam as a religion that legitimises such abuse have more in common than they think. Both demonstrate a disregard for what we know about the times in which Muhammad lived, and for the affirmation of female autonomy which her story illustrates.
• This article was amended on 17 September 2012. It originally stated that King John was 44 when he married Isabella of Angoulême. This has been corrected.
Let your friends know your opinion
173 votes
17 votes