Two United Nations workers sentenced for alleged involvement in ethnic violence between Buddhists and Muslims in June
Associated Press in Yangon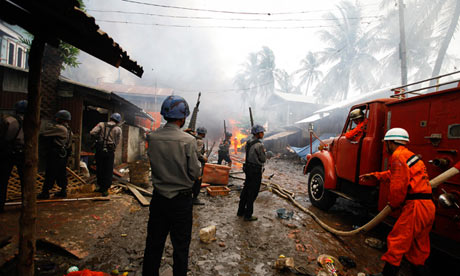 Firemen tackle blazes during fighting between Rakhine Buddhists and Rohingya Muslims in June. Photograph: Staff/Reuters
A court in Burma has sentenced two United Nations workers to prison terms for their alleged involvement in a spate of bloody communal violence in the west of the country in June.
The punishments were handed down on Friday in the Rakhine state town of Maungdaw, said Aye Win, a UN spokesman based in Burma. One of those sentenced was an employee of the UN refugee agency and the other the UN World Food Programme.
A spokesperson for the world body's refugee agency in Bangkok, Vivian Tan, called the verdicts "very disappointing".
Tan said a third aid worker employed by another unidentified humanitarian group working with the UN was also convicted.
UN officials said they had no details on the official charges.
The Burma independent newspaper Weekly Eleven reported that the staff members – all believed to be from the local Muslim community – were charged with crimes including promoting hatred between Buddhists and Muslims and participation in arson attacks. The paper cited anonymous court sources in its report, and said the sentences ranged from two to six years.