H/T TL
At least Clinton wasn't wearing a burka when she met with Morsi. Some marks for that.
Protests as Clinton holds meetings in Egypt
From Elise Labott, CNN
updated 4:50 PM EDT, Sun July 15, 2012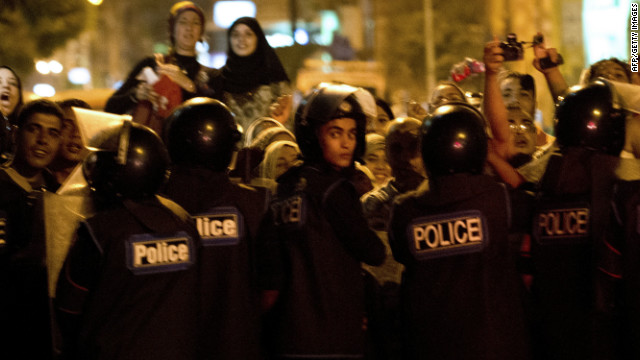 Egyptian riot police stand guard as protesters gather Alexandria on Sunday during visit by Hillary Clinton.
STORY HIGHLIGHTS
Protesters pelt Clinton's motorcade with tomatoes and shoes
Clinton was not hit, but an Egyptian official was
Clinton discusses Egypt's political transition with the head of Egypt's military leadership
A day earlier, she met President Morsy and urged him to assert his authority
Cairo (CNN) — Egyptian protesters threw tomatoes and shoes at U.S. Secretary of State Hillary Clinton's motorcade Sunday and shouted, "Monica, Monica, Monica" as she left the newly reopened U.S. Consulate in Alexandria.
Clinton said she was in the city to answer critics who believe Washington has taken sides in Egyptian politics. There were already vocal protesters at the start of her visit to the consulate, forcing the ceremony to be moved inside.
"I want to be clear that the United States is not in the business, in Egypt, of choosing winners and losers, even if we could, which, of course, we cannot," Clinton said at the ceremony to reopen the consulate, which was closed in 1993 because of budget constraints.