Just thought that you would want to know. KGS
H/T: Sisu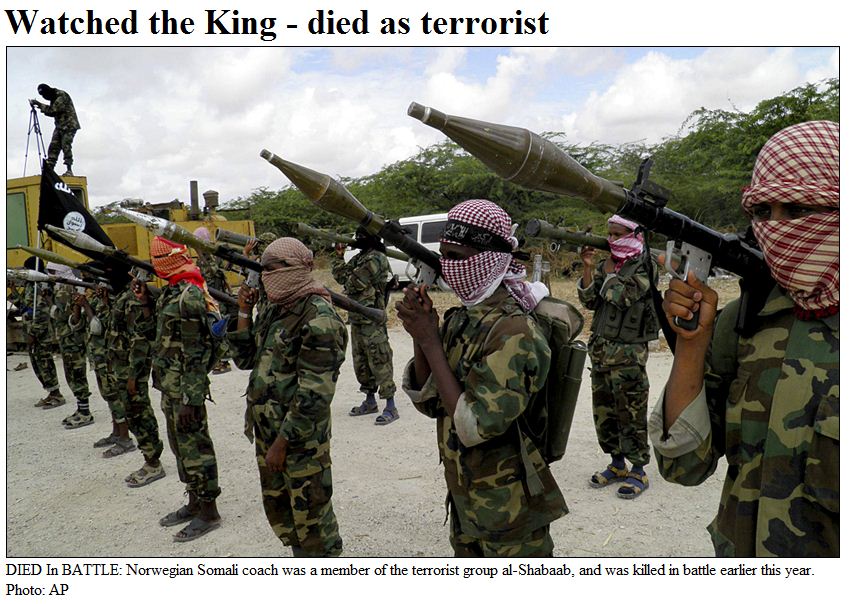 DIED In BATTLE: Norwegian Somali coach was a member of the terrorist group al-Shabaab, and was killed in battle earlier this year.Photo: AP
By Lars Aker Haug , Tom Bakkeli , Dennis Ravndal and Morten Hopperstad
(AP) Norwegian-Somali was a model soldier with Norwegian friends.So he traveled to Somalia to fight for Allah.
1984: Norwegian-Somali born in Burao in northern Somalia, today part of Somaliland.
1994: when ten year old boy coming to Norway together with other relatives.
2005: After finishing high school is doing Norwegian-Somali military service of His Majesty the King's Guard. There he becomes a part of the escort department that will carry the royal family and other social supports to safety in case of war.
2006. Norwegian-Somali then gets a job at Securitas after having completed their military service.
2009: He comes in contact with a religious environment with connections to Sweden and Finland.
2010: Norwegian-Somali calling home to his father and says that he has joined the Shabaab in Somalia.
2011: Norwegian-Somali's unknown wife calls and says that his son has died in battle.The two had no children.