REAL SICK STUFF.
This is how the Norwegian state run media demonizes people it disagrees with.
The Norwegian newspaper Aftenposten includes the following picture in the article about a new comedy series which debuted last night on Norwegian state TV, NRK. One of the characters chosen for the comedy show (The Social Welfare Office) was a person named "Fjordlland", a paraplegic who lost the ability to speak. He's also typecast as a Nazi and was featured in their the "angry young man special".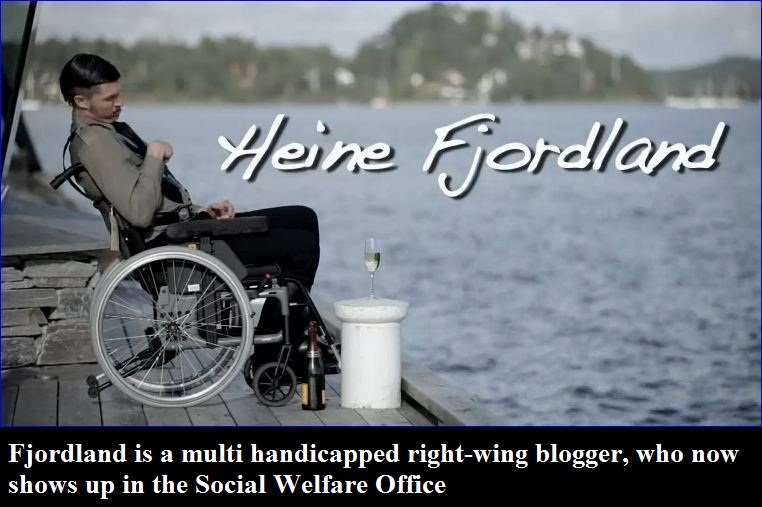 It's sick. The character is supposed to be the blogger Fjordman, in an attempt to demonize the man through a sick sense of humor. It is part of the process of demonization – the demonization of anyone who has concerns that the authorities do not want to deal with. The idea is to make Fjordman look weak and appear as a convenient punching bag.
It's also sick and should be an affront to every single person who is a paraplegic and to their relatives. It's both disgusting and childish on many levels.Nazi humor, funny stuff.
It's not just for one episode. Apparently, the Nazi Fjordman is a new "recurring character" they have just introduced on their show, a running gag if you will. Also, the Tundra Tabloids has come to find out that NRK is the same channel has tried repeatedly to get an interview with Fjordman. Perhaps he should send them a friendly email asking them to go take a long walk off a very short pier? KGS
AFTENPOSTEN: Norway's state broadcaster, NRK, is broadcasting the season premier of a comedy show "The welfare office."   " that's set to showcase Nazi humor.

When Social Security (tv comedy show) has the season premiere of NRK2 tonight, the entire broadcast 22 July events as a backdrop, and they call tonight's episode "angry young man special."

– The broadcast is really dedicated to the terrorist and aspects of him that is perhaps more universal than we like to believe, says presenter Thomas Seltzer in the social security office to Aftenposten.no.
Like the TT said before on prior occasions, Norway's cultural elite are at war with reality, logic and reason, holding themselves up to be the epitome of good will, virtue and humanitarianism. In fact they're a warped statist cadre of sanctimonious despots who believe that they have the exclusive right to determine what the rest of us may know. KGS
(Addendum) Remember this attempt by the Euro-left to demonize all ideological opponents? Clearly they have learned nothing at all.