As I sleep, Tundra Tabloids has offered to update this post on the EDL demo in Luton. It is probably going to be very intense. Make sure you click more and head to the bottom for the newest info:
Have a look at the 'call to arms' videos the Muslims in Luton made to oppose the EDL demo. Keep in mind that pretty much all of the violence so far in all EDL demos has been by Muslims and leftist groups like ANTIFA and UAF. Even the police and BBC have admitted that.
Now look at the claims by Luton Muslims:
These are clearly calls to arms and do not reflect the messages or speeches of the EDL whatsoever. It is interesting though, that we can now see how Muslims use certain important English words quite differently. Words like 'Innocent' which means to them, any Muslim no matter how they may act or what they have done, and words like 'defend' which means anyone who stops an Islamic offensive action requires them to 'defend' Islam as stopping Muslims from forcing their religion on others is an attack on Islam, therefore, any action by a Muslim on an infidel is defence of the faith.
Sort of quasi clever spin. What Muslims call, 'Kitman'.
Please check back to this post often. Tundra T will post info as it becomes available, and even though it is still 5 hours till the demo starts, there is already a lot of action on the ground I am told.
UPDATE: Live blogging below the fold:
12:14 There are 18 EDL coaches lined up along Dunstable Road waiting to enter Luton ;( #EDL #Luton
12.15 There are 18 EDL coaches lined up along Dunstable Road waiting to enter Luton ;( #EDL
12:26 Twitter: EDL:  some UAF have cleared off with their tail between their legs, as they are shocked how many EDL are there and how few UAF, lol.
Pics by way of @julesmattsson Jules Mattsson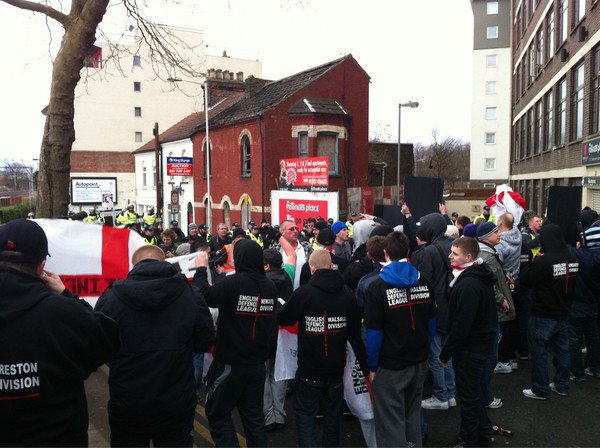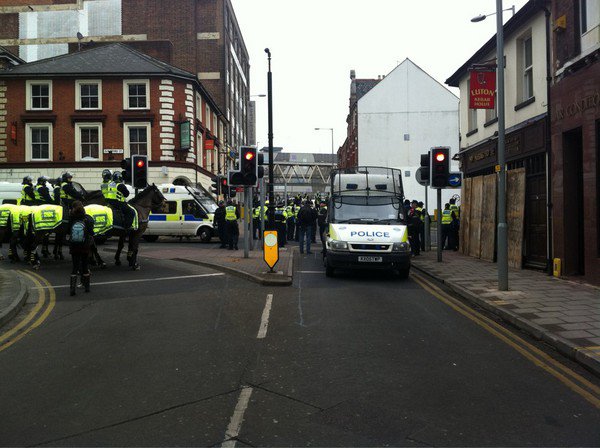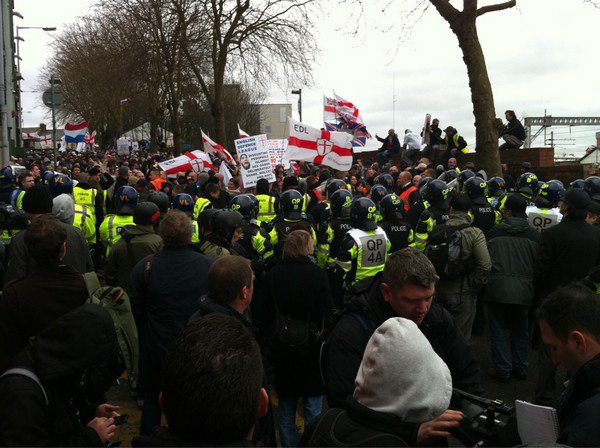 Police out in full force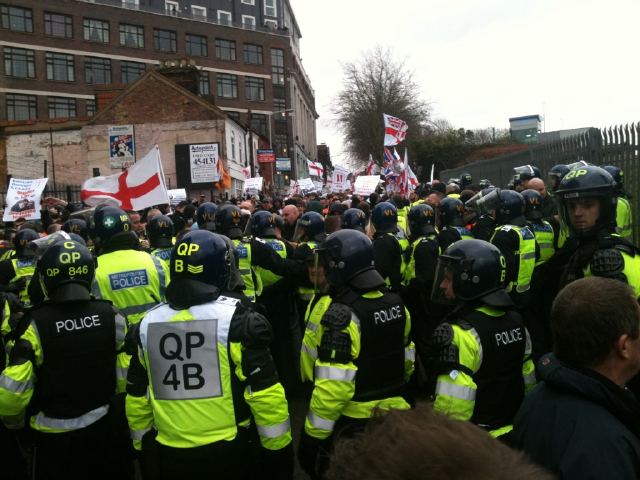 13:03 @counterfireorg #Counterfire: Police keeping #EDL at the station, preventing them marching to St George's Square #Luton
13:12 Edl chanting at local people – (anti-EDL voices=) if it wasn't for the coppers you'd be dead #UAF #EDL #Luton (It's a foot ball song)
13:16: Picture of Rabbi Shiffron marching with the EDL, look closely at the bottom, he's the man with the beard and knit cap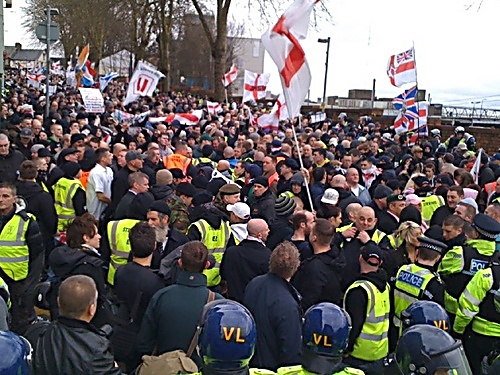 13:27: Tweet: UAF are not wanted in Bury Park. Muslims send them on their way #EDL #Luton
13:45 EDL leader Tommy Robinson delivering speech, calling for 'leaders not appeasers'.
UAF cordened off at roundabout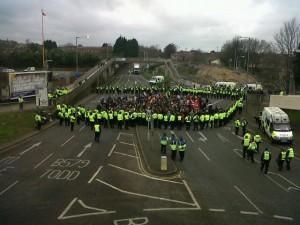 13:53 From guardian journalist tweeter on the march so far. mrmatthewtaylor: Best organised and biggest #edl demo I've seen in luton today. Feels like a movement on the rise
13:54 @counterfireorg Counterfire by Gixibyte #Counterfire: Over 1,000 muslims and anti-fascists assembled in Bury Park #Luton #NoToEDL #UAF
14:04 The Telegraph reports 'clashes'
…but then reports about abusive invectives hurled only (bwahhahaha)
14:08 Jon Doe: UAF supporters understood to be trying to break through police cordon to reach EDL crowds in St George's Square. Being 'pushed back hard' according to radio.
14:13 anti-EDL voice:@aoifeusob Aoife Listening to Austrian islamophobe lie about Islam and Muslims in #Luton (So Elisabeth Sabbaditsch-Wolff must be speaking now)
14:24 Arial shot:

14:32 Vid of EDL demonstrators in St.George's Square
Rumour is that Muslims are now rioting in Bury Park
Gangs of 'Asians' are driving around attacking white people. Kinda shows you where the actual racism, in the original and important sense of the word, is coming from.
15:04 see the UAF supporter hit theEDL across the head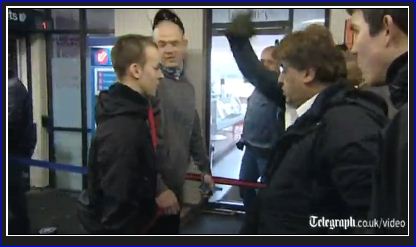 15:15 @NemesisREPUBLIC Nemesis Republic RT @hopenothate: Rumours flying around. 1. Koran burnt on Farley Hill estate 2. a mosque attacked in Bury Park. Neither true. #EDL #Luton
15:32 Picture of police beating back UAF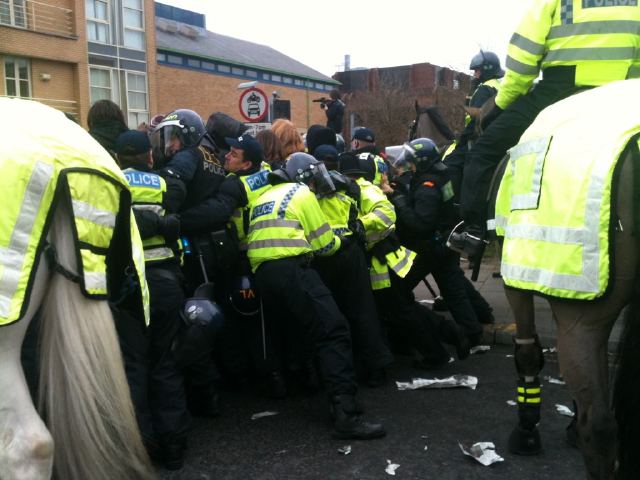 15:42 LutonVoice Luton Voice Police say about 5000 #EDL members attended the protest in #Luton today #UAF about 300