Breaking: Police are evacuating the area, they will detonate something, now.
Police have the following description of person of the offender: Male, approximately, 30 years old, thick, dark hair. The offender was wearing a red postman-like jacket.
Danish television reports that all politicians in the parliament are talking of the situation. Normal work is suspended.

UPDATE:  The TT is told by someone close to Lars Hedegaard via email: "He is okay, but we're all in shock. It's a miracle he is alive. The attacker looked like an Arab."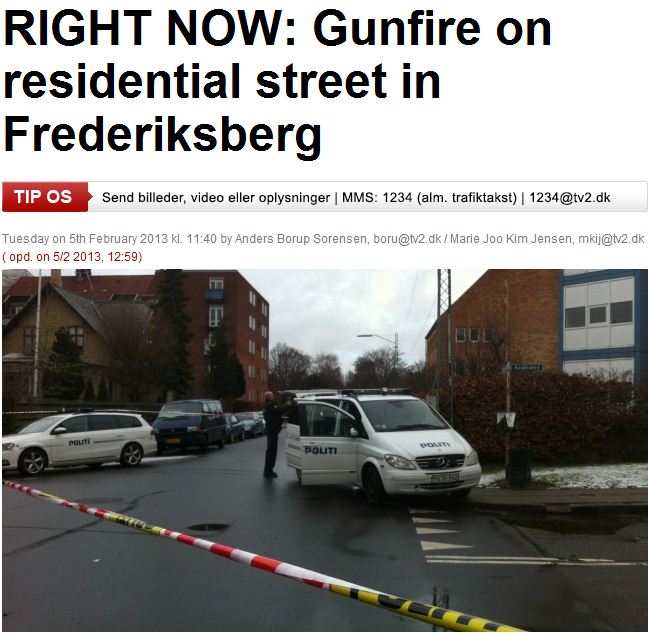 H/T: HenrikR.Clausen: "Lars Hedegaard survived an assassination attempt today."
NYHEDERNE: Copenhagen Police arrive here shortly before noon present at Pelargonievej in Frederiksberg, which is alleged to have been a shooting. Learns tv2.dk.
Copenhagen Police now confirms to tv2.dk that have been fired a shot, and therefore they are now present at the villa the way to Fredericksburg, where it continued to flock to the cops.
– Now we are here at the scene. There are given a single shot, but no one is hit. It is about out for number seven. Inside the buildings, says investigative unit Jan Høier Mogensen tv2.dk.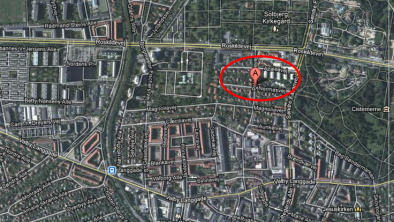 Police have cordoned off the intersection of Azaleavej and Pelargonievej, and tv2.dk 's reporter at crime scenes says that about 30 officers are on site – several dressed in civilian – and they are investigating right now instead of dogs. The search for a possible perpetrator of roads in the area.
– Of course we have put several things in place, where we examine escape route and possibly where an alleged offender was located, he says January Høier Mogensen tv2.dk.
tv2.dk 's journalist on site says that it is still flowing to the officers, and the police have just expanded barrier and sent press further away from the shot instead.
The area of ??Frederiksberg is a residential area, but the shot has been fired by Pelargonievej 7, there is a small apartment, as you can see with the purple windows downstairs. It remains unclear what triggered the shooting
UPDATE:  Jyllands-Posten
He shot then against Lars Hedegaard.

Lars Hedegaard it appears not injured in the attack.

"A man fired at the victim, but he missed and the ball went over his head. When he would shoot again, clicked the gun, and then fled the perpetrator from the scene," said Police Commissioner Lars-Christian Borg Ritzau earlier in the day.

It has not yet been possible to obtain information independently confirmed.